John Oates And Aimee Oates Spill The Details About Their Life - Exclusive Interview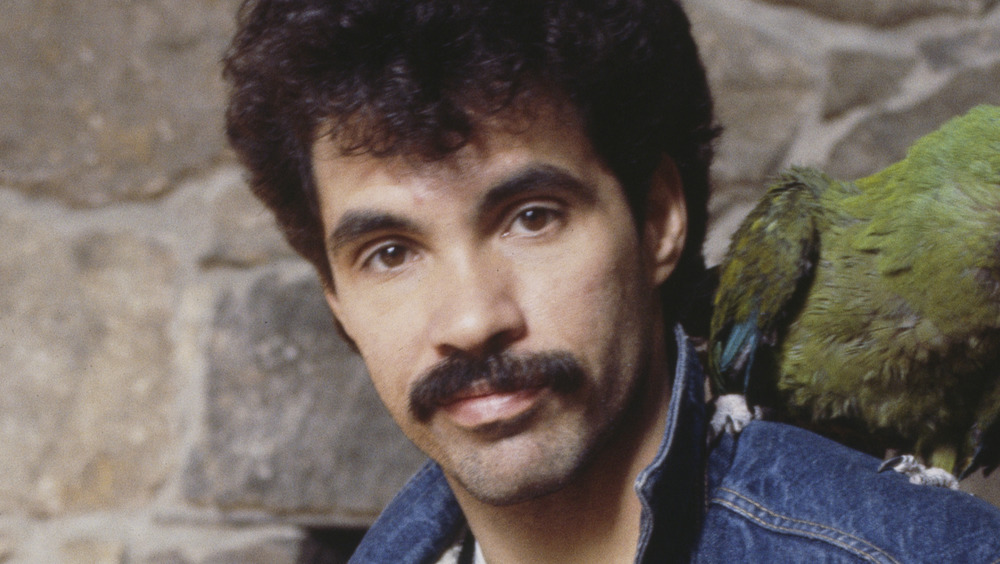 Michael Putland/Getty Images
John Oates found himself in a precarious position in March 2020 when the novel coronavirus forced the live entertainment industry to come to an abrupt halt. For the first time in his sprawling 50 year career with Hall & Oates, the guitarist found himself completely stationary. His tour with KT Tunstall and Squeeze was indefinitely postponed after a modest (read: sold out) warm-up gig at Madison Square Garden (it's since been rescheduled for August), and there was no clear timeline for when he'd be able to resume life as usual. It was as if someone slammed the breaks on a sports car that had been cruising at 100 mph for years.
For Oates, the road was a lot more than just a workplace; it's the thing that shot him into superstardom and helped him amass seven platinum albums and a spot in the Rock & Roll Hall of Fame. It was home to some of his fondest memories, both with his bandmates and his wife, Aimee Oates. John and Aimee even raised their son on a tour bus until he was a teenager. 
Now, John is faced with a unique sort of quiet — one where there aren't thousands of screaming fans. It's just him and Aimee, hunkered down in their Nashville home, figuring out a way to move forward without moving at all. In this exclusive interview, the couple sounds off on life together in lockdown and how it sparked a first-time creative collaboration.
John and Aimee Oates slid into Dave Grohl's DMs for Oates SongFest 7908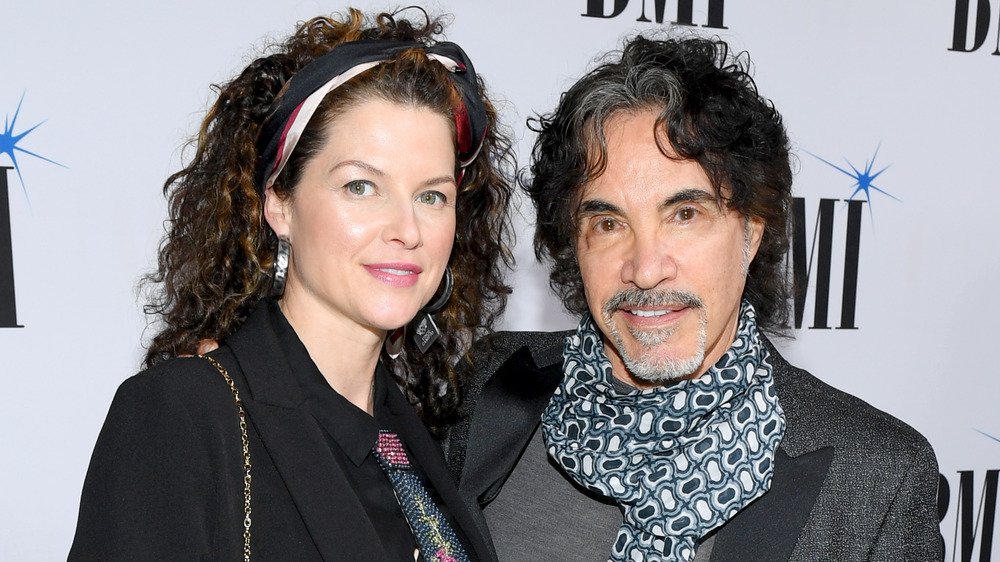 Jason Kempin/Getty Images
What you guys are doing right now is amazing. Can you both tell me about your concert for Feeding America and how it came about?
John Oates: Sure. Well, you're looking at the gal who's responsible for all this. Honestly, Aimee, and I'm not going to talk for her, but I will introduce her because she –
Aimee Oates: If you're talking like that, keep talking baby.
John: She seriously, she found our co-host Saxsquatch, who this incredible relationship has evolved into he and I doing an EDM single of "Maneater" that's coming out on March 19th.
Aimee: I introduced it to you. I didn't find him.
John: Well, she found him through Instagram and that led to a collaboration, which is really cool. But basically what happened was we had put together a show in Aspen, Colorado in 2013. And it was called the Aspen Songwriters Festival 7908. And it had to do, 7908 is the altitude of Aspen. And we wanted to do it again this year live, but of course as COVID progressed through the year, we realized the live show wasn't going to happen. And we said, let's do a virtual show.
And from there, we were sitting around as all of us have been during the pandemic watching the news and seeing how bad the food insecurity and the problem with feeding families in America had become. And we had contributed to Feeding America cause we thought it was a great organization. So we called them. We literally reached out to them and just, we introduced ourselves, told them what we wanted to do and see if they wanted to partner with us. And we went down this road of putting together a virtual song festival and all these amazing artists started signing onto it.
Aimee: And I was saying, "John, you've got 50 years of relationships and the camaraderie and all of these other..." And he's like, "You know what?" And it's so funny in this whole social media world. He's like, wait a second. I'm going to try to DM somebody.
John: She's got this together. I have no clue. I'm just a guitar player.
Aimee: Yeah, we were experimenting. I was like, "Wait, oh, here's Dave Grohl or here's this." And he would just DM him. He's like, "This is so much fun!" Just the direct contact. And every single person that John and team reached out to, they all, everyone jumped on board.
Oates SongFest 7908 didn't happen without hiccups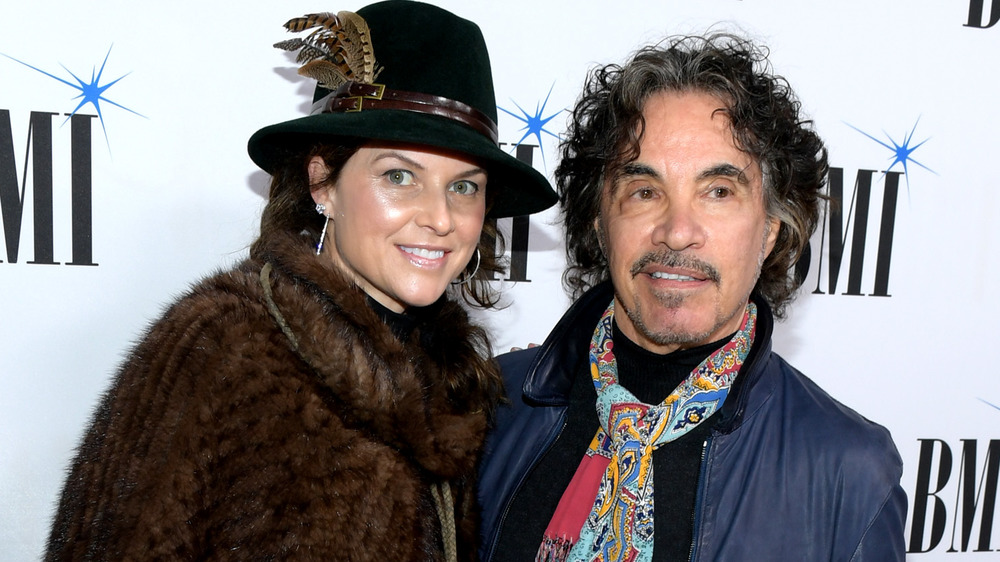 Jason Kempin/Getty Images
I think what I was going to ask you about that, because you got on some amazing artists, like Jewel, Dave Grohl, Darius Rucker. And that really came about through DM?
John: A lot of it did. Well, some of it are people that I actually had in my phone, people I speak to, and people like Jim James, who I've worked with and Jim Lauderdale and so many people. And some of the people, some of the first people we reached out to, were some of the artists who were on the original Aspen Songwriters Festival in 2013. Shawn Colvin, let's see Matt Nathanson, Keb Mo.
So we just went down this road and as the artists began to respond, we realized it took on a life of its own. It got bigger and bigger. And then we had to put together a real television production team. Because we thought it would be a small event. We didn't know what it would turn into, and it really grew and grew.
Aimee: One of the downsides that John and I are like, "Oh my gosh," we didn't take into account because obviously we've never done a festival or streaming and this-ing and that-ing, that our wonderful team, they were reaching out. We were reaching out. John was reaching out. So all of a sudden it's like, everyone agreed. And it's like, oh no. So the horrible –
John: We have a two and a half hour show.
Aimee: But, John and his relationship with all these wonderful artists and it's that's the real downside that they can't all be on it or whatever. Because we'd find out from different other people in the team saying, "Oh yeah, this person," and we didn't even know. Anyway, but it was great. It was great.
As it turns out, having too many friends can actually be a problem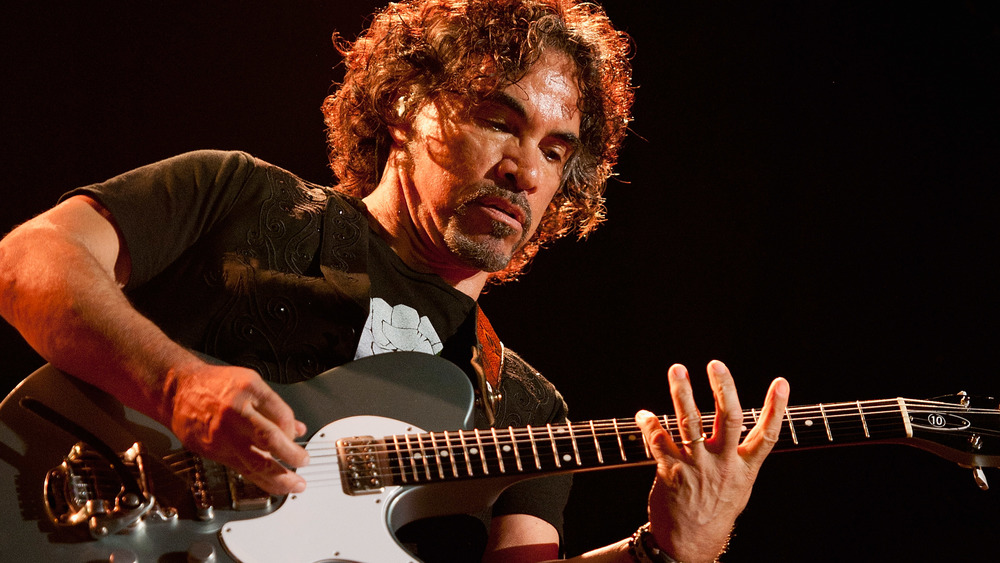 Erika Goldring/Getty Images
Was there anyone really awesome that you really wanted and it was a situation like that where it was like, oh no, now we have this list and it's just not going to work?
John: Well, actually there were a few. Right here at the end, just last week, Lyle Lovett signed on. And I had spoken to Lyle months ago. He was actually one of the first people I called. And just due to circumstances, everyone's busy, everyone's got things. He wasn't sure if he could do it or not. And all of a sudden, time must have freed up and he reached out and he said, "Hey, is it too late to get on the show?" And I said, "No, not for you, man."
Aimee: There are so many others, like Wendy Moten, Warren Treaty. There's just so many people, but it was just tough.
John: Yeah. We have so many relationships in the music business.
Aimee: We just need a week-long concert. No.
John: We can't have everyone, unfortunately, but maybe this leads to another concert down the road. Who knows?
COVID-19 shut down John Oates' arena tour after one gig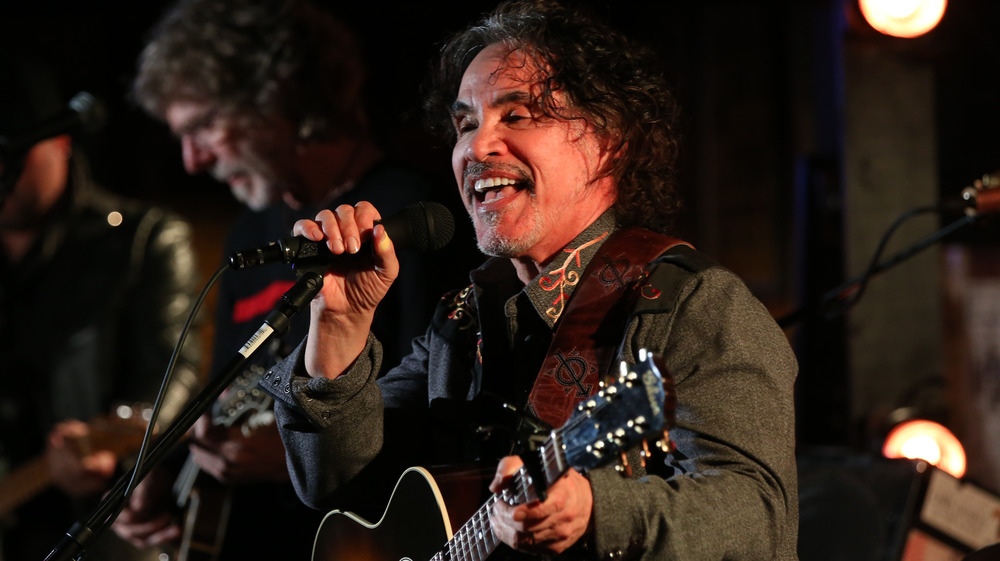 Terry Wyatt/Getty Images
I wanted to talk more about obviously the festival, but also stuff surrounding why virtual festivals are happening. So obviously, we're in the midst of coronavirus, which is the antithesis of how live music thrives. And you were originally supposed to tour with Squeeze and KT Tunstall, and you were in the midst of doing some warmup shows and it was called off. Can you talk about behind the scenes of what that was like to get that call and then have everything blow up?
John: Yeah, it's a crazy story. I mean, we prepared this incredible show. We were so excited to play with KT and Squeeze. And we put together this amazing production with incredible video content. And it was a really big show, an arena show. And we did one show, and I can tell you the exact dates, February 26th at Hershey, Pennsylvania. We used that as a warmup and it was great. And two days later we played Madison Square Garden on February 28th, and it was completely sold out. Incredible show.
And I came off the stage that night, thinking to myself, what a way to start a tour. This is going to be the best 2020 of all time. And literally a week later, the rug got pulled out from us and we were done. And it was really, it was weird. I didn't even know how to react, because, honestly, this is the first time I've been home for any length of time, a year, in my entire professional career. So it's given us a chance to do a lot of cool projects together. And of course this song festival project. And we just tried to make the most of it. But, honestly, it was a definite readjustment that, well, we've all had to make readjustments.
John Oates on coronavirus' impact on the music industry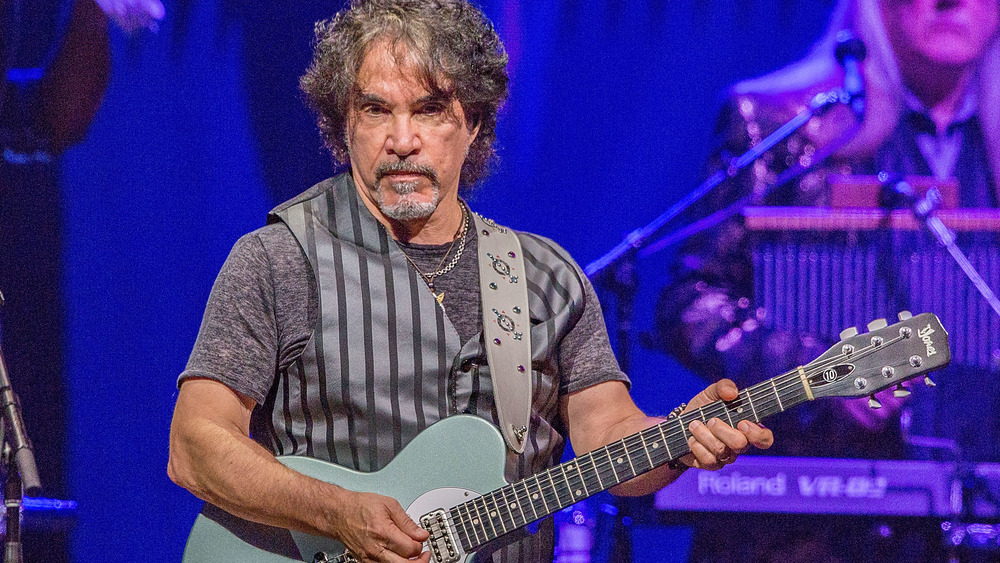 Daniel Knighton/Getty Images
I know exactly what you're talking about because I'm also a musician and I've spent most of my time touring when I'm not writing. And what I found is that — and I've read a lot of this on the topic, and I've spoken to a lot of my friends who are touring musicians also — is that the industry hinges on having packed out shows. You break even at half capacity, so social distancing is the antithesis of what financially makes it viable at every stage, whether you're playing Madison Square Garden or you're playing a small club. I was just wondering if you thought about any way coronavirus and live entertainment could co-exist? I know people are getting creative, you're getting creative with the concert. Can you talk about that at all?
John: Well I think it's a very, very bad situation for all artists. As you said, regardless of whether they're playing the garden or they're playing a club or a theater or anything in between live music is so important to everyone, the fans, and of course the musicians. And it's really going to be interesting to see how we can re-emerge from this horrible time and get back to live music again.
I think it's going to take a little bit of time. Darryl [Hall] and I have a tour planned for early August and which we have incrementally pushed back. And we will see what happens. And really, every musician wants to play and we're all ready to play. I'm sure you're itching to play as well. But whether the audience will come and sit next to each other in a big venue or a small venue for that matter and sit shoulder to shoulder, only time will tell on that. So it's just, it's uncharted waters. None of us have ever been in this position, so we don't know how it's going to be and how it'll shake out. But I know everyone's ready that I can tell you for sure.
Lockdown led John and Aimee Oates to their first creative project together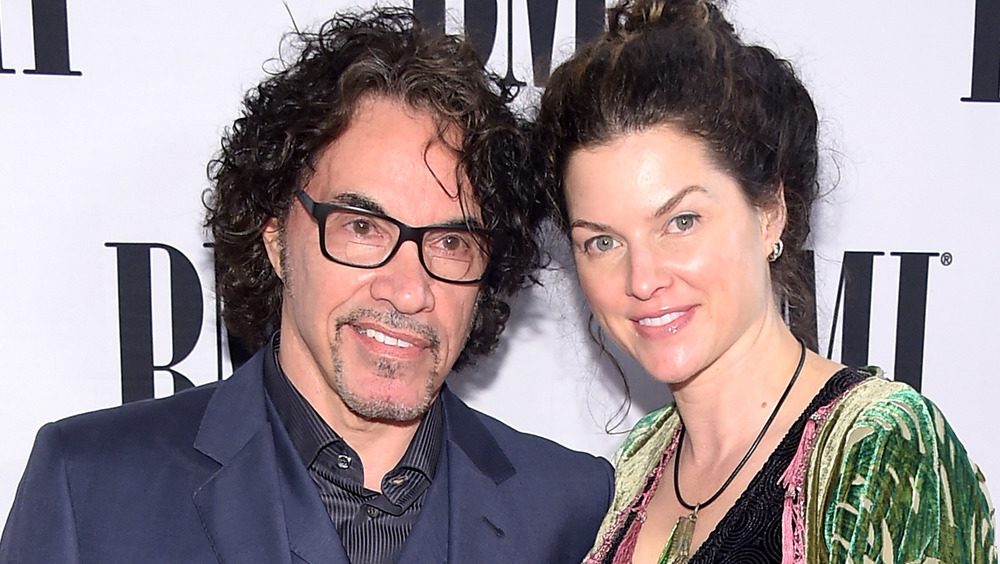 Michael Loccisano/Getty Images
When you're talking about how this is the first time you're actually home for an extended period of time, I know that must change your perspective on things. Both you [and Aimee] on just things in your life, the way that you function, your daily routines. What has that been like?
Aimee: Well, it's funny. During this whole time, we've been really self-isolating. Our son was in Colorado. Couldn't see him over the holidays.
John: We haven't seen our son in over a year.
Aimee: In over a year.
John: Or my father or her parents.
Aimee: John's going to go see his father in a couple of days, thank goodness.
John: It'll be the first time in a year.
Aimee: I haven't seen my folks. I mean, we have [Zoom], is it. I'm like, yeah, yeah, yeah. And we're like, okay. We just kept putting one foot in front of the other, keeping positive, being mindful, being conscious of what's going on, taking it in, just being creative and just being open and teachable. And just saying, we didn't know what was going to happen. Just transpired. It had just happened into this. And we haven't seen anybody. We haven't visited. It's just been very tough. So either let that isolation take hold, or use it and force yourself to try to squeeze something positive.
John: This is the first time we've worked together creatively and we've been together for 26 years, maybe longer. And this is the first time we've actually done something, worked together creatively and it's been amazing. And Aimee helped put together this incredible team. And I will say almost all women are on the team. And to be honest with you, it's the first time that I've worked with an all female team.
Aimee: Well the majority. We've got Wilson.
John: It's been incredible. So it's been a great experience for me just from that point of view. But we've been doing a lot of cooking. Amy's been cooking up a storm and I've been eating, which is nice.
Aimee: There's been some frustrations. "Hey John, let's put up, maybe some flowers." I'm a floral designer, so I'm like, "John, maybe put together like Ikeboner or tell about that experience when you were in Japan and you came across Ikeboner." So food arrangements, all this stuff. Yes, we busied ourselves and just makeshift little videos and stuff. But without all that practice and keeping engaged and just whatever, I don't think that we would have. We definitely wouldn't have been doing a festival.
John: And I mean, I know I've had a lot of time to write which has been great for me. And I've had time to get involved with some projects that had I been on tour with Daryl, never would've happened. I got involved with a movie project called Gringa.
Did you know John Oates writes movie music, too?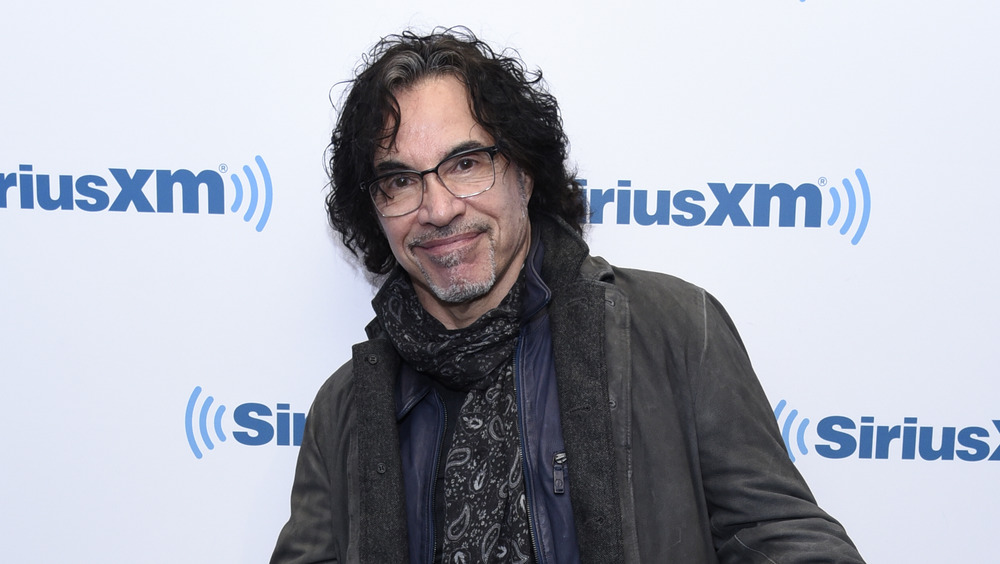 Matthew Eisman/Getty Images
Obviously, the concert is really cool, and I can definitely see how that came about with you guys in quarantine. That's a really amazing way to put forth energy that could either be negative or, you're right — it could be something so positive like that. Gringa sounds really cool. I'm not actually familiar with any of your past work scoring. Have you ever done soundtrack stuff before? Is this your first time? Can you talk about it?
John: Well, actually I did not score the movie. What I did was I'd become the executive producer of the music for the movie. There's a separate composer who did the score. I'd never actually scored a movie, but I've been involved in lots of movies. I had a song in a great movie called About Last Night with Rob Lowe years ago. And also I wrote the title song for a movie with Peter Fonda that was called Outlaw Blues.
Aimee: I didn't know that. Really?
John: Well, it was way before I met you.
Aimee: Still, that's a scoop. Okay.
John: Yeah. So I've had some songs in movies and of course Daryl and I have tons of songs in movies.
Aimee: You did the music for Sports Illustrated.
John: Yes, I did that. But that's a whole other lifetime away.
Aimee: Yeah, but it's cool.
John: But anyway. Yeah. So it was a chance for me. And what happened was I did one song for this movie Gringa. And after doing one song, the director who's a friend of ours said, "Hey, this is perfect. You want to do some more?" I had looked like I had plenty of time on my hands, so I said, "Of course. Let's do it."
And what ended up happening, Aimee found a great hip hop artist on Instagram that had a really cool sound. And he had these really cool things that he was just posting on Instagram. And Aimee said, "You should check this guy out. He's really cool." And that led to a collaboration with him.
Aimee: Servon Campbell's his name.
John: Servon Campbell. And we brought him up to Nashville. We took his idea and turned it into a really cool song which is also in the movie. And then the movie has a lot of Latin content because it's situated in Mexico, for the most part. And so reached out to a Mexican singer that I knew from going on tour years ago with Donovan Frankenreiter. And she and I did a duet and I got to sing in Spanish, which was really unique. So all these incredible opportunities happened. And then of course, Saxsquatch who is our cohost and this EDM single that we're releasing through Monstercat.
Aimee: That comes out on the 19th, right?
John: Yeah.
A social media star helped John Oates revamp Hall & Oates' classic hit "Maneater"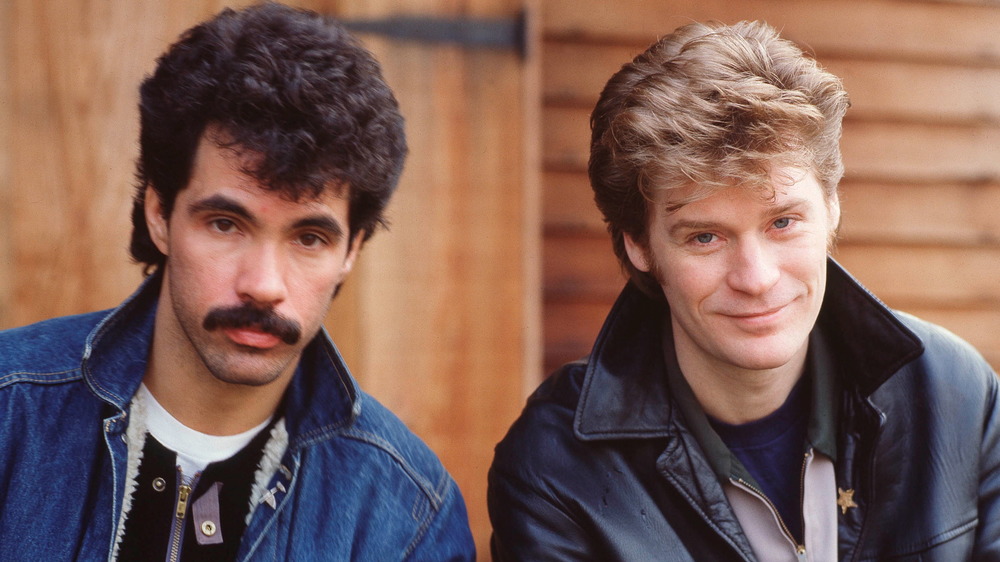 Michael Putland/Getty Images
Can you tell me about EDM single? "Maneater" is iconic and Saxsquatch is, in my mind, he is the age of the internet, the prime example of massive on TikTok, doing his own thing, completely unique. And you are the classic purveyor of your sound. So, it's these two different worlds meeting and I think that's really cool. Can you talk about it?
John: What happened was after we started following him, of course like everyone, and we were obsessed. So we reached out to him and we got a hold of him through his manager and we began to talk. I think it was his manager, Michael, who said, you guys should do a song together. When I came up with the idea for "Maneater," the original idea was a reggae. It was a reggae feel.
Daryl and I changed it into a more Motown feel which is of course the sound you hear on the record. But I've always wanted to take it back to that original reggae feel. And I proposed the idea was, hey, let's do a reggae version of "Maneater" with Saxsquatch and I. Of course. And that's what we did. And then it came out really good. We did a video and we went into the woods and did all this cool stuff.
And then his manager's super creative and their team said, "We've got an idea to take this to a whole other place." And they literally produced an EDM version based on the reggae version. And when I heard it, I was like, "This is way better than the reggae version." And I loved it and everyone else loved it. And then they did this incredible video, which we're going to debut during the song festival. It's an awesome video.
Aimee: And speaking of TikTok –
John: Oh wait, we just joined. What is it? @realJohnOates or something like that? ... @realJohnOates is our TikTok handle. Do I sound like I know what I'm doing?
I just joined TikTok too, and I feel the same way.
John: Okay, good. Okay.
Aimee: Okay. So Tiking and Toking, okay, great.
John Oates: So anyway, all this stuff is happening now. And honestly, it's all happening because we've been home and had the time to reach out and do unusual, cool things. And yeah, I can't wait for people to hear this EDM version because it's pretty darn cool.
You can check out the video for John Oates/Saxsquatch "Maneater" cover right here. 
The unlikely way John Oates broke out of his creative shell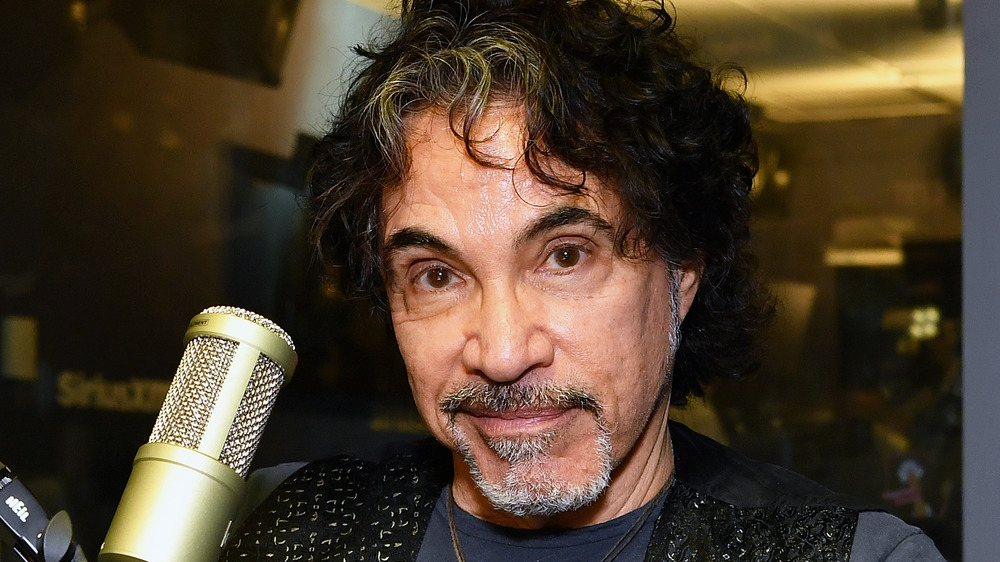 Slaven Vlasic/Getty Images
You said you've been writing so much. Obviously some of your inspiration indirectly comes from Aimee, because she's shown you these new artists, which is amazing. What has been inspiring you?
John: Just the fact that I have the time. When I'm on tour, I don't write very much. I'd never even my entire life, very seldom write on tour. I can come up with ideas and jot down ideas or sing a melody into an iPhone or something like that. But very rarely do I actually write a song on tour. And it's really been this chance to be home. I tweaked my home studio, got it working. Bought some new things that I needed, stuff that had been on the back burner for me. And once I did that, the creative flow started happening. For me, writing is very much like exercising. When I'm not exercising, I feel like I just don't even want to start. But once I get going, I can't stop. And that's really what happened.
And I've been writing on Zoom, I had never written on Zoom in my life. Had some friends who encouraged me, "Hey, let's give it a try." People out in LA and whatever. And we did the whole Spanish version of the song for Gringa. We did the whole song on Zoom which was really cool too. So it's really a chance to do something different. And I think that chance to do something different was inspiring.
John Oates' 'patchwork world of whatever'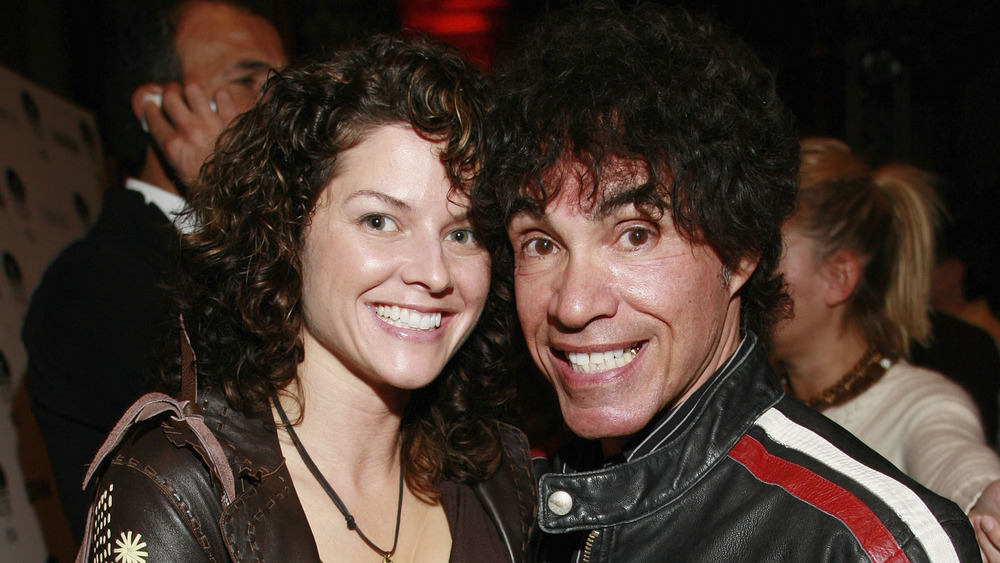 Riccardo S. Savi/Getty Images
Aimee: Yeah. What I see — what I have taken notice [of] — is your willingness and the adventurous, like when Michael Maloof was like, "Hey, what about this? What about that?" You're just like, "I'm along for the ride. Let's do it!" And it takes them out of the realm of, I mean, obvious music this and that, but he's taken his history, his knowledge, his experience. And having that effervescent [attitude of] "Let's just do something. I'm game for anything."
John: When you're an artist who's been around as long as me and have a history, et cetera, you can easily fall into the rut of repeating yourself. On a lot of levels, whether it's guitar licks or chords or melody ideas. So really working with a lot of these young artists who come at it from a whole different perspective and have a whole new — Being open-minded to it has really helped me a lot.
Aimee: This is just what I have been seeing. That [you] just surround yourself, I think just in general for myself as well. I wasn't so much before the social media and all this stuff, I'd be like, "Oh, that's cool. That's cool. That would be a great collab for John." But I just think that energy's energy and not having the borders or the restrictions or the black/white, or the linear that the real obvious like okay musician, you're in that box. Creativity and something inspiring — it can be food, flowers, young, old it's anything and everything — it's just enmeshed in this big patchwork world of just whatever. This is totally cool.
John: A patchwork world of whatever. How's that for a title?
Aimee: I don't know. I'm, like, sweating, I'm sweating now. But I just see this in John. He's got this zest. He always, yeah, great, but I can see it really taken into like, he's got like five different projects going on simultaneously and he's really just the training wheels are off. And he's just, I don't even know –
John: Who needs a PR person?
Aimee: No. I'm serious.
John: What's going on here?
Aimee: I'm living with this.
John: Should I just leave now? You guys can do this by yourself.
Aimee: No, no. John, isn't that true? You're just doing this, that and the other. And you come over you're like, "Hey Aimee, I'm doing this." I can't keep up with him now. It doesn't stop with music.
John: No, it's been really inspiring. The floodgates have opened for creativity and I'm glad I can stay open-minded enough to enjoy it. Yeah.
From fresh flowers to Feeding America, Aimee and John Oates have been prioritizing philanthropy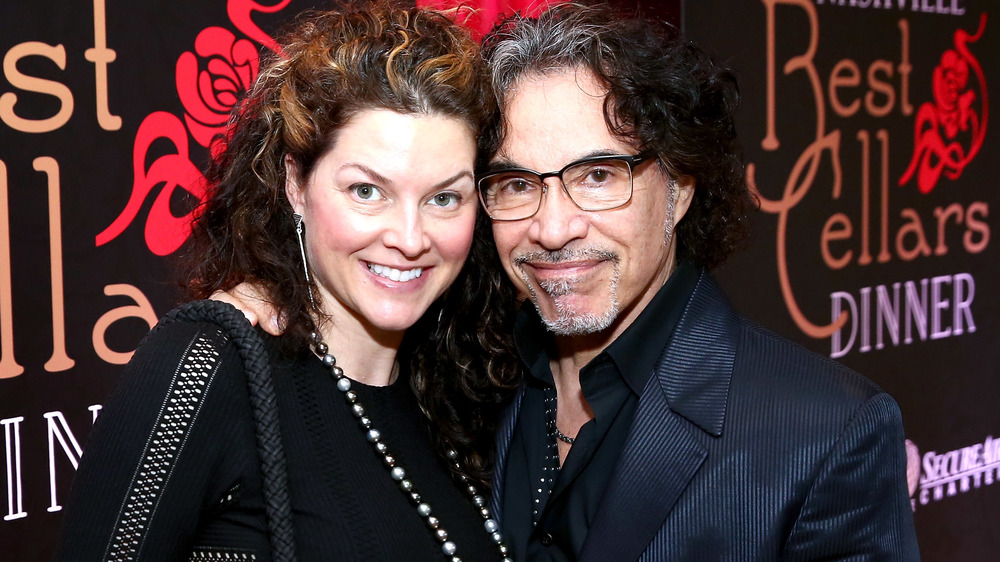 Terry Wyatt/Getty Images
People definitely underestimate how tour is not conducive to that kind of creativity. It's really difficult. And I know what you're saying with the floodgates opening. I think with social media, even if what [Aimee was] saying — like flowers and food and everything — it's made it all this one thing that can co-exist together so you can collaborate on a scale that you have not before.
John: That's right.
Aimee: Exactly.
I know you've been working with Feeding America, but overall, you're both very charitable and have been working with lots of causes. Is there any other charity work that you've been doing that you want to talk about?
John: Oh, I mean, not right this minute, we are totally focused on putting this song festival to the finish line because it's been quite a project.
Aimee: Well in the last year or so, Spina Bifida has been one. I continue on with my floral design with Vanderbilt [University Medical Center in Nashville], the COVID units there. I meet the volunteer director and spiritual services and volunteer work in the parking lot and I give her coffee mugs.
John: She brings flower arrangements.
Aimee: Even I can't go and do the obvious, so I just say, "Okay, I'm going to make it work." And instead of going into the hospital, I'll meet in the parking lot and hand over arrangements for the COVID unit. I think everyone's had to do a makeshift. I don't want to squash my love and joy that I find with flowers and I want to share it with others. So just have to have that conversation of how we can do this safely. And so I go in my she shed and I make flowers. I don't want that to stop. I'm not going to wait until the world finally is X, Y, and Z. I'm just trying to just, you know?
Do you know that research has shown that actually really does make people happier? Flowers, being around plants and flowers. So that does really actually help. That's amazing.
John: Yeah, we've done other things over the years. Daryl and I have always done, we've done Toys for Tots. We've been involved with lots of stuff. Aimee is on the board of directors for the Aspen Animal Shelter. We've worked with that. We worked with Emmylou Harris with her dog rescue that she has here in Nashville. So the there's been a number of things that we've worked on over the years.
Aimee Oates' favorite part of tour is family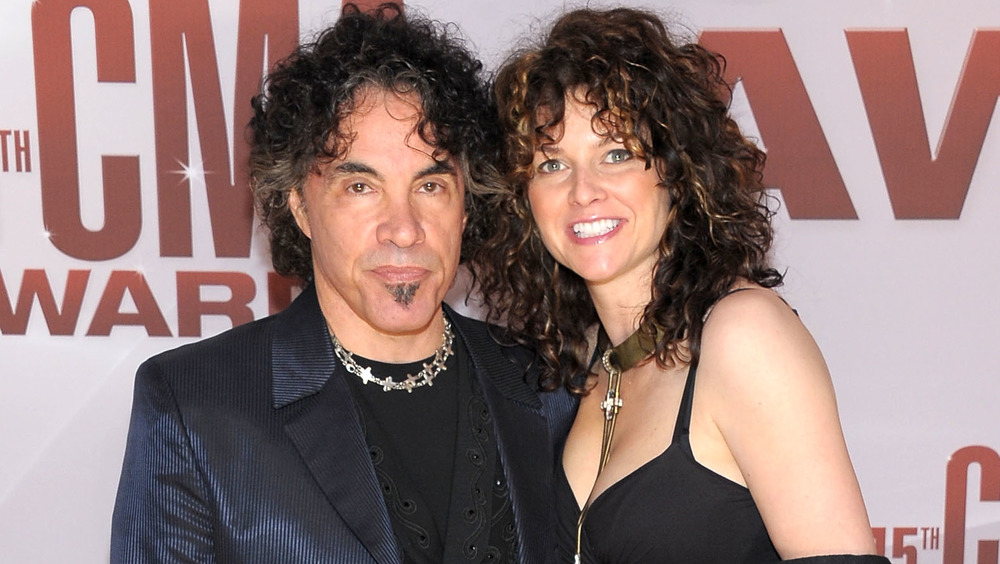 Michael Loccisano/Getty Images
So I just have one last question because all of us are stuck at home and no one can play shows, so me and my friends have been reminiscing. But do you — in your sprawling career — do you have any favorite tour story? Both of you, I know, [Aimee,] you've probably been on tour with him at points. Is there any tour story that comes to mind that you love?
John: Well, we have a few. We have a few.
Aimee: Okay. Mine personally was any area that we would go to combining it with seeing family. I come from a very large family in the Midwest and when we would go there, have a barbecue, go to my parents' farm. Great. That was my touring experience that I loved. Being able to get together with family and friends, seeing John's folks on the East coast. So that's for me, sure I love the music and all, but mine was more about meeting up with family and friends.
John: I don't think that's exactly what she had in mind. Something tells me –
I appreciate hearing that though, because that's also my favorite part.
Aimee: That's fine. John was in a tankini. Woo. You mean that time, John?
John: No.
Aimee: I should stick to my family and friends.
John: No, no. What happened, we took our son on the road when he was born. Seriously. We took him on the road at five weeks or eight weeks. And we did a tour with Carly Simon and we took him on tour for his whole life until he was thirteen. And we had him homeschooled. And finally, when he got to be 13, he finally said, "That's it."
Aimee: "Checking out."
John: "I'm done." And I always told him, I said, "You don't have to worry about going to college." I said, "We'll get you a black t-shirt and you can get a bunk on the bus and you can hang with the roadies." And he said, "No, no, I'm going to college."
That's the opposite of most children, I feel like.
John: No. We never put any pressure on him. So he saw the reality of ... to actually be in hotels and travel, travel. But it was great. We wouldn't trade that experience because we got to spend his whole childhood together.
John Oates' favorite tour story involves capturing one of Australian's most wanted criminals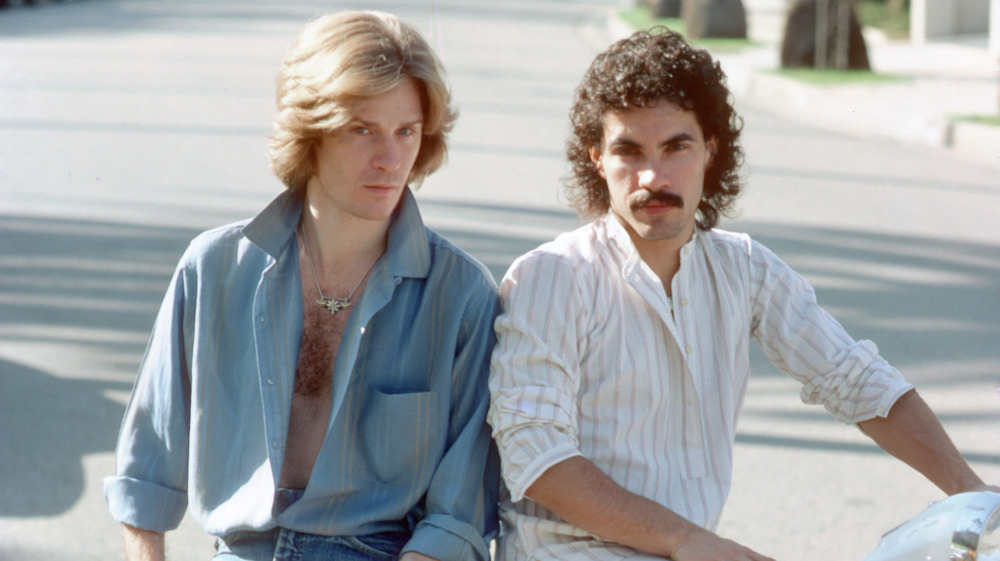 Michael Ochs Archives/Getty Images
John: Oh, Daryl [Hall] and I one time we got robbed by a guy named the Rusty Gun Bandit in Australia. It was our first trip to Australia. And we were at a restaurant after the show and it was Daryl, me, our bass player, his girlfriend and our tour manager. We're sitting at a table and the restaurant was empty because it was after hours. And at the other table nearby was the chef and his wife and his couple of friends.
And all of a sudden, into the room burst this guy with a ski mask and a shotgun. And we thought it was a joke. We thought, because we were just in Australia for the first time, maybe the promoter had set it up as a joke.
Aimee: It's so messed up.
John: And we realized it was real. And he came over to our table. When he went to the other table, he reached into the lady's pocketbook to take her money. And the chef, or one of the other guy[s] hit him in the face. Knocked them down and we charged him and stepped on his hands. Knocked him through a plate glass window. And by that time, the cooks in the back had called the cops and they were running up the steps. And so we captured this guy and he was a notorious bandit in Melbourne called the Rusty Gun Bandit. And the next morning, all the news teams were out in front of our hotel. It was a big deal. So, the ultimate thing to do when you're on tour.
Aimee: Wait the gun didn't [even work] ...
Wait. Was the headline something like "Hall and Oates citizen arrested this Australia's Most Wanted man?"
John: You can look it up. The gun was rusty; it probably wouldn't even have fired. But he had been robbing restaurants and things in that neighborhood for quite some time and they had never caught him.
Aimee: Wait. Didn't someone put down a credit card?
John: Well, when he came to our table, he wanted money and our tour manager gave him a credit card.
Aimee: A credit card.
John: I thought he was going to shoot us.
Aimee: I forgot about that. But, oh my God.
John: So there's your tour story. That's a good one.
You can catch John Oates on tour with Hall & Oates in August 2021. His new single, a reimagined version of "Maneater" featuring Saxsquatch, is currently available through Monstercat.