Travis Barker Looks Completely Different Without His Face Tattoos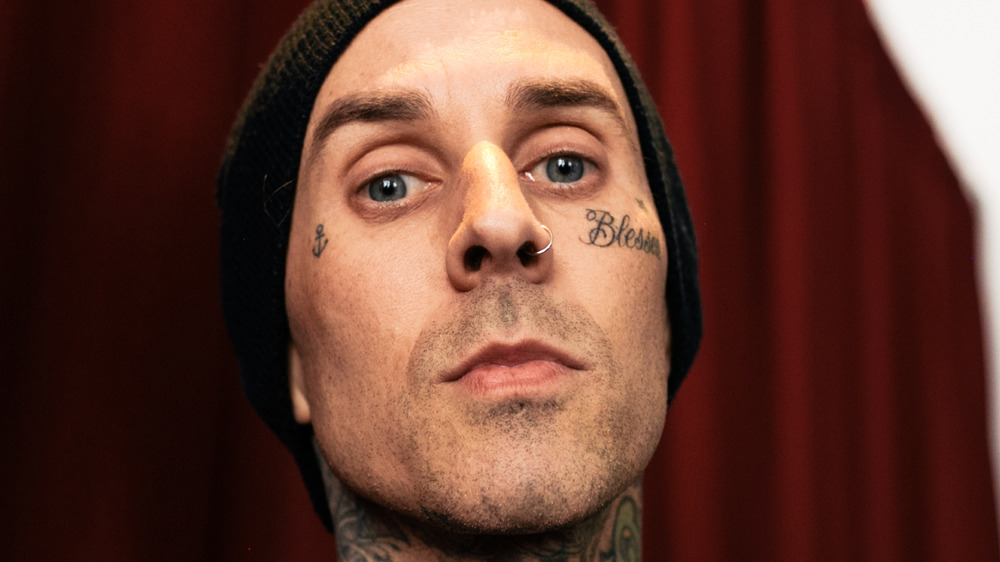 Emma Mcintyre/Getty Images
Travis who?! World-renowned Blink-182 drummer, and now Kourtney Kardashian's boyfriend, Travis Barker, looks a helluva lot different without his signature tattoos. The artist is known for being covered head to toe in ink, however, his daughter Alabama Barker, whom he shares with ex-wife Shanna Moakler, gave him a make-under in a video shared via Instagram on March 30, 2021, and fans are loving his clean-cut look.
"Hi guys so it's Alabama here with my dad and today we are going to be trying to cover up his face tattoos with Kat Von D's new product," the 15-year-old said in the clip as she sat beside her father who waved to the camera. "I have to figure out what shade he is so let's get to it!"
But aside from the rocker's makeover from bada** father to cool dad, fans couldn't get enough of the daddy-daughter duo. Keep scrolling for more details.
Fans love seeing Travis Barker as a clean-cut dad
It didn't take long for fans to flock to Alabama Barker's Instagram comments following her dad Tavis Barker's clean face reveal. "Watch me cover my dad's tattoos!" the 15-year-old captioned the clip. "My dad let me give him a makeover [weary emoji]. Covered up his face tattoos with @kvdbeauty's new Good Apple Foundation. The coverage of this formula had us both shocked... @travisbarker #KVDBeautyPartner."
After concealing his signature "blessed" tattoo located below his left eye and the anchor design beside his right eye, fans were loving the rocker's clean look."That's crazy the tattoos just vanished!!" one person commented, while someone else wrote, "Damn @travisbarker looks like a totally different person [clap emoji]." But asides from being impressed by the products they used, others noted how young the artist looked without his ink.
"Your dad looks so young," another social media user wrote with a red heart emoji. "Girl your daddy is STILL fine as hell. He was my crush when I was a teenager," someone else said.
However, it looks like the Barkers sweet banter stole the show. "I love the relationship the two of you have," a fan commented, as someone else added, "This is the content. More of u both pls." Fingers crossed for more makeup tutorials from the father-daughter duo!