Are Amy Schumer And Chuck Schumer Related?
Shutterstock
Amy Schumer and Chuck Schumer are both quite well-known for their respective careers, although they live in vastly different worlds. Amy is a comedian who is known for her sharp wit, while Chuck has spent decades representing his home state of New York in politics. As is often the case when two well-known individuals share the same last name, people frequently question whether Amy and Chuck are actually related.
As Britannica detailed, Chuck grew up in Brooklyn, New York. He was the valedictorian of his class in high school and he nailed a perfect score on the SATs. He received a Bachelor's degree in political science from Harvard University, and followed that up with a law degree from the same university. He passed the New York State bar exam, but went into politics rather than practice law. Chuck married Iris Weinshall and raised their two kids as he served in government, serving locally and then in the House before becoming a senator in 1998.
Britannica revealed that Amy was also born in New York. She was born in Manhattan, but grew up in Long Island. Her father had multiple sclerosis, and that experience seemingly was a catalyst for her constant reliance on her sense of humor. Amy attended Towson University in Maryland, where she earned a theater degree. She pursued a career in comedy, landing a spot on Last Comic Standing in 2007. Her career quickly grew from there, landing her awards, significant network deals, and movies.
A tragedy brought them together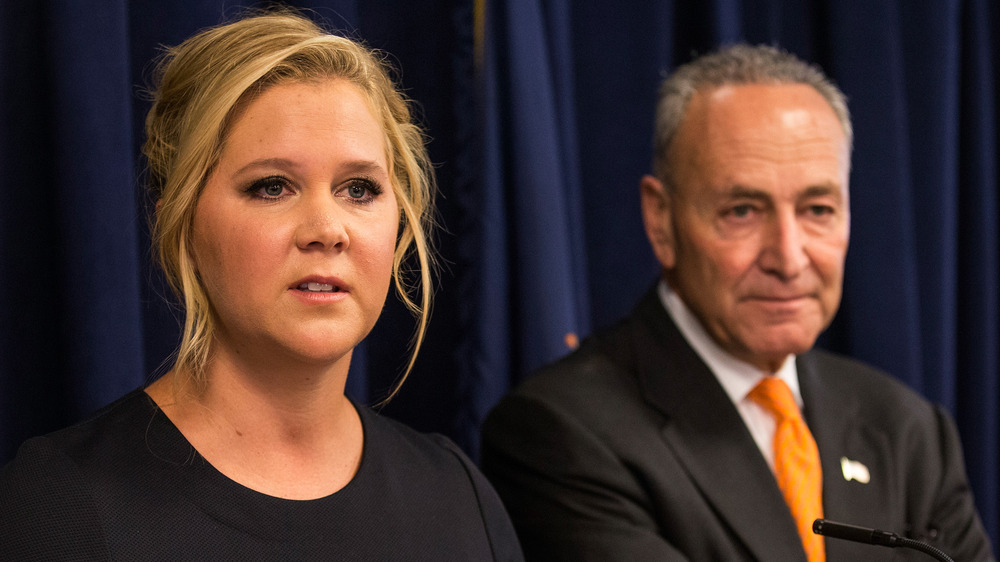 Andrew Burton/Getty Images
In 2015, a mass shooting brought Amy Schumer and Chuck Schumer together publicly (via PBS). The incident occurred at a Louisiana premiere of Amy's film Trainwreck, and she felt compelled to speak out against gun violence after it. Shortly after that, her cousin Chuck reached out as he drafted a proposal to tackle the issue. The cousins held a press conference and had a sign next to them that read "Schumer & Schumer: Enough Is Enough," noted The New York Times.
Chuck and Amy only started to connect personally a few years ago. Amy is related to Chuck on her father's side, and the two are second cousins once removed, per the outlet. As the NYT reported, they first spent time together the summer before their joint press conference. During that initial meeting, he told tales of playing stickball with Amy's dad as kids. Since that initial meetup, they've remained connected.
For example, Amy posted a selfie showing the two of them together in 2016. In addition, Page Six detailed, Amy stuck up for Chuck in 2017 in a since-deleted Instagram post. After Amy announced her pregnancy with son Gene, Chuck quipped via Twitter that he couldn't wait for a cousin playdate between Amy's baby and his grandson Noah (via The Hill). Amy and Chuck may not have grown up as close cousins, but they've seemingly tried to make up for lost time since connecting a few years ago.