Pink's Net Worth: How Much Is The Pop Superstar Worth?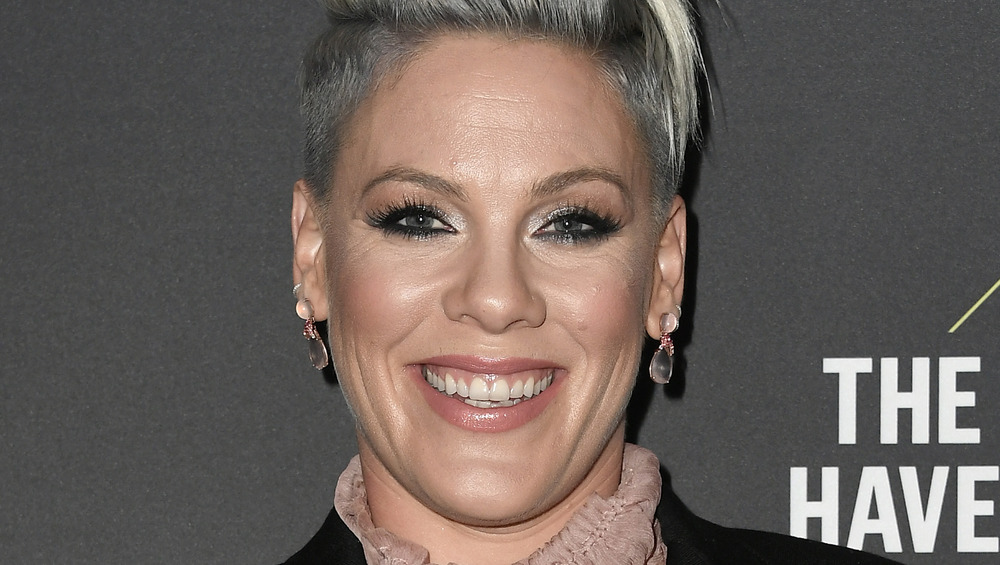 Frazer Harrison/Getty Images
Pink, whose real name is Alecia Moore, is one of the most recognizable faces around the world. The global megastar has been topping the charts for over 20 years and is a force to be reckoned with.
While Pink is known for being a successful solo artist, her music career started in a couple of groups. According to Britannica, she signed a record deal after a record executive recruited her to sing in the R&B band Basic Instinct. However, that didn't work out for the aspiring star. Soon after, Pink became a member of the girl group Choice. The short-lived trio also didn't stay together very long and called it a day before the new millennium. After a few false starts, Pink eventually embarked on a solo career. The rest? Well, it was history.
Pink's solo music has continuously taken her new heights. As of April 2021, the "Just Like a Pill" hitmaker has released eight studio albums since 2000, three of which have reached the top spot on the U.S. Billboard 200. Along with being a phenomenal artist, she is also known for getting the party started during her show-stopping tours, which usually take place in huge venues. According to Billboard, her "Beautiful Trauma" world tour sold over 3 million tickets.
With a two-decade career that shows no signs of slowing down, many must wonder how much Pink is actually worth.
Pink is worth WAY more than you think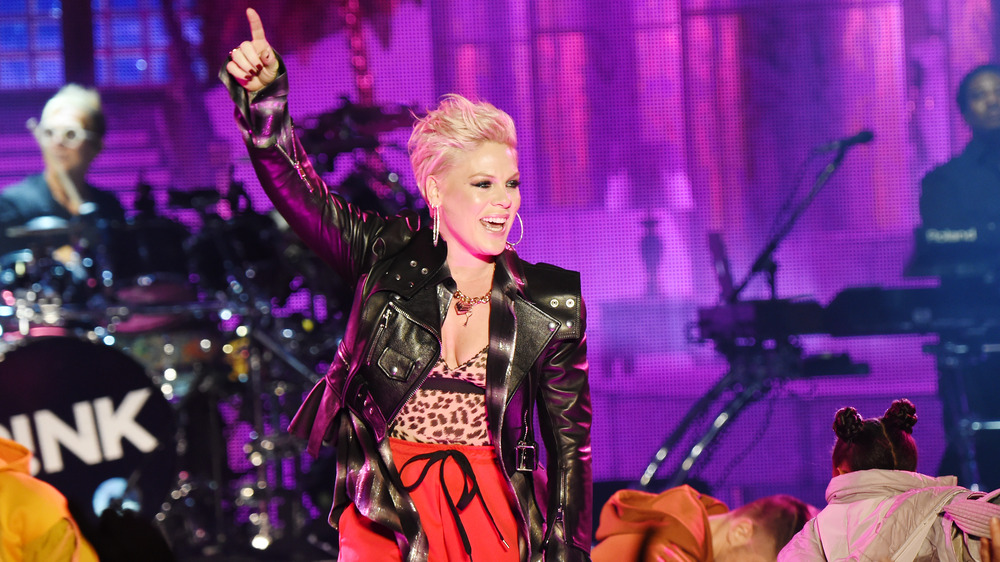 Kevin Mazur/Getty Images
It may have taken some time for Pink to break through into the mainstream, but that's all in the past as the talented singer is now considered a household name. Her hard work and popular music have helped the "Just Like Fire" star morph into a wealthy woman with more than sold-out tours and hit records to boast about. As of 2020, Pink is worth an astonishing $200 million, according to Celebrity Net Worth. I think it's fair to say it doesn't Hurt 2B Human if you're a boss like Pink!
As reported by Billboard, her "Beautiful Trauma," tour, which started in 2018, grossed over $397 million at the box office and became the 10th highest-grossing tour in Billboard Boxscore's history. Not only that, it was the biggest tour for a woman in over a decade. There you go, no wonder Pink is a financial giant. 
Pink has been married to motocross racer Carey Hart since 2006. The couple lived at their mansion located in the Point Dume area of Malibu for many years, per Celebrity Net Worth. After purchasing the 8,000 square foot home in 2010 for $11.85 million, they sold the property six years later in 2016 for $12.5 million. In 2013, they treated themselves to a 200+ acre ranch in the Santa Ynez Valley for $12 million.