The New Drama Surrounding Matt James And Rachael Kirkconnell's Rumored Reunion
The drama surrounding Matt James and Rachael Kirkconnell's relationship continues to thicken.
After breaking up due to the racial controversy that rocked Bachelor Nation and then reuniting for an uncomfortable interview on Bachelor season 25's After the Final Rose special in March 2021, it seemed that there was no hope left for Matt and Rachael's romance. Once host Emmanuel Acho urged Matt to offer some words of closure to Rachael during the special, Matt turned to her and said that it wasn't his job to make her realize what she did was wrong. "I didn't sign up to have this conversation. And I knew that I had to take a step back for you to put in that work that you outlined that you needed to do. And that's something you gotta do on your own," he explained, per People. "And that's why we can't be in a relationship," he added.
With little hope of any reconciliation between the two lingering among Bachelor fans, they were understandably shocked when photos of Rachael and Matt strolling through New York City surfaced on April 7, 2021. The photos immediately sparked dating rumors; however, sources close to the pair told People magazine that the two are "just friends." Then, US Weekly reported that Matt had actually moved on from Rachael, which made her "emotional."
Now, more details have been revealed in regard to the tumultuous relationship — including from the woman Matt reportedly moved on with herself.
Matt James is more into dating than he previously expressed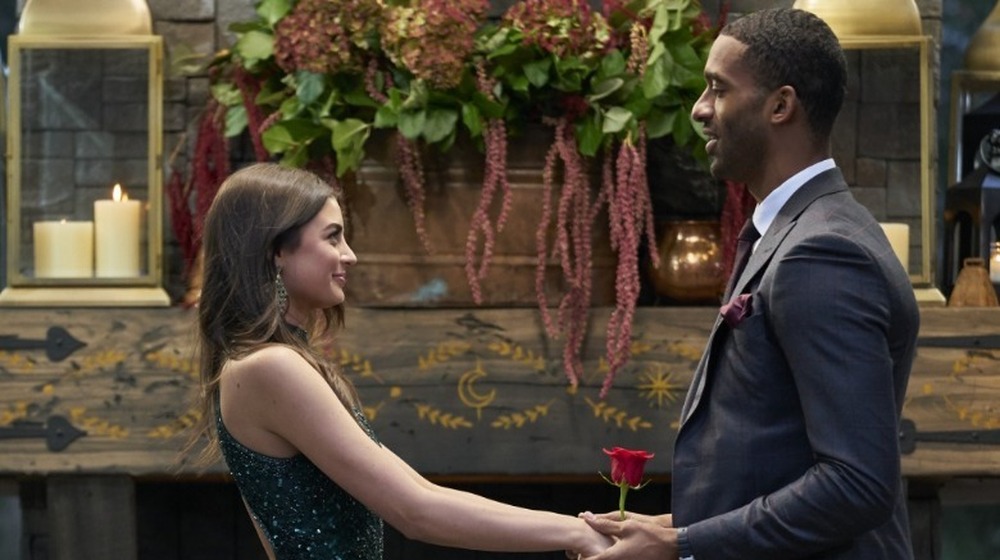 ABC/Craig Sjodin
Blogger and reality television insider Reality Steve conducted an Instagram Live on April 9, 2021 to hash out the inside details of Matt James and Rachael Kirkconnell's relationship, which he had been collecting information on since she landed in New York City on April 6.
According to Steve, Matt has been trying to get back with Rachael ever since the After the Final Rose special. Rachael was supposedly in New York only because Matt flew her out — and Steve said he saw screenshots to prove it. Meanwhile, Matt was also talking to another girl named Grace, who he knows from Florida. As the story often goes, both women eventually found out about each other and when they confronted Matt, he allegedly tried assuring each of them that he is not with another woman. Rachael, in the meantime, left Matt's apartment and reunited with many of her fellow contestants.
If true, Matt's actions are quite contradictory to his previous remarks made on The Bill Simmons Podcast in March 2020 that he is focusing on himself. "I'm working on myself. I'm not going to be dating," he said. "I'm just solely focused on getting back into that meaningful work in the community and centering myself around projects that are going to elevate all the work that I've been working on doing in the city and special interest things that I appreciate outside of reality television." It seems like Matt may have some explaining to do. 
Matt James' other suitor spoke out about their relationship
ABC/Craig Sjodin)
Following Reality Steve's first Instagram Live session, Matt James' alleged other suitor, Grace, volunteered to partake in a Live chat with the blogger to "clarify a couple things" about the situation.
First of all, she wanted to make sure people were aware that she personally contacted Rachael Kirkconnell about the situation. "All the best to Rachael," she said, adding that she hopes she finds "someone better."
Grace then went into detail about the "romantic friendship" she had with Matt and even revealed that they were "super casually" dating before he was announced as the Bachelor. "He was not the Bachelor or even trying to be the Bachelor at that point," she said of their first couple of dates. "He was just a random guy I was talking to," she added.
However, Grace said they continued seeing each other once he was announced as the lead of the show and that he tried casting his own season. "He tried to get me to go on the show and nominated me to go on the show," she alleged. Grace originally refused, but then said her life situation changed and she was open to it. She applied, went through interviews, and was never cast.
Grace also confirmed that Matt had contacted her to get together two days before Rachael arrived in New York. In the end, Grace says she is "okay," and that Rachael is the "victim" in the "shady" situation.