The Bachelor: Rachael Kirkconnell Breaks Silence After Controversy
Season 25 of The Bachelor has been a little different this year. First, COVID-19 threw a wrench in everyone's plans, rendering the show unable to film at the eponymous "Bachelor Mansion." Usually, they shoot a few weeks at the mansion in California and then spend the rest of the season traveling to contestants' hometowns and then jetting around the world. Instead, this year, the whole cast and crew hunkered down at a hotel in Pennsylvania.
Then, there is the Bachelor himself. Matt James made history by becoming the first Black Bachelor. "I felt that pressure — I'm not going to lie," he told Variety when asked about the historic role. Besides being the first Black man to helm the show, Matt set himself apart in other ways. He is the first lead in a very long time to never have appeared in another Bachelor franchise. Usually, The Bachelor selects its leads by pulling a fan favorite from The Bachelorette or some other spinoff, but Matt landed the role by being roommates and BFFs with Tyler Cameron, a fan favorite from Hannah Brown's season of The Bachelorette. 
You know what they say, though, "the more things change, the more they stay the same." Where The Bachelor fell short in set continuity, it more than delivered on the drama. Every year you can count on a few things: Chris Harrison looking like he's laughing, a catfight, and one contestant getting caught up in a public scandal. This year, that contestant was Rachael Kirkconnell.
Rachael Kirkconnell had to issue an apology
Rachael Kirkconnell started her time on The Bachelor in a good place. She didn't get involved in any of the drama the other contestants did, and she, unlike most of the women, seemed to have an actual connection with Matt James. Their first one-on-one was spent trying on clothes at a fancy boutique and talking about how she'd never been able to open up to anyone before she met Matt.
Back in the real world, though, Rachael recently found herself at the center of a very nasty scandal when pictures of her attending a plantation themed college party started making the rounds online. As if that weren't enough, screenshots also emerged showing racially insensitive posts liked by Rachael's Instagram account, per Just Jared.
Like any good and damaged reality star, Rachael quickly issued a public apology. "While there have been rumors circulating, there have also been truths that have come to light that I need to address," she said in an Instagram post. "I hear you, and I'm here to say I was wrong. At one point, I didn't recognize how offensive and racist my actions were, but that doesn't excuse them. My age or when it happened does not excuse anything. They are not acceptable or okay in any sense. I was ignorant, but my ignorance was racist."
That's not where the story ends, though. The scandal surrounding Rachael's past was so big that even Chris Harrison got dragged into it and had issued an apology of his own.
Chris Harrison also had to issue an apology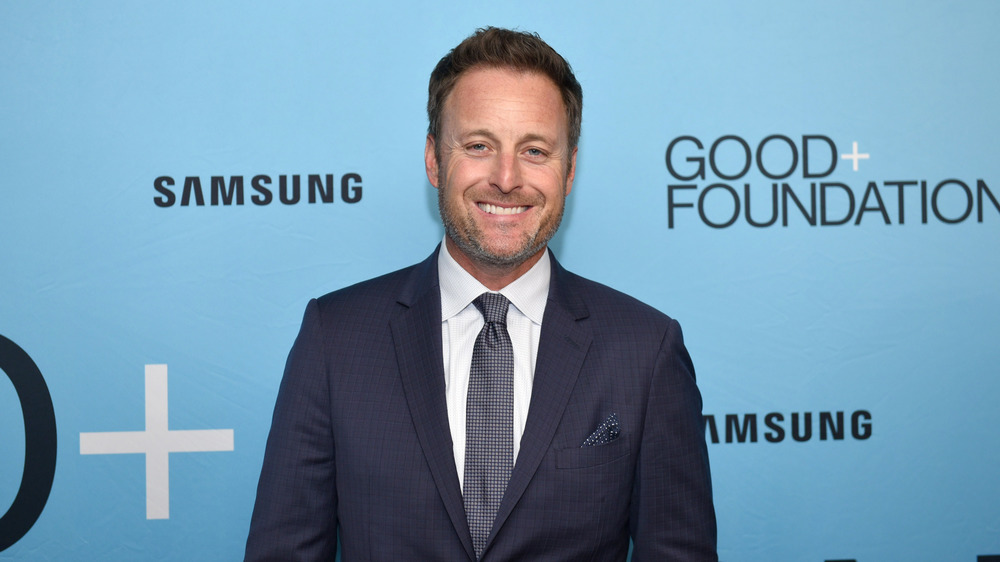 Andrew Toth/Getty Images
Chris Harrison might have thought he was doing the right thing when he came to Rachael Kirkconnell's defense, but what he really did was anger Bachelor fans even further. While sitting down for an interview with former Bachelorette star Rachel Lindsay, before Rachael Kirkconnell spoke for herself, Chris downplayed the scandal. "The woke police is out there," he said, per Just Jared. "And this poor girl Rachael, who has just been thrown to the lions, I don't know how you are equipped when you have never done this before, to be woke enough, to be eloquent enough, to be ready to handle this."
To the surprise of no one, Chris's insensitive comment about Rachael's callous actions didn't go over well with an already annoyed fan base. After yet another outcry from Bachelor fans, Chris found himself in a similar situation to Rachael. The veteran TV host issued an apology. 
"To my Bachelor Nation family — I will always own a mistake when I make one, so I am here to extend a sincere apology," Chris wrote on Instagram. "I have this incredible platform to speak about love, and yesterday I took a stance on topics about which I should have been better informed. While I do not speak for Rachael Kirkconnell, my intentions were simply to ask for grace in offering her an opportunity to speak on her own behalf." Chris went on to explain that he now understood how hurtful his words were. "I promise to do better."