Donald Trump Has Something To Say About The COVID-19 Vaccine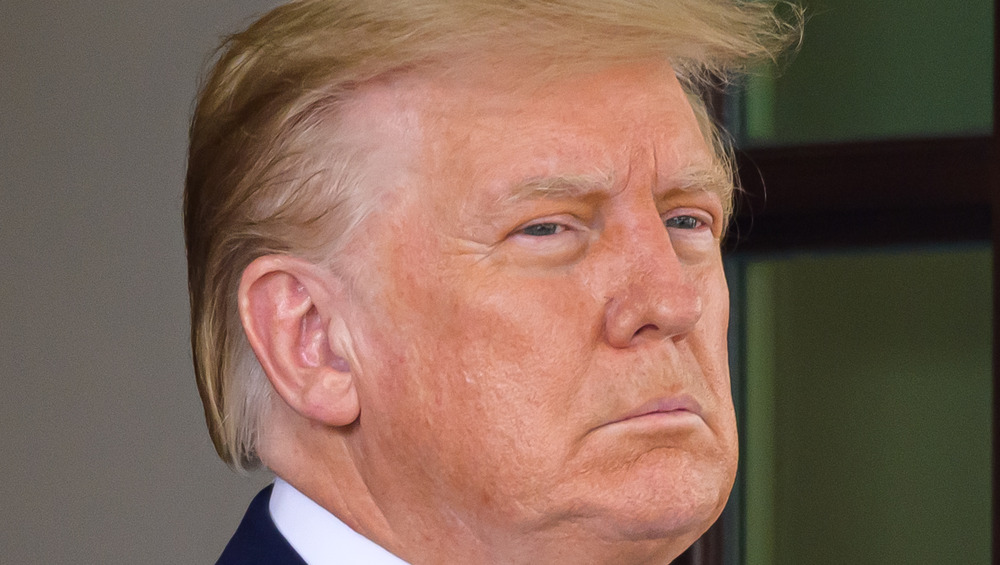 Shutterstock
Since the beginning of the coronavirus pandemic in early 2020, former president Donald Trump has made countless outrageous statements, coupled with his attempt to tone down the severity of COVID-19. At the time the United States announced its first confirmed case in January 2020, Trump promised American citizens that they had the situation "totally under control."
"It's one person coming in from China," he told CNBC's Squawk Box co-host Joe Kernen in an interview from the World Economic Forum in Davos, Switzerland. "We have it under control. It's going to be just fine."
When U.S. cases rose to 50-plus by late February, Trump insisted his team had done a "pretty good job" and that the number would be "close to zero" in "a couple of days." The reality TV star-turned-commander-in-chief also compared the coronavirus to the flu, which "kills from 25,000 people to 69,000 people a year," he claimed during a Coronavirus Task Force press briefing at the White House (via CBS News).
However, the COVID-19 outbreak proved to be unprecedented, and more than 560,000 people have died in the U.S. since its spread was officially declared a pandemic, per The New York Times. Though it seems like there may be a light at the end of the tunnel now that vaccinations are rapidly rolling out, Trump still has some things to say about the coronavirus. Keep scrolling to see Trump's latest comment about the COVID-19 vaccine. 
Donald Trump wants credit for the COVID-19 vaccine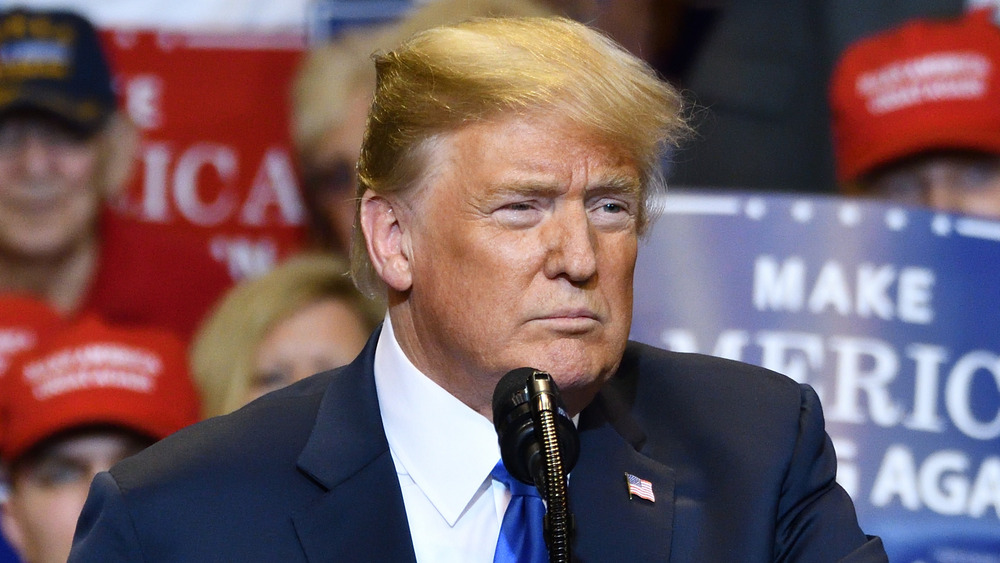 Shutterstock
With vaccinations becoming widely available across the United States and many getting a taste of what life used to be like, it appears Donald Trump is looking for credit when it comes to the COVID-19 vaccine. The former leader let his fellow GOP members know how he felt about the vaccine during an event at Trump's Mar-a-Lago resort in Florida in April 2021.
Trump claimed the COVID-19 vaccine should be called the "Trumpcine," according to reporters from CNN and The Washington Post. The Apprentice alum gave an hour-long, expletive-filled rant at the invitation-only dinner for Republican Party donors on Saturday, April 11.
Trump is said to have bragged about the way he handled the pandemic, as well as praised Republican governors who pushed pandemic regulations and kept businesses open in their states (via The Independent). Attendees also told The Washington Post that Trump said his one-time chief medical adviser Dr. Anthony Fauci was "full of crap."
That's not all. Trump reportedly ripped into his former confidant and Senate leader Mitch McConnell, whmo he called a "dumb son of a b***h," and dismissed President Joe Biden's 2020 election victory as "bulls**t." He even expressed his "disappointment" for former vice president Mike Pence," stating he lacked the "courage" to defend his claims of a stolen election and block Electoral College votes.
Knowing Trump, this won't be the last of his coronavirus comments.