Travis Barker's Tattoo Of Kourtney's Name Doesn't Mean What You Think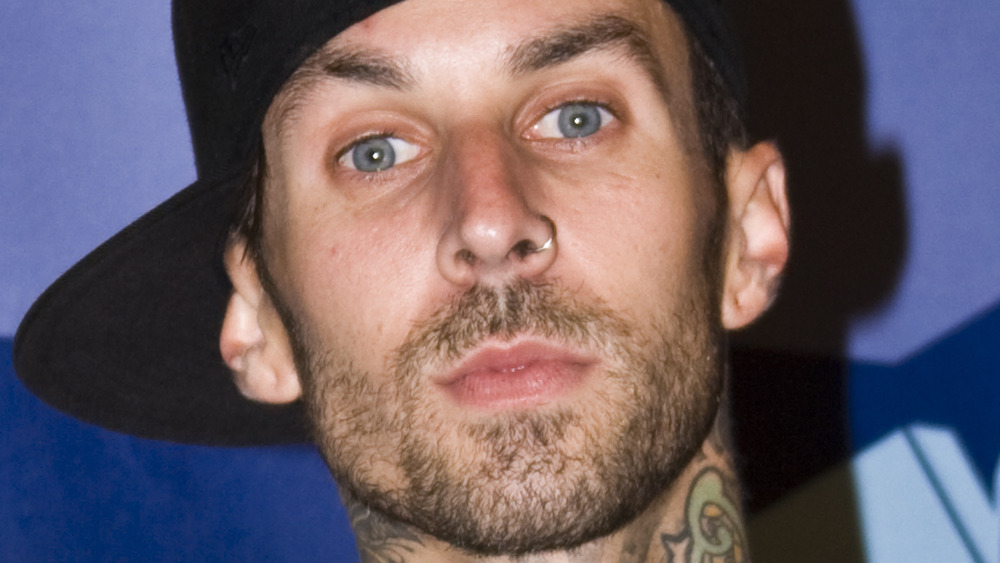 Shutterstock
Whether or not you actually keep up with the Kardashians, you have probably heard by now that Kourtney Kardashian, the eldest of the Kardashian clan (klan?) is dating Blink-182 drummer Travis Barker. Kourtney officially announced their relationship on Instagram shortly after Valentine's Day, posting a photo of the two of them holding hands. Barker seemingly confirmed the news by replying with a single heart emoji.
Per Billboard, the two longtime friends have been giving fans glimpses into their relationship via Instagram, with Barker posting a handwritten love note from Kourtney on his Instagram Story, which read, "To lots of fun adventures, may we destroy each other completely. Love, Kourtney." 
On April 11, 2021, Barker posted a photo of himself drumming, captioned: "All day I dream about sex w/ you," seemingly a reference to the hit Korn song "A.D.I.D.A.S." Barker tagged Kourtney in the photo, leaving none of the post up for interpretation. However, what is up for interpretation is Barker's tattoo of Kourtney's name. As to leave no stone unturned, we turned to an expert who offered up some insight.
Is Travis Barker in it for the long haul?
Although they have only been together publicly since February 2021, Travis Barker and Kourtney Kardashian appear to be moving quickly. The couple took their relationship to a new level on April 9, 2021, when Kourtney posted a photo of her hand on Barker's chest, pointing to a fresh tattoo that reads "Kourtney." Nicki Swift spoke exclusively with Dr. Meghan Marcum, a mental health expert and chief psychologist at A Mission for Michael, to learn the meaning behind Barker's new tattoo.
"Getting a tattoo of someone you're dating is usually a clear sign that person is interested in being committed," Marcum said. "Travis and Kourtney haven't been dating for very long so it could be a signal he's falling for her and wants the world to know it." This is seemingly reminiscent of Pete Davidson getting a matching tattoo with his then-fiance Ariana Grande. As we know, that relationship ultimately headed south, leading Davidson to cover his "mille tendresse" tattoo with the word "CURSED," per The Blast.
Like Davidson, Barker is covered in tattoos, leading Marcum to clarify, "... this could be more of a representation of his artistic expression than a symbol of long-term commitment. That being said, he chose to share it with the world which indicates he has nothing to hide." Marcum also noted that while Barker's myriad tattoos might make this one seem less significant, the specific placement of this tattoo is important. "The tattoo of Kourtney is positioned close to his heart," she said, adding, "so that makes it more meaningful."