The Real Meaning Behind BTS's 'Boy With Luv' Ft. Halsey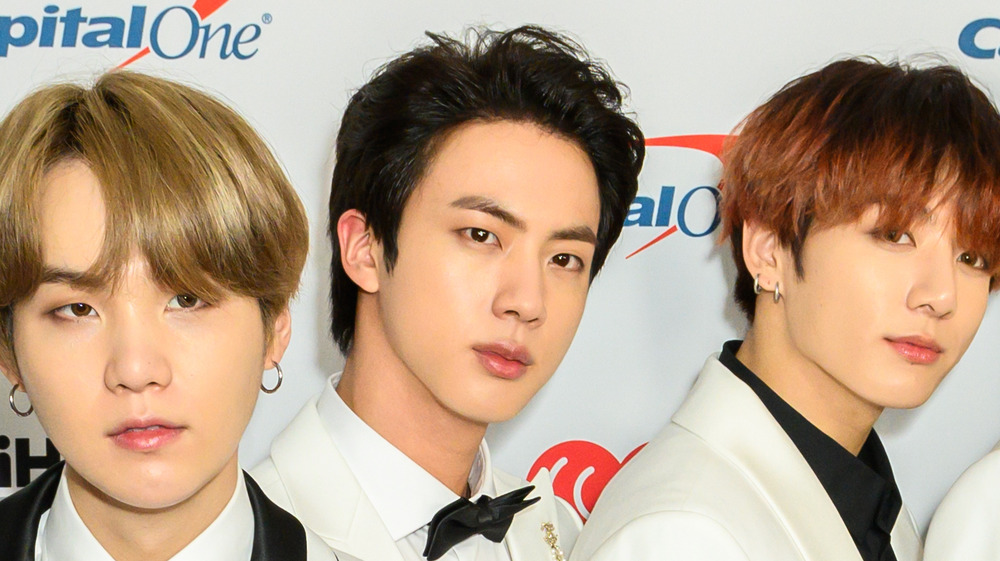 Shutterstock
One would seemingly have to be buried under a mountain of rocks to not have heard of BTS. Even non-fans of the musical genre known as "K-pop" (short for "Korean pop") surely have seen the Grammy-nominated, Seoul-hailing boy band's name dropped in Twitter hashtags ubiquitously or their hit music videos splashed on YouTube homepages everywhere.
However, in April 2021, a Chilean comedy show once again inserted BTS back into headlines, this time for negative reasons. According to Paper, Mi Barrio inspired another Twitter hashtag movement — this time, "#RacismIsNotComedy" — after airing a skit in which actors, mimicking members of BTS, spoke faux-Korean mockingly and used disparaging terms for them like "Kim Jong-Uno." "A person's culture and language should never be subjected to mockery and used as 'humour,'" offered one Twitter user in response to the offensive sketch.
While BTS has inadvertently found itself amidst a controversy, the seven members would surely rather remember 2019 when they made more inspiring headlines for smashing three Guinness World Records, per Billboard, in one fell swoop. After releasing their single, "Boy with Luv" (featuring chart sensation Halsey) on April 12, 2019, the accompanying music video had been awarded the titles of "most viewed YouTube video in 24 hours," "most viewed YouTube music video in 24 hours," and "most viewed YouTube music video in 24 hours by a K-pop group" — all by April 18.
Let's take a deep dive into what the lyrics behind this phenomenal feat of a song really mean!
'Boy with Luv' is about finding joy in the little things
"Boy with Luv (feat. Halsey)" – as is emblematic of BTS' musical style — is sunshine in audio form. Even the music video, featuring collaborator Halsey, feels like a daydream, being set in a retro movie theater with matching pink costumes. The English lyrics, such as "how's your day" and "what makes you happy," are joyously simplistic enough.
As it turns out, that was the very intention when BTS titled the song. Film Daily pointed out that the Korean title for "Boy with Luv" literally means "a poem for small things." As the outlet speculated, "'Boy with Luv' is about finding joy and love out of the little things in life." Elite Daily chimed in that the song also asserts that nothing is "stronger than a boy with that sort of love that comes from the inside."
The band's rapper RM added another layer to the chorus of explanations on an April 2019 visit with The Elvis Duran Show. The song's true meaning is one which their fanbase, whom they affectionately call their Army, will quickly recognize as building upon a previous single's. "This is about... if you become a BTS Army... you will find out what this song is truly about," RM told host Elvis Duran, elaborating that, "In 2014 we released a song called 'Boy In Luv,' and that's about young love, teen love. This time we grew up, we sing about what the true love is."