When Will Prince Harry And Prince William Finally Reunite?
Wpa Pool/Getty Images
2021 has been very eventful for the United Kingdom monarchy. In March, Prince Harry and Meghan Markle sat down with Oprah Winfrey and blew the royals "never complain, never explain" mantra wide open. The couple dished the juiciest, most scandalous news that rivals Squidgygate and even Fergie's toe-sucking drama. Then, on April 9, 2021, Prince Philip died. Queen Elizabeth II's consort will be buried on April 17, 2021, and hopefully, provide Harry and William a chance to reunite after their public spat. 
Prince Philip was seemingly correct when he said that "nothing good would come of" the Duke and Duchess of Sussex's interview with the Queen of All Media, per Daily Mail. The National News reported that Harry and Meghan lost support in both the U.S. and the U.K. after they aired the royals' dirty laundry. Worst of all, Prince Harry also seemingly angered his brother and widened the rift between the two of them. The redhead duke alleged in the bombshell Oprah interview that he and William are on "different paths," and that "the relationship is space at the moment." The couple also claimed that Kate Middleton made Meghan cry before her wedding, and not the other way around.
After the interview, the Sussexes then seemingly rubbed salt in the wound by telling Gayle King that they had spoken with Prince Charles and Prince William and that the talks were "unproductive." Us Weekly dished that Will thought Harry had delivered a "cheap shot" by discussing their private chat. 
Princess Diana's boys are set to come face-to-face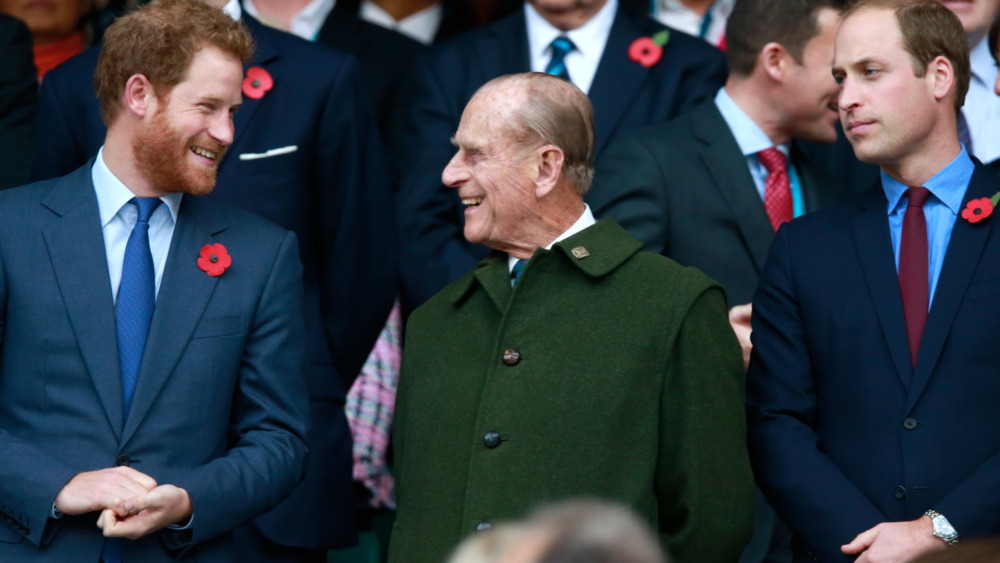 Phil Walter/Getty Images
The world will watch in fascination as the next installment unfolds. Now that Prince Harry has arrived in the United Kingdom, sans his pregnant wife and child, it's only a matter of time before he and his brother come face-to-face. How will the feuding royal brothers react after not seeing each other after a year? According to the Daily Mail, the Heir and the Spare will reunite on the morning of Prince Philip's funeral on April 17, 2021. 
Apparently, there will be no drama on the day that they lay the Duke of Edinburgh to rest. Princess Diana's boys will reportedly put on a "unified" front with Kate Middleton "set to act as peacemaker." The outlet dishes that they may have already spoken since Harry's arrival. A source told the Daily Telegraph (via Daily Mail), "They know it is not about them on Saturday – it is about honoring their grandfather's memory and supporting their grandmother."
Queen Elizabeth will be seated by herself at the funeral, as per the U.K. COVID regulations, but her loved ones will support her from a distance. The source added, "I would be extremely surprised if that wasn't front and center of both their minds. They will be keen to spend time together as a family, in the same time zone for once." Let's hope they forgive and move forward as the Harry and Wills that we remember.