The Real Meaning Of Mick Jagger's 'Eazy Sleazy'
Shutterstock
Mick Jagger is turning his frustrations and observations of the last year of the COVID-19 pandemic into his music. The Rolling Stone teamed up with Foo Fighters frontman Dave Grohl to release a new single, "Eazy Sleazy." "I wrote the lyrics really quickly," admitted Jagger to Rolling Stone. "Just the pandemic and hopefully coming out of the pandemic; the-light-at-the-end-of-the-tunnel chorus."
The artist revealed to the publication he was hit with the idea for "Eazy Sleazy" after watching the world react to the COVID-19 pandemic throughout 2020 and early 2021. The single itself touches on the lives lost, conspiracy theories about vaccinations, and what the future could bring. "It's hard to put into words what recording this song with Sir Mick means to me," said Grohl. "It's beyond a dream come true."
So what is the full story behind this "dream come true" collaboration? Mike Jagger broke down the lyrics piece by piece.
Mick Jagger critiques conspiracy theories in "Eazy Sleazy"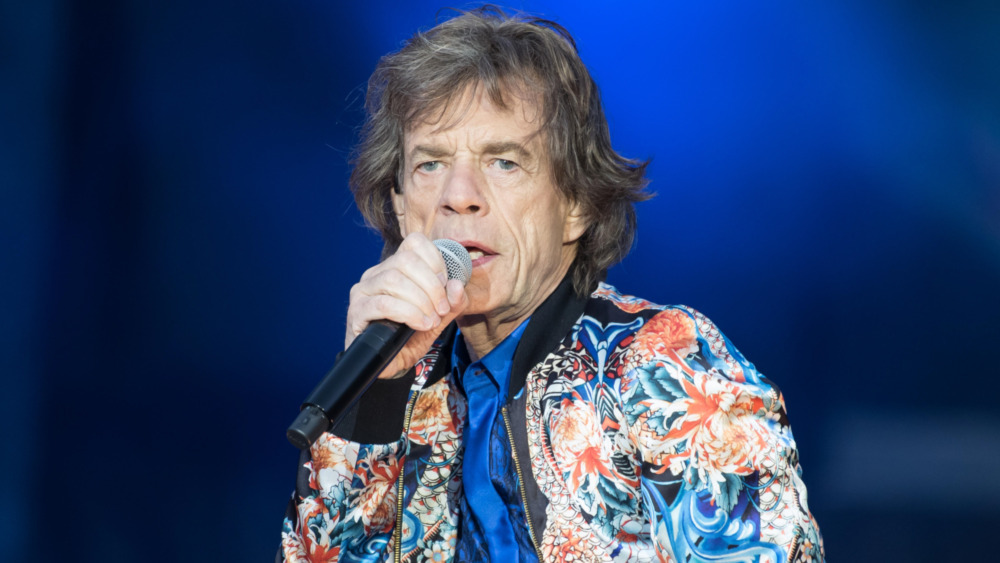 Shutterstock
In his Dave Grohl featuring single, "Eazy Sleazy," Mick Jagger told Rolling Stone that the single is "a reflection on the last year; the physical and mental strains put on society." The artist continued, "the whole year, we've been doing this and going through different emotions through it and having false starts and stops and openings and closings."
Breaking down the lyrics that read "shooting the vaccine/Bill Gates is in my bloodstream/It's mind control," the artist proclaims the single is "a piss-take on conspiracy theories," referencing anti-vaxxers as his inspiration. The song continues the irony with "the Earth is flat and cold/It's never warming up/The arctics turned to slush/The second coming's late/There's aliens in the deep state."
Fortunately for fans, the single isn't just about the bad that came with the COVID-19 pandemic. The song looks towards what Jagger calls the "light at the end of the tunnel in a lot of countries." Jagger told Rolling Stone, "I could see that light, so I thought I'd write a song about all the things that you've experienced in lockdown and now hopefully this is going to be the beginning of a bit more freedom." Lyrics in "Easy Sleazy" matched that intended hopefulness, with the artist singing, "everything's gonna get really freaky / It's gonna be a garden of earthly delights." We can certainly hope!