What You Didn't Know About Donald Sutherland's Ex-Wives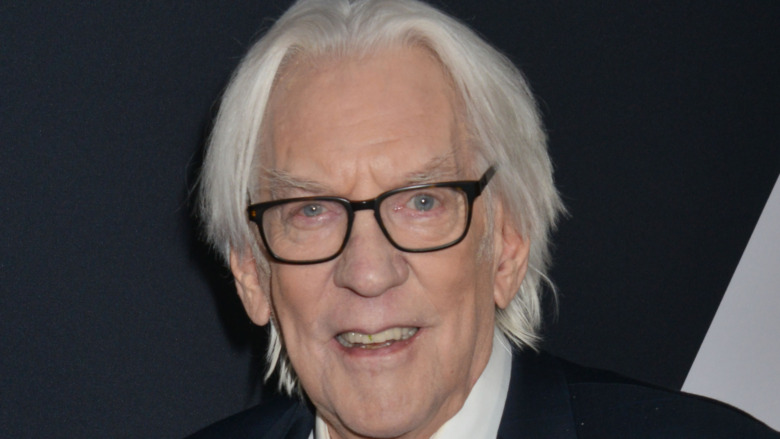 Shutterstock
Screen legend Donald Sutherland is beloved for his recent onscreen acclaimed appearances in The Undoing, The Hunger Games, and Forsaken, but what do those closest to him think? The actor has been in Hollywood since the 1960s according to IMDb, and has raked up more than few scandals. Famous son Kiefer Sutherland, one of Donald's five children, told The Big Issue in 2019 that he "didn't have much contact" with his father growing up. Perhaps it was because Donald was only married to Kiefer's mother for four years. 
In fact, Sutherland had two ex-wives under his belt before meeting French-Canadian actor Francine Racette. Sutherland gushed to The Guardian that Racette is "an extraordinary human." The couple tied the knot way back in 1972, and have been together all this time. Racette and Sutherland are parents to sons Roeg, Angus, and Rossif Sutherland who are also involved in the film industry per The Hollywood Reporter. 
So who are Sutherland's two ex-wives? Keep scrolling to find out!
Donald Sutherland was rumored to have had an affair with Jane Fonda
Sara Jaye/Getty Images
According to The Guardian, 1970s sex symbol Donald Sutherland was a bit of a player back in the day. Sutherland first fell for former silent film child star Lois Hardwick while in college; the two tied the knot in 1959, but split after Sutherland became romantically involved with Shirley Douglas. They wed the same year Sutherland divorced Hardwick. 
Douglas was the daughter of Canadian politician Tommy Douglas, and she was later dubbed an "activist-actor" by The Los Angeles Times. Douglas and Sutherland welcomed fraternal twins together: production manager Rachel Sutherland and actor Kiefer Sutherland. Yet their marriage disintegrated by 1971 when Sutherland reportedly started an affair with Klute costar Jane Fonda. Fonda was then married to Roger Vadim at the time of the alleged relationship. Of course, their tryst was short-lived, and Sutherland wed third wife Francine Racette in 1972. 
Seems like third time is the charm for Sutherland!