What Kris Jenner Told Kim Kardashian To Do After Filing For Divorce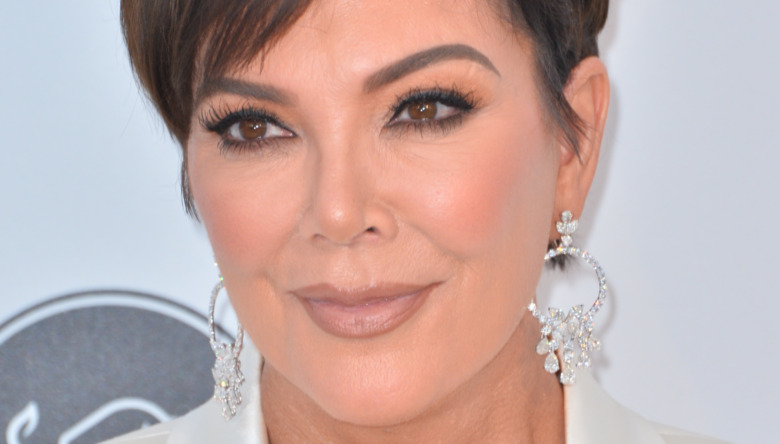 Shutterstock
After months of rumors, Kim Kardashian filed for divorce from rapper Kanye West in February 2021. Kim made the decision to end her marriage of seven years after it was reported that they had been living separate lives for a while before making things official (via Today). An insider claimed at the time that divorce had "been discussed off and on" but claimed that the duo was "working through it" and "trying to work through things" together.
But, unfortunately, the two just couldn't make things work. BBC reported in April 2021 that Kanye had agreed to joint custody of their children and both agreed their marriage had come to an end due to "irreconcilable differences." It was also reported that both had agreed not to offer one another spousal support.
The two have yet to speak out publicly about their divorce beyond the details obtained by media outlets, though Kim's mom, Kris Jenner, confirmed the news while revealing the advice she gave her daughter at such a difficult time.
Kris Jenner doesn't want Kim Kardashian to have a 'pity party'
Shutterstock
Kris Jenner revealed what she told daughter Kim Kardashian to do after news of her divorce broke while touching on her own experiences. Kris was married to Kim's father Robert Kardashian from 1978 until 1991, and to Caitlyn Jenner from 1991 until 2015. Speaking to WSJ Magazine in April 2021, Kris explained she told Kim to make sure her kids always come first.
"The most important thing I learned through my experience, both of my experiences, is that the kids come first," the momager said, admitting she urged Kim to never let her kids see her upset over the split. "I used to put everybody to bed, and then I would be upset or go to my room and cry myself to sleep. But I didn't want to have a pity party in front of the kids."
Kris added that she knows divorce can get "really silly," but noted the best advice she can give is to keep the children "in the front of your mind and know that they are going to get you through, the love is going to get you through, no matter how much you're hurting." Kim and Kanye share four children together. The former couple are parents to 7-year-old North, 5-year-old Saint, 3-year-old Chicago, and 1-year-old Psalm.
That's some pretty solid advice from Kris! We're just hoping Kim and Kanye can continue to see eye-to-eye for the sake of their kids.