Why Kim And Kanye Have Lived Apart For A Full Year
Pierre Suu/Getty Images
In July 2020, Kim Kardashian and Kanye West's marriage troubles were made public like never before. It all started when the rapper broke down in tears during his first presidential campaign rally in South Carolina on July 19, 2020. During his emotional speech, West revealed that he and his wife had considered an abortion ahead of the birth of their eldest daughter, North, when they found out the Keeping Up with the Kardashians star was pregnant in 2012. 
On July 20, 2020, West took to Twitter with shocking claims about Kim, per E! News, writing that she tried to "lock [him] up with a doctor." According to TMZ, he also claimed he'd been "trying" to divorce her since November 2018 after she met up with rapper Meek Mill at a hotel to discuss prison reform. But wait, there's more. He even took aim Kris Jenner, according to The Blast, accusing his mother-in-law of being a white supremacist and dubbing her "Kris Jong-Un."
Kim eventually addressed her husband's Twitter tirades with a statement on her Instagram Story, and West has since apologized. Then, on July 27, 2020, the Daily Mail published photos of the pair meeting in Wyoming for "marriage crisis talks." On top of all that, in late July 2020, Us Weekly reported that the couple's relationship troubles have been a long time coming — starting way before West's Twitter rants — with sources saying they've been living apart for a full year. 
So why is Kimye spending so much time apart? Keep scrolling to find out.
Kim and Kanye have been living in different states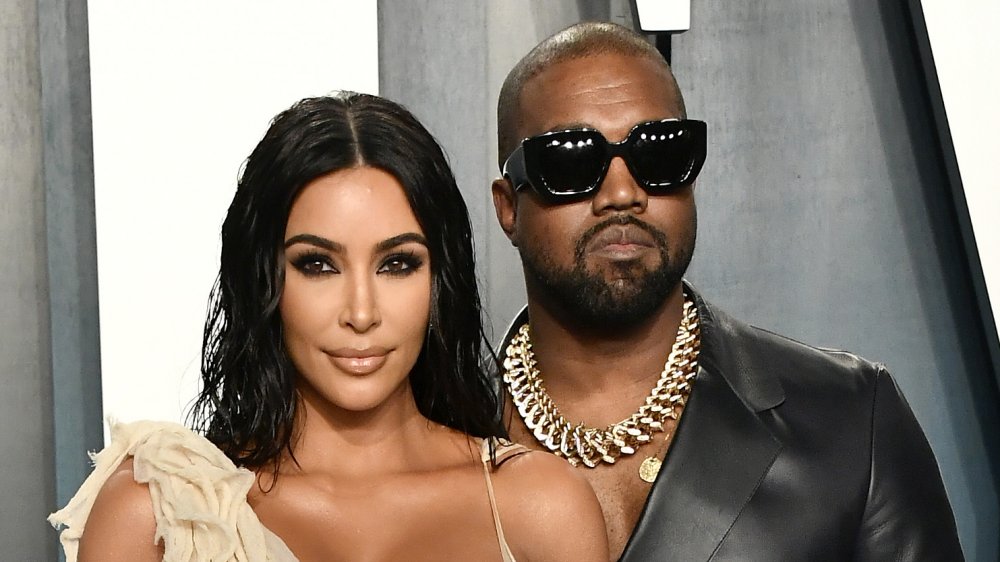 Frazer Harrison/Getty Images
Kanye West and Kim Kardashian — who tied the knot in 2014 — have been living separate lives in different states for about a year, according to Us Weekly. The rapper is reportedly holed up at his ranch in Wyoming while his wife and their four young children — North, Saint, Chicago, and Psalm — remain in Calabasas, Calif. A source told the outlet that Kim flies to see West "about once every five weeks" with the kids. 
The insider noted that when they're together, "things are fine between them but they haven't been spending time together because he moved his life completely to Wyoming," adding, "that's not where their life is, their family is, their kids are in school or the larger family is." The source continued: "She envisioned spending the rest of her life with him, but at this point she has to get real for the sake of the family. The kids are the priority." 
All that being said, news that the couple hasn't been living together doesn't come as a shock to everyone since Us Weekly reported that Kim and West were having issues quarantining together in May 2020. In fact, sources said it may have driven them apart as Kim felt as "though he's been trying to impose his views on her life." According to People, "both sides feel the marriage is over" and that divorce has been a "long time coming" with sources saying that Kim and West "were even attempting to figure out the most amicable and loving co-parenting situation." 
Only time will tell if these two are able to patch things up.