The New Nancy Pelosi Biography Is Turning Heads. Here's Why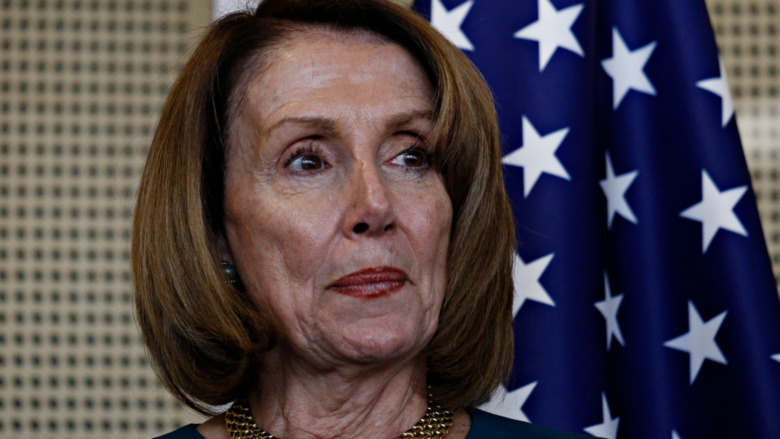 Shutterstock
As the Speaker of the House, Rep. Nancy Pelosi is one of the most high-profile Democrats within the administration of President Joe Biden, if not one of the de facto faces of the party she calls her own. But just because Pelosi is a bona fide leader of the left-wing contingent of Congress doesn't mean she's immune to party infighting — and according to a new biography about the life of the 81-year-old career politician, she seems almost as dedicated to wielding her decades-long experience in the country's capital as to the platforms her party stands upon.
In her upcoming April 2021 book Madam Speaker: Nancy Pelosi and the Lessons of Power, author and USA Today reporter Susan Page, per Politico, expounded upon Pelosi's take on other Democratic members of the House, including ones in which she has engaged with a general rivalry with, like New York Rep. Alexandria Ocasio-Cortez. And according to Page, Pelosi held no punches when speaking about how she views these junior legislators. Suffice it to say, Page doesn't paint a very pretty picture.
So what does Pelosi have to say about Ocasio-Cortez and others in her cohort? And what are the major differences Pelosi sees between her and her younger Democratic colleagues in Congress? Keep on scrolling to find out. 
Nancy Pelosi mocked members of 'the Squad'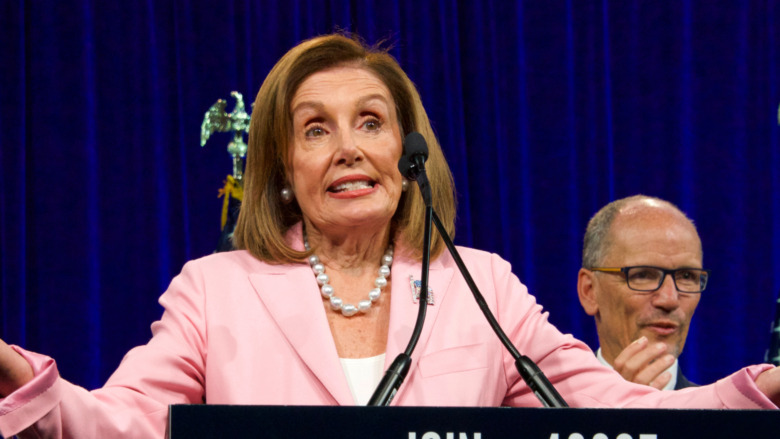 Shutterstock
In an excerpt published by Politico of Susan Page's biography on Nancy Pelosi slated for an April 20, 2021 debut, Page spoke to other members of the House, as well as Pelosi herself, with regards to Pelosi's opinion on the group of junior lawmakers of the House the media has dubbed "the Squad." Per Page, Pelosi simply "doesn't have much patience for people who don't know what they don't know," according to an anonymous source within the party, and the "Squad" — which includes Reps. Alexandria Ocasio-Cortez, Ilhan Omar, Rashida Tlaib, and Ayanna Pressley — fell into this category. Notably, her categorization of these legislators as politicians who "don't know" the annals of Washington set a harsh tone.
Speaking with Page, Pelosi herself railed against "the Squad" for what the congresswoman deemed as virtue-signaling through their rhetoric and general activism. Describing Pelosi as "openly agitated as I had ever seen her in an interview," Page wrote how the Speaker of the House, quoting former House Rep. Dave Obey, told her that "the Squad" were "people [who come to Congress]... to pose for holy pictures." Pelosi then "mimicked a child" in order to mock Ocasio-Cortez and company while saying "see how perfect I am and how pure?'" with regards to their activism-helmed progressive politics. Per Page, Pelosi thinks "operational" Democrats, or ones who are more inclined towards bipartisanship compromises, are more effective in Congress. Ouch.