Inside Dog The Bounty Hunter's Rocky Relationship With His Daughter Lyssa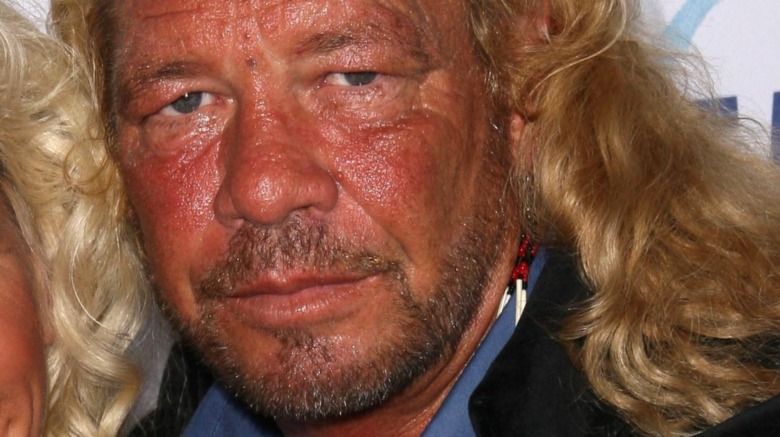 Shutterstock
For years, Duane Chapman, a.k.a. Dog the Bounty Hunter, and his family showcased their life on their show Dog the Bounty Hunter. His wife Beth Chapman was almost always by his side, and his daughter Lyssa Chapman was often featured too. Drama swirled regularly, especially because Duane and Beth had a large blended family. But the dynamic Duane had with his daughter Lyssa seemed especially complicated.
While Lyssa and Duane had many issues over the years, she had a heartbreaking temporary fallout with her stepmother, Beth, shortly before Beth's death in June 2019. On Mother's Day in 2019, Beth blasted Lyssa on Twitter. "I'm very disappointed today. Knowing that not only did my daughter @BabyLyssaC not acknowledge me on Mother's Day yet texted some of my friends wishing them a HMD She decides to exclude her dad and I from ABBIES graduation On Friday I would have moved a mountain to be there," the Twitter post read.
The conflict between Beth and Lyssa escalated, but they smoothed things over about six weeks later. Unfortunately, repairing that relationship came at a heartbreaking time. As Hollywood Life detailed, Lyssa shared on Twitter that she and her stepmother had patched things up shortly before Beth was put into a medically induced coma, just days before she died. Still, as complicated as Beth and Lyssa's relationship was, Lyssa's connection to her dad was even more complicated.
Things were often complicated for Lyssa and Duane Chapman
In 2013, Lyssa Chapman published a memoir, Walking on Eggshells. In the book, she admitted she once falsely alleged her dad had raped her. Lyssa told Fox News that her mother, who struggled with alcoholism, left her to fend for herself when she was a teen mother, and she didn't want to return to her dad's after the allegation. "It was a horrible life that I never wanted to go back to, living with him and Beth and the fighting and the drugs," she said. 
As an adult, Lyssa grew closer to Duane and believed "he did the best he could do" when she was younger. Lyssa and Duane remained close until Beth's death. But when Duane connected with Beth's former assistant, Moon Angell, Lyssa lashed out. As In Touch Weekly detailed, Lyssa posted now-deleted tweets about the reported romance between Duane and Moon. "If someone who met your family by dating your brother, tried to date your father after your stepmom died what would you do?" Lyssa wrote in a since-deleted tweet, per In Touch Weekly. 
In March 2020, though, Duane and Lyssa surprised their Instagram followers with a family reunion in Hawaii. "Feels so good to see my Dad and be reminded that love is unconditional and transcendent," Lyssa wrote. As Us Weekly noted, Lyssa also welcomed Francie Frane to the family via her Instagram Story after Duane proposed in May 2020. By the looks of things, the relationship between Duane and Lyssa has continued to remain strong.
If you or someone you know has been the victim of sexual assault, you can call the National Sexual Assault Hotline at 1-800-656-HOPE (4673) or visit RAINN.org for additional resources.