Why Dan And Shay's ACM Performance Is Getting So Much Criticism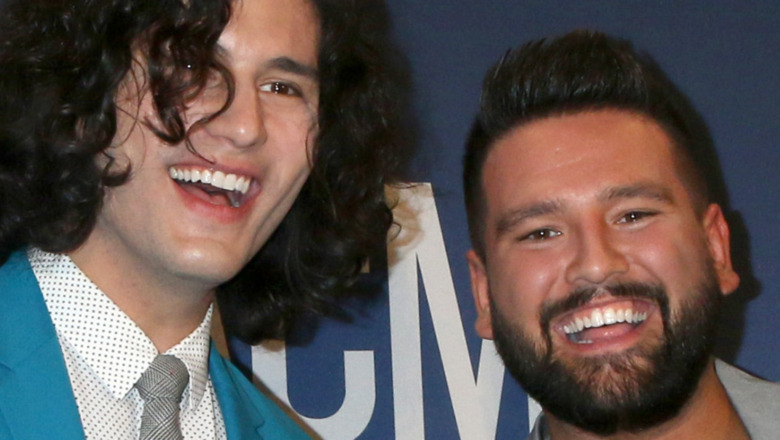 Shutterstock
Dan Smyers and Shay Mooney — aka Dan + Shay — are among the hottest country duos in the industry, and their popularity is off-the-charts. The pair first met in Nashville in 2012 and from there, they forged a beautiful working relationship. "We met in December, actually, at his house, at a party," Shay told Taste of Country in 2013. "I get to this party, I'm walking in this old house," he laughed, adding, "It was a terrible house, of course, a typical Nashville starting-artist house. I'm walking into the living room, and there is just a tent ... it was borderline fort-ish." 
Smyers added that he was just getting started in the industry, and he didn't have a ton of cash flow. "I had no money to pay for heat, so I went to the thrift store and bought a bunch of sheets. [We] tented out the whole living room, and we retained all the heat in there," he revealed. "We all just hung out, huddled around ... Shay and I were jamming that night, and we've been writing three songs a day ever since."
Since their initial meeting, the two have had a ton of success, winning several awards, including three Grammys. The duo has also teamed up with many famous artists, including Justin Bieber, for "10,000 Hours," where they sang about the leading ladies in their lives. But their career has had some rare hiccups along the way, and on April 18, the country superstars came under fire for their ACM performance. Keep scrolling for more details.
Dan+Shay addressed the backlash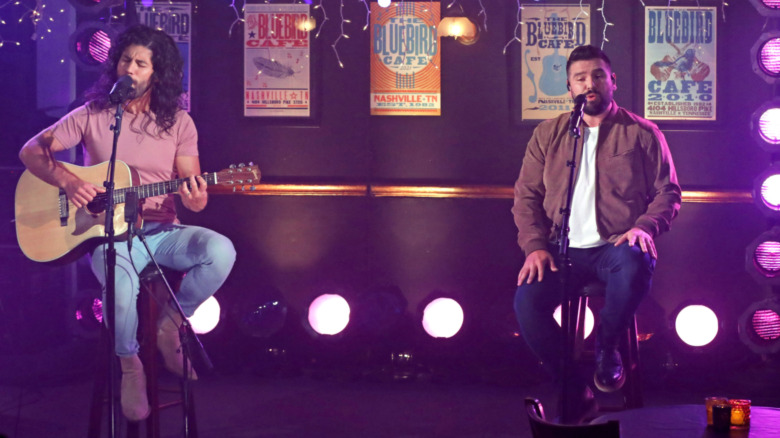 Terry Wyatt/acma2021/Getty Images
Fans know Dan Smyers and Shay Mooney for their incredible performances and smooth vocals, but at the 2021 Academy of Country Music Awards, something was literally off — their audio. Viewers on social media criticized Dan and Shay after their streamed performance of "Glad You Exist," when they noticed that their vocals were a few seconds behind — making it seem like the pair was lip-syncing. 
"I await the conspiracy theories that they were lip-syncing. We all know Shay will sing to the drive thru speaker. He'd never!" one person wrote. "They are BOTH lip syncing!! In fact, most of the sho is lip synced!" another chimed in. A few other Twitter users sent tweets directly to CBS, the network broadcasting the award show. "Y'all better make some kind of announcement or release the real performance cause wow they really got screwed if that was a technical problem!" one commented. "If I were @DanAndShay I would livestream a performance and after party when the awards are complete. That was an unfortunate technical error because yes, some of these #ACMAwards performances are prerecorded," one more Twitter user added. 
Dan and Shay released a statement on Twitter following the backlash, sharing, "Apparently there was an audio/video sync issue on the television broadcast. we're bummed about it, but it happens, especially when performances are happening in multiple locations." It concluded, "kudos to the @ACMawards for pulling off a great show." And there you have it.