The Latest About Sarah Huckabee Sanders' Gubernatorial Campaign Is Raising Eyebrows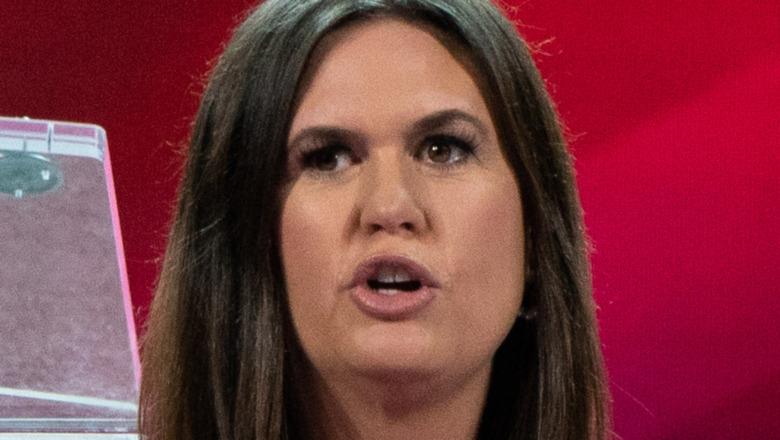 Bloomberg/Getty Images
It's been slightly over two months since former U.S. press secretary Sarah Huckabee Sanders announced her intent to run for governor of Arkansas in the 2022 midterm elections, much to the delight of her father Mike Huckabee — a former Arkansas governor himself — and ex-president Donald Trump. Now, it seems that within that short amount of time, the former Trump staffer has made significant gains in her future gubernatorial bid. And those gains are quite literal: "gains," in this case, meaning money. 
According to reports by publications like People, Sanders' camp made an official announcement on April 15, 2021, noting that the Republican candidate has pooled a literal fortune through fundraising and appeals to her conservative voter base. While many donations were made online, as People pointed out, a portion of her fundraising campaign has been aided by events like one hosted by Trump himself at his residence, the Mar-a-Lago resort, on April 9, 2021, despite the private club's partial lockdown due to COVID-19. So how much has Sanders raised in less than three months? Read on below to find out.
Sarah Huckabee Sanders has raised millions for her gubernatorial bid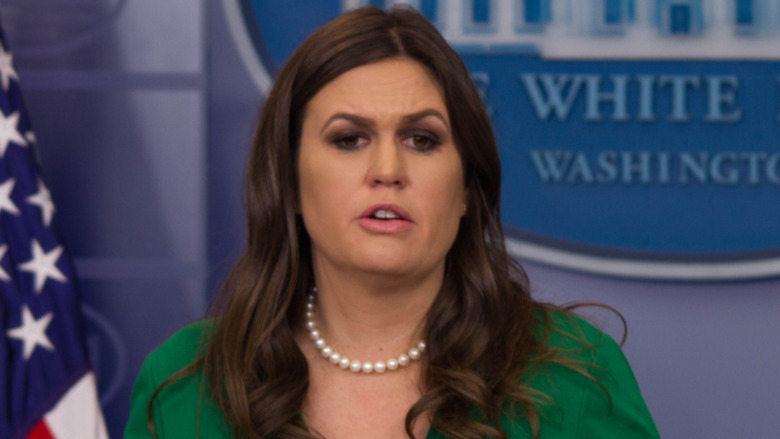 Shutterstock
As People reported on April 19, 2021, the total amount of funding Sarah Huckabee Sanders received from donors since announcing her decision to run for governor of Arkansas in January 2021 totaled a whopping $4.8 million. The number was shared in a statement released by Sanders' team four days prior, along with a further breakdown of statistics behind the many donations.
As Sanders' camp noted, the staggering amount came in the form of donations numbering in the thousands. "I am grateful for the generous support of so many Arkansans — in 60 days we held over 50 events in Arkansas and received more than 6,500 donations across all 75 counties of the state," read the release (via People). Per the magazine's report, the total amount of individual donations Sanders received since launching her campaign rounded out to contributions from an estimated 34,700 people, with an average total of $97 per gift. 
The article also noted that, according to a stat comparison made by CBS News in April 2021, the amount raised within one fiscal quarter outdid that of prior fundraising attempts made by the current governor of Arkansas, Republican Asa Hutchinson, for his last campaign overall. Considering the 2022 race is well over a year away, it looks like Sanders could rake in millions upon millions more before the midterm election gets into full swing.