The Real Meaning Behind Prince's 'The Beautiful Ones'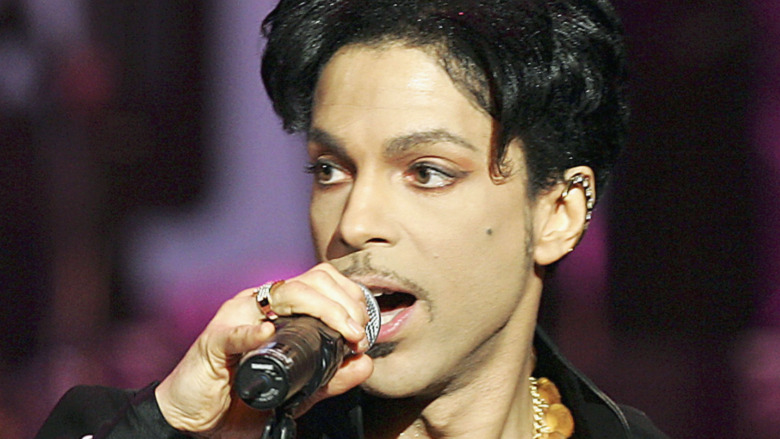 Kevin Winter/Getty Images
Arguably Prince's greatest album is 1984's Purple Rain, a 9-track record that featured at least five massive hits, including "When Doves Cry" and "Let's Go Crazy." His sixth studio album is the first officially labeled with his band The Revolution, and is also his first to reach number one on the Billboard 200. The successful movie accompanying it helped its popularity, launching the singer-songwriter to legendary status.
Yet one of Purple Rain's most popular songs was not released as a single, and according to the album's engineer Susan Rogers, it was "closest to Prince's heart" (per Rolling Stone). In the film, "The Beautiful Ones" is considered Prince's "finest movie moment" by Rolling Stone — one that "embodies everything he did so incredibly: emotion, passion, sensuality, poignancy, combustible sex appeal, can't-take-your-eyes-off-him star power."
The song appears about 32 minutes into the movie, as Prince's Prince-like character The Kid sings the song on-stage to his lady love, Apollonia, who is out in the audience with the third member of this love triangle, Morris (Day, of the Time). Kid pleads with her, first in a lovely falsetto, later as a rock scream, to choose between them, singing "Is it him or is it me?"
But were the lyrics as straightforward as they seem? And who was he singing about? As we approach the anniversary of Prince's death on April 21, 2016, and with the exciting promise of new Prince music on the horizon, let's takes a deep dive into "The Beautiful Ones."
Prince's 'The Beautiful Ones' was written for an ex-girlfriend
Susan Rogers, engineer for Prince's chart-topping Purple Rain album, told Rolling Stone in 1989 that "The Beautiful Ones" was written for Susannah Melvoin, Prince's former girlfriend and twin sister to his Revolution bandmate Wendy Melvoin. But as commonly known as that seems to be, Diffuser disagrees, writing that the song is in fact written for a different former girlfriend: Vanity. Vanity was Prince's protégé and the lead singer of Vanity 6, the all-girl band he put together. She was also cast in Purple Rain, but quit when she and Prince broke up, and was replaced by Apollonia.
Diffuser points to a 2015 interview Prince did with Ebony, where he explained how he spoke to someone — he does not say who — guessing who the song was written for, "but they were completely wrong." He explained that the lyric, "The beautiful ones you always seem to lose," was because "Vanity had just quit the movie."
However, in the same interview, Prince also said, "It's not about somebody human that I'm looking at right now." His songs are very spiritual, he said, and "any ballad like that, you know it's not going to be about anything ... carnal. It's not gonna even be based in flesh." Acknowledging the restrictions of writing for the movie's plot, he explained the line "do you want him or do you want me" was "written for that scene in Purple Rain specifically," and that "this was literally for that character. And that's why it worked." We certainly agree!