John Travolta Reveals The Significance Of Dancing With His Daughter Ella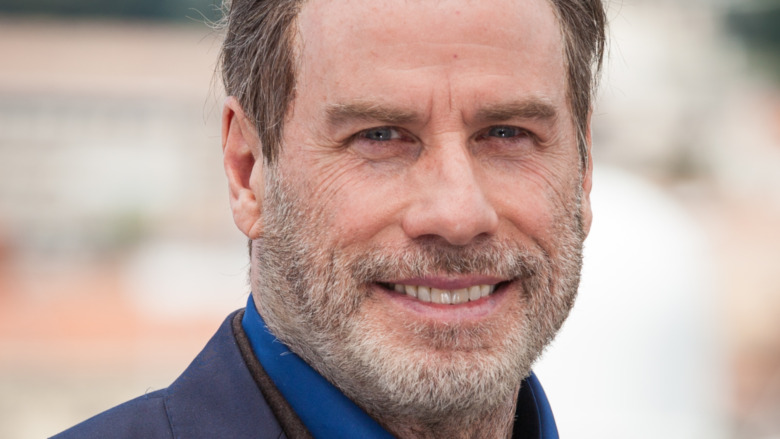 Shutterstock
John Travolta has gone through some incredibly tough situations in his life, but his daughter, Ella Bleu Travolta, has been by his side through the good times and the bad. As many know, the "Grease" star lost his son, Jett Travolta, in 2009. The family was vacationing in the Bahamas when Jett suffered a seizure and reportedly hit his head on the bathtub. In July 2020, tragedy struck again when John's wife, Kelly Preston, died two years after being diagnosed with breast cancer. John has two remaining immediate family members left: daughter Ella and son Benjamin. They seem to be a strong support system following their tough losses, and Ella regularly makes appearances on John's Instagram.
In 2009, John, Kelly Preston, and Ella all starred together in "Old Dogs." In April, John shared a photo of Ella smiling in front of a bush of white flowers on Instagram. She looked like a spitting image of her dad with jet black hair and a mega-watt smile. He accompanied the photo with a sweet message. "Happy 21st birthday to the most beautiful, kind, human being and artist I know," he wrote. "Your dad adores you!" Two months earlier, in February, the pair teamed up for a Super Bowl commercial, where they showed off their dance moves. The day after, John shared that both their names were trending on Yahoo!, which was something that made him proud. Keep scrolling to find out what else he had to say about dancing with Ella.
John Travolta is a proud dad
John Travolta has never been shy about beaming with pride over his daughter, Ella Bleu Travolta, and an April interview with Esquire Mexico was no exception. When asked what the experience of dancing with his daughter on television was, Travolta couldn't help but gush. "It was magical, because there is no one in the world with whom I wanted to dance more than with my daughter Ella. It worked on so many levels," he shared. "First, as a unique piece of entertainment that people enjoyed watching; second, it allowed me to introduce my daughter to the whole world on a huge stage, show her talent and beauty; and it also became a beautiful tribute to her mother."
The actor shared that when he and his late wife, Kelly Preston, danced together, and it was something that was very important to them. "We had 5.6 million views and then we did a challenge on TikTok, we asked people to replicate the choreography and it was a success," he continued. "I am very grateful that the brand asked us to do it together." 
When asked what he's most looking forward to in the future, it comes as no surprise that Travolta's kids, Ella and Benjamin, were at the forefront of his mind. He shared that he will be spending time working on acting with Ella and helping Ben evolve because he has his "whole life ahead of him." Just another reason to love John!