Amy Schumer's Viral CoolSculpting Video Explained By An Expert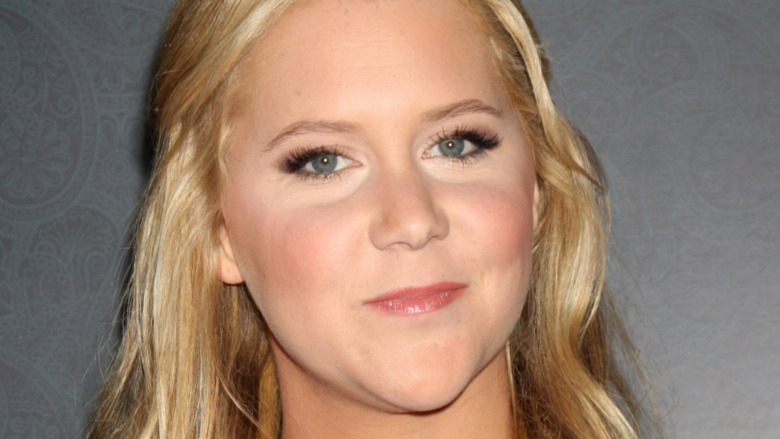 Shutterstock
Hollywood beauty standards are no joke and the rich and famous are always trying new ways to keep up. But not Amy Schumer, of course. Well, actually, that's not entirely true. On April 20, 2021, the comedian and mother-of-one posted a video on Instagram, super close up on her face, claiming that she "is blessed with sort of" how she looks, and isn't one of those celebs who "gets stuff done," referencing the plastic surgery and skin treatments that many stars reportedly undergo to look and feel their very best. "No judgement to the women who do," she added. 
She's obviously being sarcastic, as she pans down mid-video to show that she is hooked up to a rather complicated looking contraption, with her head in a brace and a CoolMini device attached to her chin. Schumer jokes, "This is not what you think — this is just how I like to rest my head because it feels good. This is the only way I can really relax and it's not because I'm getting a, you know, my double chin addressed in a way."
Celebs obviously caught the joke, with former "Vanderpump Rules" star Stassi Schroeder commenting on the video, "Okay but real talk, I'm gonna need a follow up video." Taryn Manning, Josh Charles, and Lisa Rinna also LOL'd at Schumer's snark. But what exactly is that thing? Nicki Swift asked an expert to weigh in on the "CoolSculpting" process. 
Does CoolSculpting really work?
Dr. Sonia Badreshia-Bansal, board certified dermatologist and RealSelf advisory board member, tells Nicki Swift that the procedure is quite common these days. She says that Amy Schumer is wearing the CoolMini hand-piece, which is curved for the chin (or knees or "bra fat") and is connected to a CoolSculpting machine, designed for cryolipolysis, which is a procedure that "freezes fat at a specific temperature without harming surrounding soft tissue." She explains that it's usually reserved for stubborn fat deposits that do not go away with diet or exercise. 
Still confused? Badreshia-Bansal explains further, "CoolSculpting will help freeze the fat in the area where the hand-piece is latched. A handheld device is positioned on the treatment area and uses vacuum suction to adhere to your skin. Two cooling plates are on either side which safely cools your skin and freezes the underlying fat pockets. After your treatment, these dead fat cells will naturally work themselves out of your body via your lymphatic system."
The procedure is performed at a doctor's office and is not invasive at all. She continues, "You feel a cooling sensation for the first few minutes, very tolerable, follow[ed] by numbness where you don't feel anything. Hence, that's how Amy can make a video comfortably while undergoing a treatment." It might be a simple procedure, but it costs a ton of money and time. 
The Average Joe probably can't afford CoolSculpting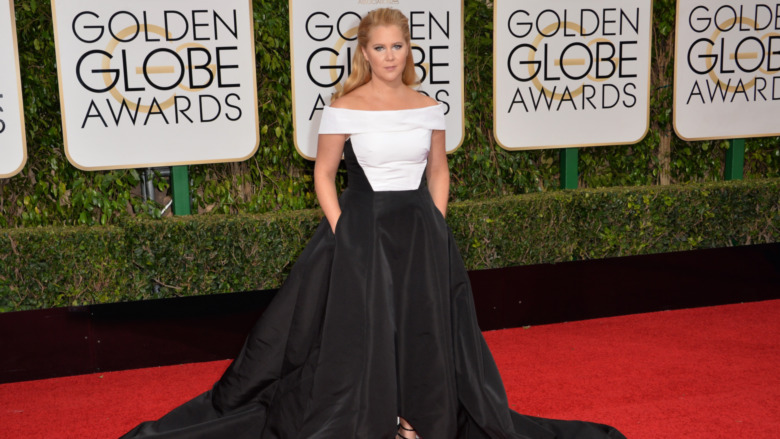 Shutterstock
Although the process of CoolSculpting is simple enough, it takes a lot of cash to get rid of that double chin. Dr. Sonia Badreshia-Bansal tells Nicki Swift that to get the results of your dreams, you need a "couple of sessions for best results," though it depends on your end goals. Each treatment is about an hour long and the price for a full treatment starts at $2,000, though it can cost as much as $4,000 for the more stubborn fats. 
She adds, "Generally 1-2 sessions can help give a thinner look for good candidates. More sessions may be needed to get additional fat reduction. Results may be seen after first 3-4 weeks after the first session and final results are about 3-4 months after full treatment." She notes that, per RealSelf, the average cost of a full treatment is usually around $2,400. So it's not just for the rich and famous, but it is something you need to save and plan for in advance. Luckily, Amy Schumer does not have to worry about that — not because she could not afford it, but because she would never get something like that done. (See what we did there?)