Tiger Woods Shares First Photo Of Himself Post-Accident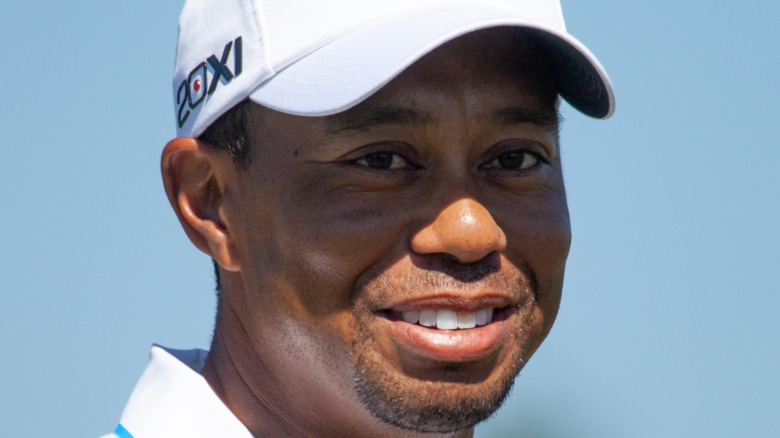 Shutterstock
Tiger Woods is in full recovery mode, and he has the help of a furry friend.
The professional golfer shared the first photo of himself post-accident to Instagram on April 23, which showed him standing on a golf course with crutches and a boot on his right leg. He also had a dog sitting next to him. "My course is coming along faster than I am," he joked with a smiley face emoji. "But it's nice to have a faithful rehab partner, man's best friend."
Woods was involved in a "roll-over traffic collision" on February 23, per the Los Angeles County Sheriff's Department, and was immediately taken to the hospital. He sustained multiple injuries to his right leg that required surgery to fix according to a statement by Harbor-UCLA Medical Center's chief medical officer and interim CEO Dr. Anish Mahajan that was shared to Woods' Twitter account.
Prior to the photo update, Woods had diligently checked in on social media to share his recovery journey with concerned fans. He revealed that he had returned home from the hospital as of March 16 and thanked fans and friends for their support. "I am so grateful for the outpouring of support and encouragement I have received over the past few weeks," he wrote. "I will be recovering from home and working on getting stronger every day."
Woods' photo sparked more notes of support from friends and fans. Here is what they had to say.
Fans were thrilled to see Tiger Woods looking healthy
As soon as fans spotted Tiger Woods' photo update, they immediately flooded his comment section with messages of love and motivation.
"Good to see you up and about! Heal fully," one fan wrote. Another encouraged him to take his recovery easy. "Slow and steady – we'll be waiting for you," they suggested. An eager fan asked if fans would see him back for the 2022 Masters Tournament. Another teased that his arms were looking ripped. "You been hitting the upper body in the hospital still huh? Lol," they commented. Professional golfer Julián Etulain wrote that he loves Woods in his native language of Spanish.
When news of Woods' car crash first broke, fans were worried that he would never play golf again. However, celebrity physician Dr. Oz told TMZ in February that he had no hesitations about the golfer's future career. "He's had a bunch of surgeries and bounced back when no one thought he could," he noted. "He still has the most important component to recovery which is mental resilience. This man can do what no one else can do. So with the strength of his mind and fortitude, I do think he'll be back and I think he'll come back to full speed," he added. He concluded that it would take Woods about a year to fully recover.
Clearly, fans are ready for his hopeful return. For now, we wish him a successful rehabilitation process.