RHOD's Brandi Redmond Lets Fans Know Where She Stands With Her Husband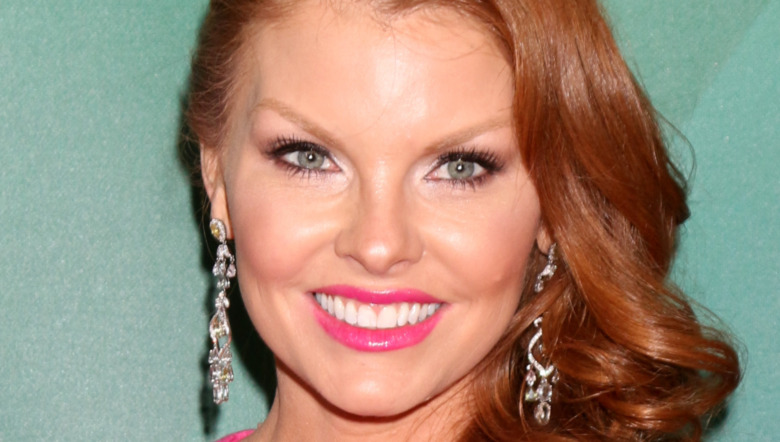 Shutterstock
It hasn't been an easy last few months for "The Real Housewives of Dallas" star Brandi Redmond. Between juggling her new life as a mom-of-four after giving birth to her baby Brilynn Mari, and the allegations of an affair involving her husband Bryan Redmond, the TV personality has stayed pretty silent on social media.
Brandi — who shares her daughter, as well as her older children Brooklyn, Brinkley, and Bruin, with her spouse of nearly two decades — announced Brilynn Mari's birth in a statement to People on February 13, 2021. "We are overjoyed with love and beyond blessed welcoming our little miracle," the Bravo star said.
One month later, though, the exciting news of their new addition was overshadowed by rumors that Bryan cheated on Brandi. According to an undated video posted by the fan page Instagram account Bravo and Cocktails on March 16, 2021, a man — which "Housewives" stans are convinced is Bryan — appeared to be hugging, kissing, and dancing with a woman while inside a club. However, that woman was not Brandi.
At the time, Brandi told Us Weekly that she was not making any comments on the allegations, and since then, she's held off from posting any photos or messages on both Instagram and Twitter. After a month-long break from social media, Brandi broke her hiatus to give an update on her marriage to Bryan in April 2021. Keep scrolling to find out where the two stand today. 
Brandi and her husband Bryan enjoyed 'date night' amid cheating speculation
Brandi Redmond stayed silent on social media for more than a month after rumors surfaced that her husband, Bryan Redmond, was unfaithful. Her hiatus is now over, though, as the TV star gave an update on the status of their marriage, and seemingly confirmed the two are still together.
Brandi shared a clip of the couple during a double date with friends on April 24, 2021. In her first post via Instagram Stories, the Texas native uploaded a selfie with her friend's husband, adding the caption "date night." She later posted a snapshot with her "childhood" friend, followed by a video of her and Bryan. In the Instagram clip, Brandi and her beau smiled while using a multi-colored filter. "Happy. Happy life, happy wife," the "Weekly Dose of BS" podcast host said while giggling. Bryan, on the other hand, boasted a big smile and rested his head in the crook of her neck.
While it appears the duo are trying to work things out, initial reports of Bryan's infidelity started surfacing even before his March cheating scandal (via Us Weekly). Brandi addressed the speculation by sharing a cryptic message about choosing "happiness" on February 21. "I prayed that the baggage of mistakes, feeling rejected, used and unworthy are no longer tied to anyones soul," she wrote. "I'm choosing to set myself free and lean into Jesus and I pray you'll join me if you too have these desires."