Body Language Expert Makes A Bold Claim About Emerald Fennell's Oscar Speech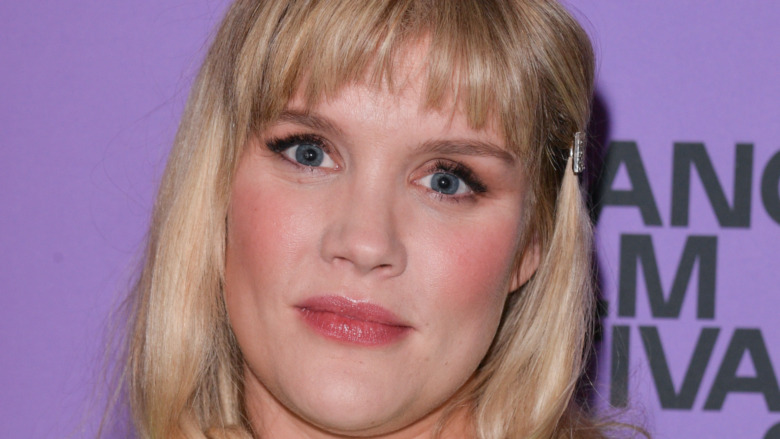 George Pimentel/Getty Images
Emerald Fennell snagged the trophy for Best Original Screenplay at the 93rd Annual Academy Awards for her revenge satire "Promising Young Woman," which she both wrote and directed. This is the British actress and filmmaker's first Oscar, and "Promising Young Woman" marked her feature debut. The film centers around a tantalizing and determined woman, played by Carey Mulligan, who plots her revenge on someone who raped her.
Fennell's film received five nominations for the 2021 Oscars and The New York Times wrote that it was on their "radar," so a win wasn't a complete surprise. However, film fans had mixed reactions to the Best Original Screenplay win. "I know folks were mixed on this film and I also would have loved to see MINARI win, but I admired PROMISING YOUNG WOMAN enormously and that delighted me," podcaster and best-selling author Linda Holmes wrote. "I mean i knew promising young woman would win doesn't mean i am happy," another person tweeted. However, other people were thrilled to see Fennell win, with one fan saying the win was "well deserved."
Fennell herself was quite shocked that she found herself on stage giving a speech, and even admitted that she was taken off guard by the win. According to a body language expert, though, the surprised facade might have been part of the director's plan. Keep reading to learn about the bold claim a body language expert told Nicki Swift about Emerald Fennell's Oscar speech.
Emerald Fennell's Oscar speech might have been more prepared than fans thought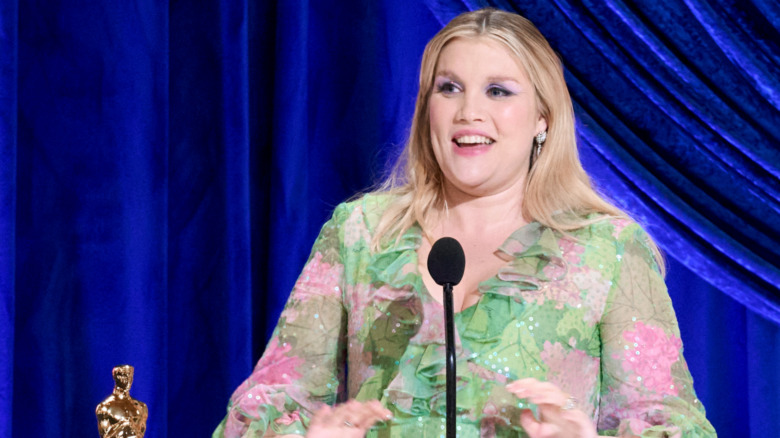 Handout/Getty Images
When Emerald Fennell accepted her Oscar for "Promising Young Woman," she immediately seemed shocked and unprepared to say anything in front of her peers. "Oh, my gosh. Oh, they said write a speech. And I didn't, because I just didn't think this would ever happen," she began, per Access. "I'm going to be in trouble with Steven Soderbergh. I'm so sorry. I don't want him to be cross oh, my god," she continued. She then made a joke about her new trophy, saying it was "so heavy and so cold" before entering into an emotional and seemingly frank speech.
However, body language expert Lauren Cohen, an executive and career coach for Positive Coaching Now, said Fennell may have planned out her award acceptance more than she admitted to. "When she came up to accept her Oscar, she was looking up and clasping her hands a lot and seemed nervous. [She] moved her body a lot and hands and [was] kind of bouncing around," she noted to Nicki Swift. "She wanted to seem more unprepared than she probably was so as not to seem cocky and well-rehearsed. She moved her hands, head and body a lot and was looking up and around a lot as well. She was communicating surprise and seemed delighted but not [fully] comfortable," she concluded.
Regardless of whether Fennell was surprised or not, she certainly seemed thankful for the award.