Laura Dern's Daring Outfit At The Oscars Is Turning Heads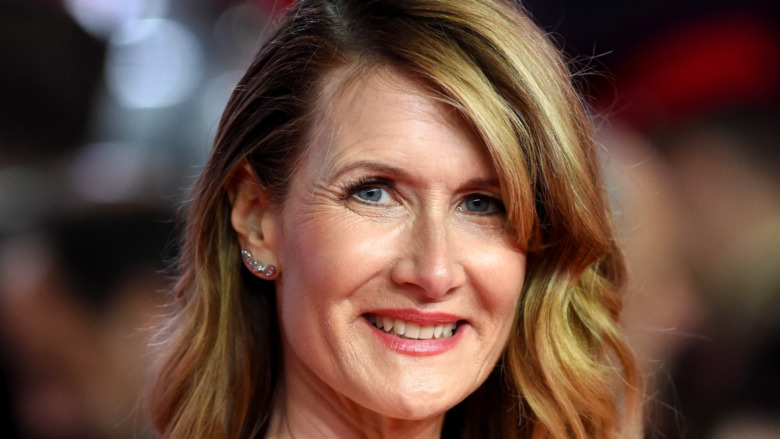 Stuart C. Wilson/Getty Images
Feather or not, here she comes! Laura Dern's outfit at the 2021 Oscars has the internet divided. And when you see it, you'll understand why.
The 93rd annual Academy Awards were held on April 25 on ABC, with presenters and recipients broadcast live and in-person, under strict safety measures that included an "on-site COVID safety team," as an email from the show's producers ahead of time explained, per The Hollywood Reporter. But that's not all. There would "not be an option to Zoom in for the show," which was held at Los Angeles' Union Station. And aside from no virtual attendees being allowed, producers also added in their email that dressing "casual" was "really not" an option. Well, that settles that. We guess it is the Oscars after all!
While the dress code for the 2021 awards may have been "My Super Sweet 16" level particular, it did result in some amazing outfits, in classic Oscars fare. Amanda Seyfried gave us Hollywood glamour in red, and Regina King looked stunning in Louis Vuitton. It was nice to see stars look stunning and interact on stage. Then, there was Laura Dern. The actor, who took home an Oscar last year for "A Marriage Story," rocked "a black turtleneck and full feather skirt," per InStyle, to the awards. Some people loved this look. But for others, feathers were ruffled. Either way, it's a moment. Scroll down to see her outfit and how the internet is reacting. 
Laura Dern's outfit is getting Björk 'swan dress' comparisons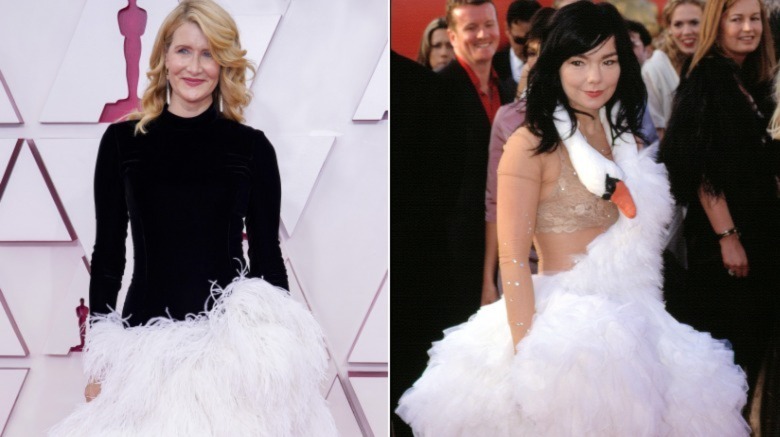 Pool/Getty Images
The internet is talking about Laura Dern's dress at the 2021 Oscars, and can you blame them? The "two-part Oscar de la Renta gown," per Bustle, sees "the upper half a black turtleneck," with "the bottom half a full white ostrich-feather skirt." While Dern was lovable as she presented this year's Best Supporting Actor award to winner Daniel Kaluuya, many viewers were instead focused on her dress.
The Björk comparisons and memes are flying in, as Twitter users can't stop comparing Dern's ensemble to Björk's swan dress, which she wore to the 2001 Oscars. 
"She just chopped the head of Bjork's Swan Dress & wore the bottom. Looks cool," wrote one fan. "I like that Laura's dress is a combination of a Gap black turtleneck and Bjork's swan dress," shared another. "Really hoping that Björk is hiding under Laura Dern's dress and pops out for a showstopper," commented a third user. 
"laura dern's oscar dress pays homage to swiffer dusters everywhere," wrote a fourth. "I love Laura Dern but that dress," said someone else. 
Though Dern's dress received some squawks, the internet seems to love Dern's heartfelt words for Kaluuya. "Laura Dern went completely off script to talk to Daniel Kaluuya directly," one user wrote. "laura dern stumbling over her words because of daniel kaluuya i'm crying," posted another. Dern's dress may have been a choice, but she comes off as authentic, and that's always fashionable.