What Anthony Hopkins Was Doing When He Won His Best Actor Oscar
Shutterstock
There's no doubt that Anthony Hopkins is one of the most talented and well-known actors in Hollywood, and he's proven time and time again that there's no role he can't play. Hopkins has enjoyed an incredible career filled with awards and accolades. According to his IMDb profile, over the years, he's been nominated for several Oscars, and his first win came in 1992. He took home the trophy for Best Actor in a Leading Role for his portrayal of Hannibal Lecter in "The Silence of the Lambs." 
Kathy Bates presented the actor with the award at the time, and Hopkins seemed genuinely surprised that he won. "My God. I can't believe it. This is really unexpected. It's a great honor to be here, especially with such great actors like Nick Nolte and Warren Beatty and Robin Williams, Robert De Niro. First of all, before I say on, I want to say hello to my mother," he told the audience at the time (via AA Speeches). 
He continued, "She's in Wales watching this on television with Eve and Jean and Jill and Tony. My father died eleven years ago tonight, so maybe he had something to do with this as well, I don't know. But I want to say thank you to the Academy for your tremendous generosity." Hopkins went on to thank a few friends and people in Los Angeles for their tremendous support. However, fans didn't get a repeat performance after his 2021 win.
Keep scrolling for more deets.
Where in the world was Anthony Hopkins?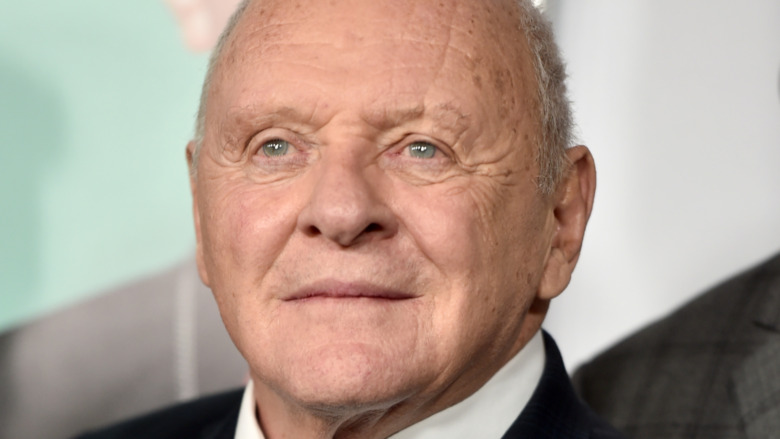 Alberto E. Rodriguez/Getty Images
Anthony Hopkins was noticeably absent from the 2021 Oscars where he won the award for Best Actor for his role in "The Father." According to People, the distinction made him the oldest Oscar-winner in his category (as of this writing, he's 83). However, it did not seem like the award show was at the forefront of his mind. According to his agent, Jeremy Barber, Hopkins was at home in bed, and he missed the win altogether. "Tony was in Wales, where he grew up, and he was asleep at 4 in the morning when I woke him up to tell him the news," he told People. "He was so happy and so grateful."
Barber shared that the actor was finally able to return to Wales amid the coronavirus pandemic, and that's likely part of the reason he was absent. "After a year in quarantine, and being double-vaccinated, he was finally able to return to Wales, and age 83, it was a great relief after such a difficult year," Barber revealed. "But he loved the role in "The Father" — it's his proudest performance — and to be the oldest living actor to win in the category means so much to him." 
Hopkins came out on top of a few other big names in his category, including the late Chadwick Boseman ("Ma Rainey's Black Bottom"), Gary Oldman ("Mank"), Steven Yeun ("Minari), and Riz Ahmed ("Sound of Metal").