Mel Brooks' Net Worth: How Much Is The Actor Really Worth?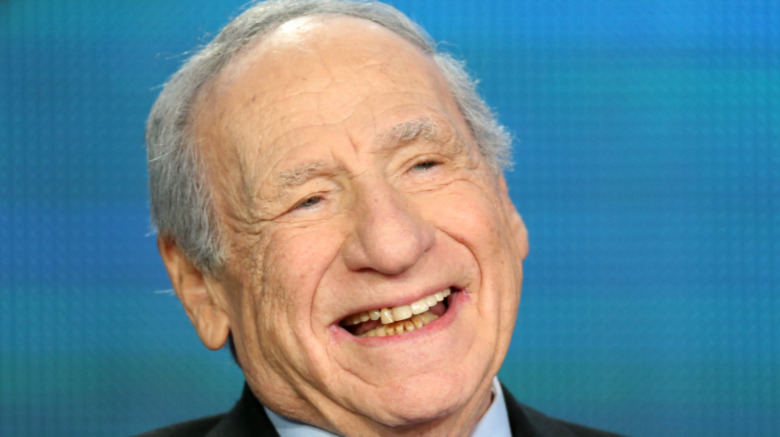 Frederick M. Brown/Getty Images
The legendary Mel Brooks made films like "Young Frankenstein" and "Blazing Saddles," but he also has ... a blazing net worth! 
Born Melvin Kaminsky in Brooklyn, New York, the formidable funnyman served in World War II, per Biography, before getting into comedy writing. Brooks then made $50 per week at his first writing job, per Rolling Stone. But in 1965, Brooks' first TV series, "Get Smart," debuted. The spy send-up proved a smart concept indeed. It ran for 138 episodes. "I always knew how to satirize situations," Brooks told USA Today. The outlet added, "He would imitate his relatives, such as his Uncle Joe, who spoke with a sibilant 's'." "'Sugar — anybody got any sugar?' I would get laughs," Brooks added. "It would be worth all the punishment in the world. To this day, I get punished by critics who don't appreciate rude laughter."
The success of "Get Smart" afforded Brooks the ability to start getting that punishment. He's since made some of the most enduring films in comedy history, even if they were shocking for their time, including 1968's "The Producers" to 1974's "Blazing Saddles." But it was never punching down; as The Hollywood Reporter wrote on "Blazing Saddles" at the time, "the language ... never becomes offensive." It grossed $119 million domestically. And Brooks displayed his influence when he announced his support for Joe Biden in the 2020 election, garnering 200k Twitter likes.
The filmmaker was always smart about toeing the line, and his net worth today proves it. Ride on down to see what it is.
Mel Brooks' net worth is no joke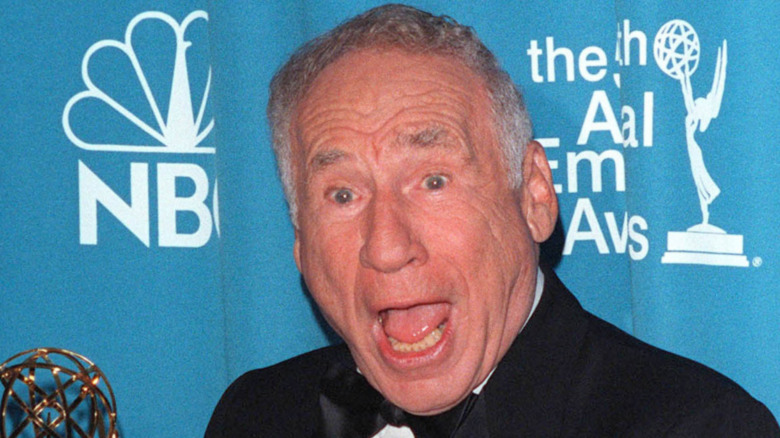 Shutterstock
So, what is Mel Brooks' net worth today? The rare EGOT winner (that's an Emmy, Grammy, Oscar, and Tony) is worth $100 million today, per Celebrity Net Worth. Pretty impressive! For one thing, per the outlet, "The Producers" musical, which ran on Broadway for 6 years, earned "more than $200 million in ticket sales alone." Aside from that controversy-clamoring cash cow, many of Brooks' films were blockbusters, aside from cult favorites today. "Young Frankenstein" grossed $86 million (this was 1974, mind you), on a $2.8 million budget, per Broadway World. "It's alive," indeed! And more on that cult favorite note; the film is No. 13 on AFI's 100 Funniest American Movies of All Time list. "Blazing Saddles" is No. 6 and "The Producers" No. 11. You can't put a price tag on that.
Real estate-wise, Brooks and his late wife Anne Bancroft owned a midcentury Los Angeles, Calif. retreat "steeped in Hollywood history," as a listing agent told Realtor.com. It was listed for $3.85 million in 2020 and includes three bedrooms and staff quarters. He and Bancroft also owned a seaside cottage in the Hamptons that sold for $5 million in 2019, according to the Los Angeles Times. 
"Nothing good comes out of going for the money," Brooks told NPR in 2004. "You've got to do it because you love it." Turns out, doing something because you love it can also produce a ton of cash!