The Real Meaning Behind 'Wockesha' By Moneybagg Yo
Shutterstock
Although it is quite overdue, rapper Moneybagg Yo is finally getting his flowers. For nearly a decade, the Memphis native remains consistent in his music releases, often dropping back-to-back projects. However, in recent years, he's been a fan favorite in the rap industry. The rapper is also notorious for his braggadocious lyrics and swag — all while rapping with a signature southern accent over synth- and piano-heavy beats.
In October 2017, Moneybagg released his debut album "Federal 3X" after signing a distribution deal with Interscope Records. Cut to April 2021, the rapper released his fourth studio album, "A Gangsta's Pain." The 22-track album takes a different approach, as the rapper is telling his gangsta story and dissecting the raw emotions of it. He also explores the ideas of love, as it relates to both women and his lifestyle.
Moneybagg is clearly on a winning streak, and it shows by his April 2021 tweet of his earnings. Additionally, "A Gangsta's Pain" is projected to debut at #1 within its first week. Aside from his lead singles, "Hard For The Next" and "Time Today," the rapper has us unable to keep our minds off his track, "Wockesha." The song is making huge buzz on social media, and some listeners seem confused about what exactly "Wockesha" is. Here's why.
No, Moneybagg Yo is not rapping about this city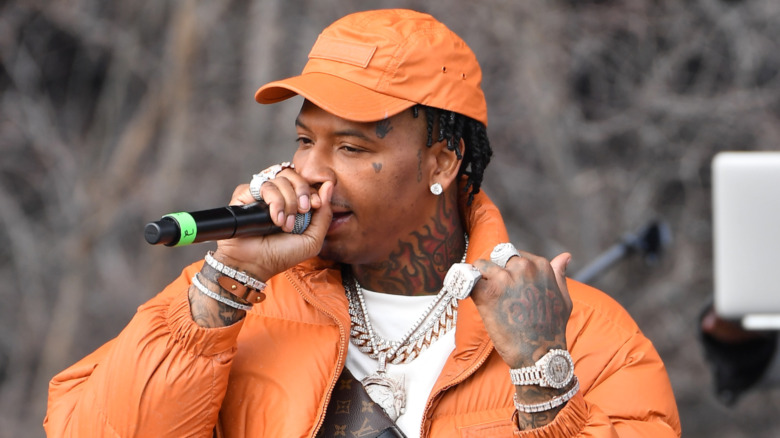 Paras Griffin/Getty Images
Moneybagg Yo's "A Gangsta's Pain" album shows an accelerated level of talent and emotion that we haven't seen of the rapper before. One song off of the project, "Wockesha," is representative of his growth as an artist. Per The Focus, a few listeners questioned why Moneybagg is singing about Waukesha, a city in Wisconsin. Rest assured that the rapper is not talking about Wisconsin on his track. In fact, he's not talking about a woman either. "Wockesha" refers to "lean" or "purple drank," which is an addictive beverage often made with codeine, soda, and hard candy.
On the track, Moneybagg personifies the beverage as a woman and delves into their toxic relationship — much similar to Tupac's "Me and My Girlfriend," where the late rapper sings of his love for his gun. Using a sample of Lil Wayne's cup speech and Biggie's "One More Chance," Moneybagg sings, "Sippin' chase with my reefer, can't get my mind off Wockesha/ Watch me put my heart in this cup/ In my feelings, she my therapist, I'ma talk to this cup (I swear)."
He raps in the second verse, "I hope I don't OD, she keep sayin', 'Pour me'/ [...] My b***h don't like you, you've been f***in' up my home (In my house)/ Relapsin' every time I try to leave you 'lone (I relapse, girl)." Although it may seem like the rapper is romanticizing his drug use, he understands the consequences that can occur from it.