How Much Is Tiffany Haddish Actually Worth?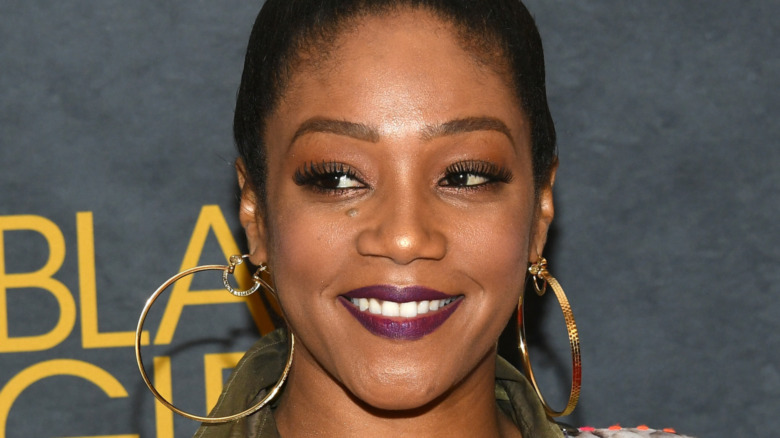 Dia Dipasupil/Getty Images
Tiffany Haddish has enjoyed a pretty impressive career. According to IMDB, her first role was in 2005's "The Urban Demographic," and she's starred in quite a few projects since then. To date, Haddish is perhaps best-known comedies like "Girls Trip," "Night School," and "Like A Boss." She's accumulated a lot of cash since becoming an A-lister (we'll get to those details soon), but it wasn't an easy road, which she has not shied away from talking about.
According to The Hollywood Reporter, Haddish was "placed in foster care" along with her five siblings "when she was 12," following a near-fatal car accident that changed her mother's personality. "I didn't want to be with my mom no more ... " Haddish told David Letterman in 2019. "You never knew who she was going to be; I was begging my mom to [let me] go live with my grandma." Haddish was taken in by her grandmother two years later, per GQ. 
Haddish started doing stand-up comedy at The Laugh Factory in 1997, per THR, gaining momentum from there. But it still wasn't smooth sailing. She accepted $300 from pal Kevin Hart when she was sleeping in her car. "He was asking me where I was sleeping. I told him, 'Beverly Hills,'" she told Vanity Fair. "If Imma be homeless, I'm gonna be homeless in the best area.'" As Haddish added to Letterman, per THR, "My talent is what helped me survive." It's incredible how far she's come. Here's her net worth today.
Tiffany Haddish has come a long way and so have her finances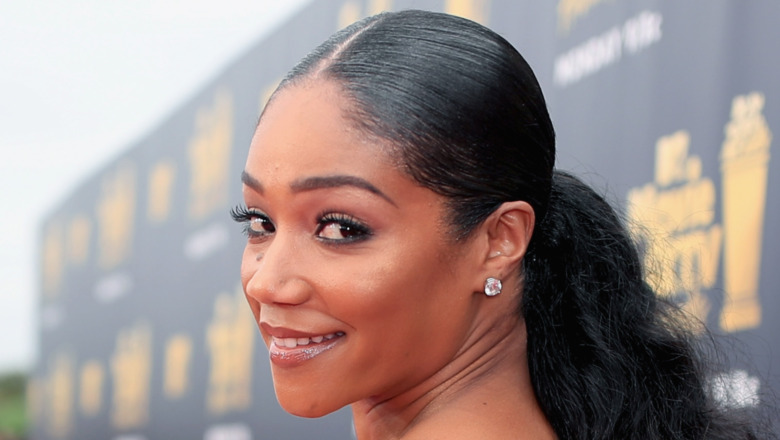 Christopher Polk/Getty Images
Tiffany Haddish's story is a wild one, and it's shocking how much has changed since she was keeping, per The Hollywood Reporter, "all of her belongings in a trash bag." According to Celebrity Net Worth, the actress is worth $6 million today. And with comedies like "Girls Trip" grossing $140 million at the box office, and a 2018 deal with Netflix for an undisclosed sum, it's no wonder.
In 2018, Haddish told GQ she also spends a lot of money her grandmother. "I'm mostly taking care of my family right now," she said. "I just got my mom out the mental institution. Once you start making it in the business, ... [people] link you up with the best psychiatrists. Literally all my money goes into my grandmother and my mother. I got a two-bedroom apartment and moved my sister in so she could be monitoring [our mom]." But just because Haddish has plenty of money in the bank, don't expect her to be helping everyone who comes out of the woodwork. "Everybody looks at you like you're supposed to take care of them," she told Harper's Bazaar. "It's the hardest part. I almost want to hire somebody in the press to be like, 'Tiffany Haddish: broke as hell. No money. She's been working for free the whole time.'" 
Haddish's humor around her rising wealth is just another reason to love her!