Alex Rodriguez's Body Transformation Is Turning Heads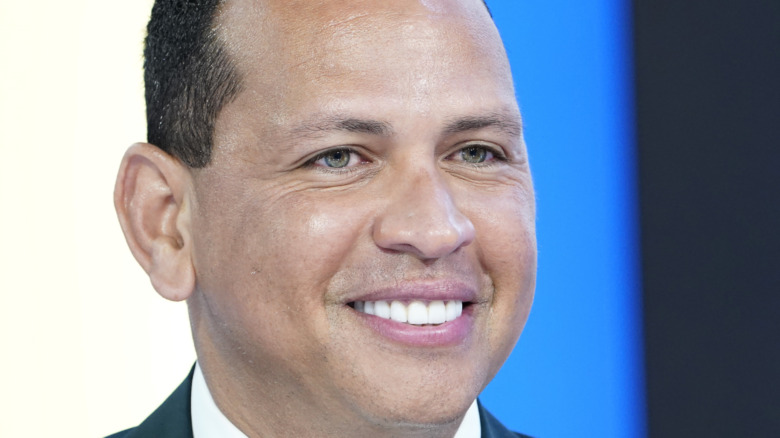 John Lamparski/Getty Images
Alex Rodriguez hit the gym in early 2021 and his hard work is paying off. The former Major League Baseball player showed off his body transformation on Instagram on April 28, writing that he "left the Dad-bod in 2020." The first photo in the split image he shared was taken in December 2020 and shows him looking a bit bulkier underneath a matching sweatsuit. The photo on the right is from April and shows a clearly leaner and more defined version of Rodriguez in a fitted dress pants and top combination.
Fans seemed to be googly-eyed over Rodriguez's transformation and immediately filled his comment section with congratulatory remarks. "Lean machine!" one fan wrote with a fire emoji. Another let him know that he "looks so good!"
Of course, many fans couldn't help but notice that Rodriguez showed off his toned body right after becoming single. "Guess he left JLo in 2020 too," one fan wrote with a laughing emoji. "He looks nice," they continued. Another fan wrote, "Show JLO what she's missing," with three fire emojis. "You could tell dude back on the market lol," another fan quipped.
Several fans jumped to the conclusion that Rodriguez worked on his body solely due to his breakup from Jennifer Lopez — which was announced in mid-April — and to potentially win her back. Keep scrolling to learn about Rodriguez's efforts to get Lopez back in his life.
Alex Rodriguez is reportedly trying to win Jennifer Lopez back
According to Us Weekly, Alex Rodriguez is set on saving his relationship with Jennifer Lopez. The two officially split in April after the former professional athlete came under fire for cheating allegations with "Southern Charm" star Madison LeCroy. A source told the publication on April 26 that Rodriguez "will not give up on his and J-Lo's relationship" and that he "is willing to do anything to make it work." He also reportedly flew to Los Angeles to spend time with the "On the Floor" singer to argue his case. "J-Lo still doesn't trust A-Rod all the way. She's very skeptical, but she heard him out because she still has a lot of love for him," the source added.
While the cheating rumors likely played a role in the breakup, there were reports of issues in the relationship in October 2020 because of differences in the former couple's lifestyles. Lopez is all about fitness, and the National Enquirer reported that she was unhappy with her ex fiancé's eating and exercise habits. Therefore, fans' assumption that Rodriguez's body transformation was to please Lopez may not be too far off. Of course, it is possible that he did it for his own health and new single life. Regardless, he seems like he's sticking to his workouts and is proud of himself, and that is a reason to celebrate.