Olivia Newton-John Mourns The Death Of A Very Important Person In Her Life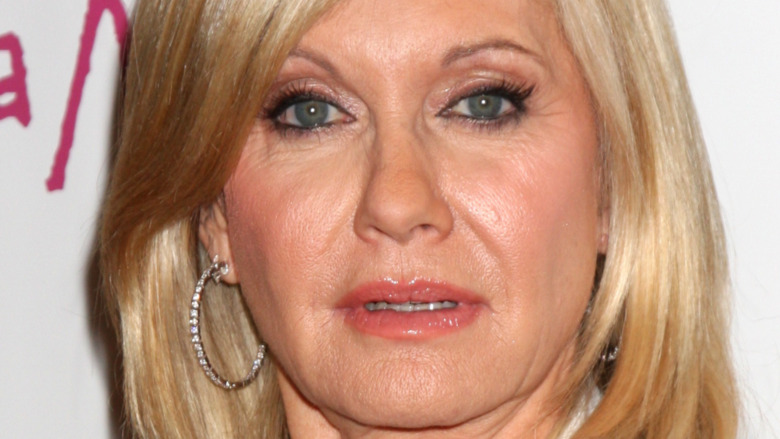 Shutterstock
Olivia Newton-John has been very candid with her fans when it comes to her health. The former "Greece" star has shared her multiple cancer diagnoses over the years after she first discovered she had the disease in 1992. Per Cure Today, the beloved actor and singer was diagnosed with Stage 4 breast cancer, but thankfully overcame it and was cancer-free for more than two decades.
However, Newton-John's cancer sadly returned in 2013, only that time she decided to keep things a little more private. She didn't confirm her second diagnosis publicly until 2018 during an appearance on the Australian TV show "Sunday Night." Speaking about why she decided not to share the news with the world at the time, the actor explained, "I thought, 'It's my life,' and I just decided to keep it to myself."
What made the admission even more heartbreaking is that she confirmed her second diagnosis while also speaking publicly about her third. In May 2017, Newton-John announced she had breast cancer again that had spread to her back. 
The star's team shared the news on her Facebook page while announcing Newton-John had to postpone several tour dates. "The back pain that initially caused her to postpone the first half of her concert tour, has turned out to be breast cancer that has metastasized to the sacrum," the post read.
In April 2021, Newton-John suffered another devastating moment related to her cancer journey. Read on for the sad details.
Olivia Newton-John is mourning the sad loss of her cancer nurse
Olivia Newton-John shared a heartbreaking post on Instagram on April 28, 2021 as she mourned the loss of her cancer nurse, Emma Cohen. Newton-John posted a photo of the two smiling together in 2018. It showed her in a hospital bed with Cohen by her side at the Olivia Newton-John Cancer Wellness and Research Centre in Heidelberg, Australia.
In a touching caption, Newton-John wrote that her "heart is still in shock and so saddened" by what she described as "the sudden loss of the very special" nurse. She explained that Cohen "took care of [her] at a very vulnerable time in [her] life" and shared how hard the nurse always worked to make sure she was comfortable. "She was a bright, energetic and powerful woman with a huge future ahead of her, and we connected on our mission to help patients on their cancer journey," Newton-John added. 
The star went on to praise Cohen's "generous spirit and a warm and loving heart" and shared how much she would miss seeing her at the cancer center. She also passed along her "deepest condolences to her friends and family." Newton-John did not share how Cohen died, though the Cancer Nurses Society of Australia confirmed on Facebook that she had a "short illness."
As for how Newton-John is doing, she told People in February 2021 that she was "feeling great" and felt "very blessed" in the wake of her third diagnosis.