What Ted Cruz Was Just Caught Doing During Biden's Speech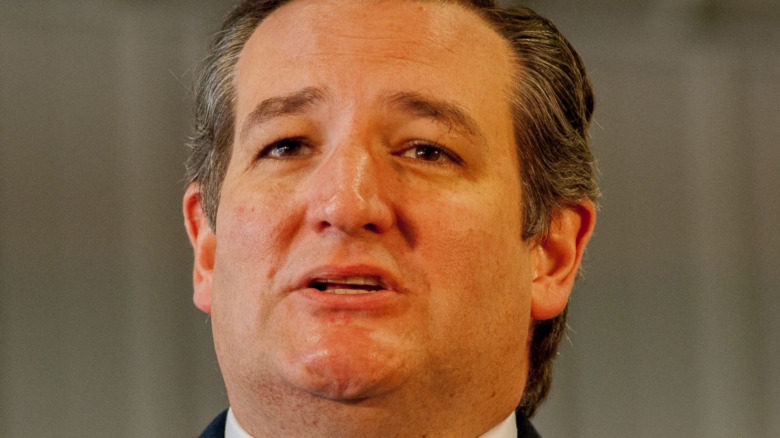 Shutterstock
President Joe Biden is settling into life at the White House, and during the initial months of his Presidency, he has encountered plenty of firsts. In late April, Biden gave his first address to joint Congress as he approached the mark of 100 days in office, per USA Today. The speech encompassed plenty of important issues, including COVID-19,  "the worst economic crisis since the Great Depression," and "the worst attack on our democracy since the Civil War." 
During the address, Biden touted his and his administration's rollout of the vaccine. "After I promised 100 million COVID-19 vaccine shots in 100 days — we will have provided over 220 million COVID shots in 100 days," he shared. "We're marshaling every federal resource. We've gotten the vaccine to nearly 40,000 pharmacies and over 700 community health centers." He added that 90% of Americans live within 5 miles of a vaccination site.
Vice President Kamala Harris and Speaker Nancy Pelosi sat directly behind Biden during the address, and they seemed thrilled with every aspect of it. The two ladies frequently stood up and clapped whenever Biden made remarks, and so did many other members of Congress. However, one person in particular didn't seem to be a massive fan of Biden's speech, and that was Texas Senator Ted Cruz. 
Keep scrolling to find out why Cruz didn't seem too interested in what Biden had to say and why it's making headlines. 
Ted Cruz had trouble paying attention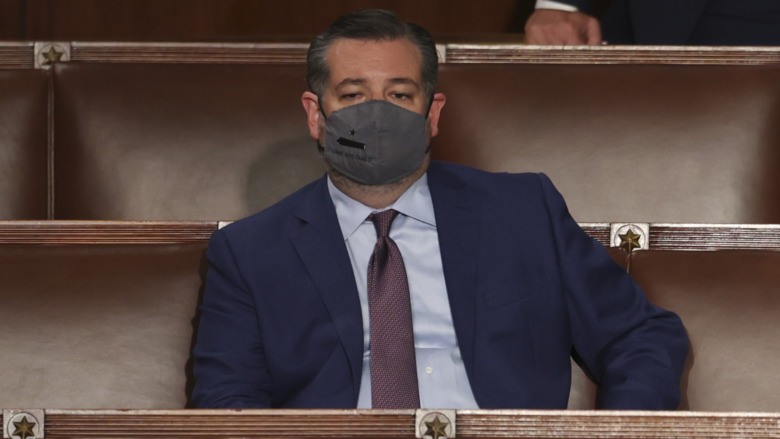 Bloomberg/Getty Images
Senator Ted Cruz was physically present at President Joe Biden's address to Congress, but mentally he appeared to be elsewhere. A viral video captured Cruz dozing off during the President's speech — pretty ironic, considering Cruz has referred to Biden as "Sleepy Joe" several times in the past. But rather than shying away from the controversy, Cruz faced it head-on and even re-shared a video on his Twitter page of the sleepy session. The senator kept things simple and captioned the post "Boring But Radical." Cruz's post has earned over 2,000 retweets and 1,400 comments as of this writing.
The original tweet, which Benny Johnson shared, was captioned "Ted Cruz literally falling asleep in Biden speech. He is all of us." Many fans slammed the senator for his lack of awareness and for being disrespectful to the sitting President. "A little more respect for the President of the United States, please," one Twitter user wrote. "I'm sure the speech wasn't as exciting as abandoning your constituents during an emergency for a vacay in Cancun. Putz," another commented. 
A few more empathized with Cruz. "I was asleep the whole time as well," one person wrote with the addition of a sleepy GIF. "I probably watched the first 5-10 minutes of it and felt like I was in church being preached to switched over to me DVR recorded shows," another chimed in. This isn't the first time something like this has happened and we're sure it won't be the last.