How Joe Biden's Dog Major Got Prepped For The New White House Pet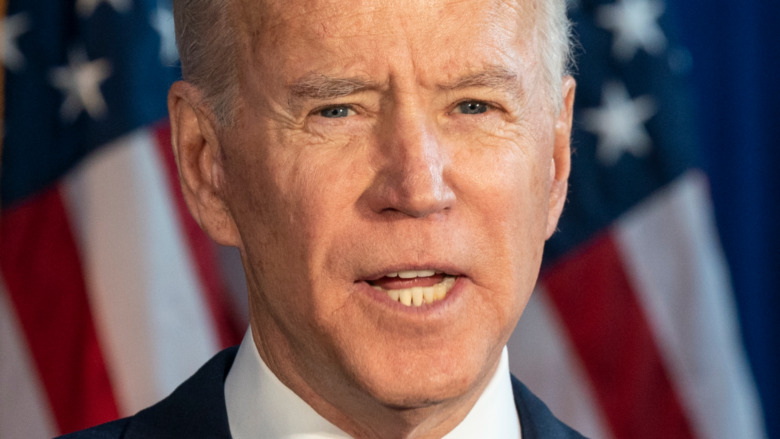 Shutterstock
Joe Biden's German Shepherd, Major, does not have the best history in the White House. He was involved in two biting incidents, and although they were not severe, he needed training to correct his behavior.
Jill Biden's press secretary Michael LaRosa opened up to CNN in April 2021 about Major's incidents. "Major, the Bidens' younger dog, will undergo some additional training to help him adjust to life in the White House," he said. "The off-site, private training will take place in the Washington, D.C. area, and it is expected to last a few weeks."
In March, Major bit a Secret Service agent who had to be seen by the White House medical team. Major and the Bidens' other German Shepherd, Champ, were taken to their Delaware home. Almost three weeks later, Major bit a member of the National Park Service, per CNN. That person was also seen by the White House medical team "out of an abundance of caution." Major seems to be improving, and when asked about his behavior Jill said, "He's back," adding that he's "such a sweet, lovable dog" (via Today).
And now, Major is busy preparing for a new pet to join him in the White House. Keep reading for more details.
How did Major Biden prepare for his new furry friend?
You know what they say: practice makes perfect. And that's exactly what Joe and Jill Biden's dog Major did to prepare for the new family pet, a cat. The Secret Service took Major to an animal shelter with cats, in order to get acclimated to the new furry companion, the presidential couple told "Today." First Lady Jill Biden said the shelter visits went well, telling host Craig Melvin on April 30, "He did fine."
Jill seems excited about the arrival of the cat, adding, "She is waiting in the wings." This will be the first feline to live in the White House since India, George W. Bush's cat. The Biden family confirmed to CBS News in November 2020 they would be welcoming a cat, and Jill did not hide her love for the animal. "I'd love to get a cat," she said, per The Hill. "I love having animals around the house."
Sounds like Champ and Major have some competition in the affection department!