Inside Leah Messer's Relationship With Jeremy Calvert Today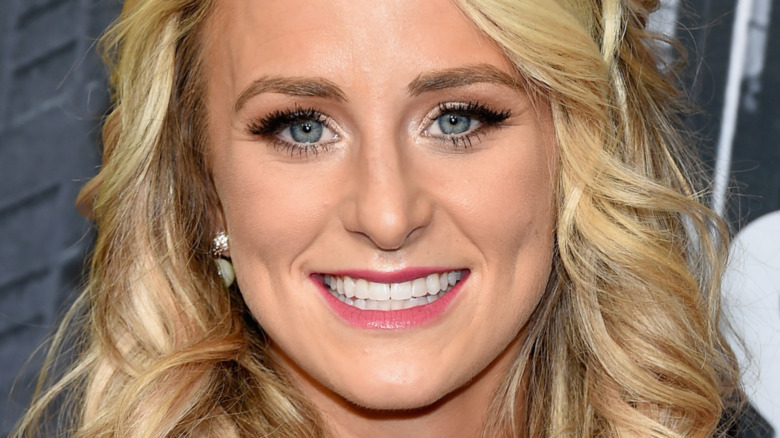 Michael Loccisano/Getty Images
Since splitting up in 2015 after three years of marriage, many fans of "Teen Mom 2" have expressed their desire for Leah Messer to get back with ex-husband Jeremy Calvert. Leah shares daughter Adalynn "Addie" with the pipeline engineer, and chronicled their ups and downs as a married couple on the first few seasons of the MTV spinoff. Leah also shares twin daughters Aliannah "Ali" and Aleeah "Gracie" with ex-husband Cory Simms, to whom she was married from 2010 to 2011.
While Leah has not had the greatest luck in marriages, she has remained amicable with her exes, particularly Jeremy, with whom she co-parents her children. The mother of three told Us Weekly in April 2020 that she's grateful for her ex, but does not see reconciliation in their future. "Jeremy is a great, great guy. We're great friends, but any more than that, it doesn't align with my life," Leah told the outlet. "I don't know what he's thinking, but we are perfectly happy the way things are."
Leah also reiterated the same message in an interview with Hollywood Life a year later, adding that "there's absolutely no hope" of her getting back together with Jeremy and wished fans would stop focusing on their relationship. Although Leah made it clear that she's not romantically interested in Jeremy anymore, that does not mean she's not grateful for him. Read on to find out where their relationship stands today.
Leah Messer thinks Jeremy Culvert is a great father
Parenting three kids as a single mom can be difficult, but Leah Messer is grateful for Jeremy Culvert's presence when it comes to co-parenting daughter Adalynn. "Jeremy and I have a different relationship than [with ex] Corey, but we still all co-parent well, and at the end of the day, the kids are our first priority all of the time," Leah told Us Weekly in April 2020.
Jeremy's thoughtfulness could be seen when he flew in from work to celebrate Adalynn's eighth birthday on February 4. Per Bustle, Jeremy's job as a pipeline engineer requires him to fly all over the country to repair broken pipes, so his appearance was a surprise to their daughter. "Daddy surprised me and came home for my bday!" Leah captioned a photo of Adalynn crying in her father's arms on her daughter's Instagram page. "I missed him so much. I'm a big time daddy's girl."
Leah posted the same photo on her Instagram story, but with a different caption, per Teen Mom Talk. "The pipelines might have her daddy, but she'll always have his heart," Leah wrote while tagging her ex. Fans might be sad that Leah and Jeremy will never get back together, but they can take solace in the fact that these two are still good friends and co-parents.