The Truth About Colin Jost And Michael Che's Friendship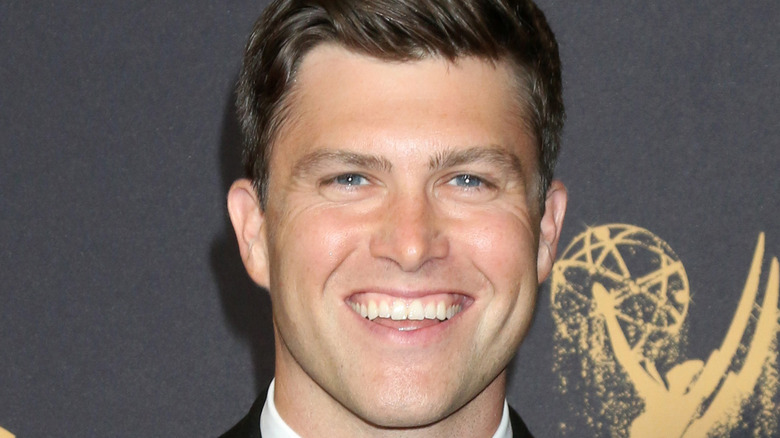 Shutterstock
Despite what it sometimes looks like during the unrehearsed Joke Swaps on "Saturday Night Live" Weekend Update, co-hosts Colin Jost and Michael Che are in fact friends. Yes, Che often writes the most potentially horrific and likely dangerous jokes for Jost to recite — and Jost confided to Collider that he doesn't know what the jokes are going to be before reading them on the air — yet Jost and Che both know that it's all in fun, and they wouldn't do anything to intentionally hurt the other or their friendship.
The pair have been manning the Weekend Update desk together since 2014, and both started with the show as writers. Jost joined the "SNL" writing team in 2005, shortly after graduating from Harvard. According to Uproxx, Jost spent most of his professional career at "SNL," "first as a staff writer, then as head writer," before being seated at the Weekend Update desk in 2014. His first Update partner was Cecily Strong, but while both were awkward in their new positions, Strong was taken off the desk and replaced by Che. 
Che began writing on the show in 2013 and quickly moved up the ranks, becoming "SNL"'s first non-white co-head writer in 2017 (per CinemaBlend). Jost had already been co-head writer from 2012 to 2015 then came back to the position along with Che, where they both still sit.
Let's take a deeper look at this friendship.
Colin Jost and Michael Che moved through the comedy scene together
While Michael Che and Colin Jost don't remember when they met or how they became so close, Che told AwardsDaily that it was a natural product of the comedy scene in New York. "I think comedy is a community or fraternity, where you work with each other a lot and you become friends without even realizing it," he said. Though Che was more in the standup scene than Jost, who did standup during his time off from "SNL," the two still had friends in common, worked at the same clubs, then shared duties at "SNL." A friendship was bound to develop.
When GQ asked if they are "actually real friends outside of work and comedy," Jost answered "definitely." Che agrees, explaining that they were already friends before he started at "SNL," and he credits Jost with inviting him onto the show as a guest writer.
The pair even admit to this while strapped to a polygraph machine. They interviewed each other for Vanity Fair, where Jost said he thinks Che is a good friend — though Che and the polygraph monitor accuse him of hesitating before he answers  — and Che admitted that he refers to Jost "more as a friend than a coworker," though he doesn't think they would make good roommates.
Che even came to Jost's defense, in his own gross, irreverent way when a writer for Uproxx wrote a 2019 story asking why people still hate Jost. Che responded by accusing him of bestiality.