Elliot Page Wishes He Could Take Back This Movie Role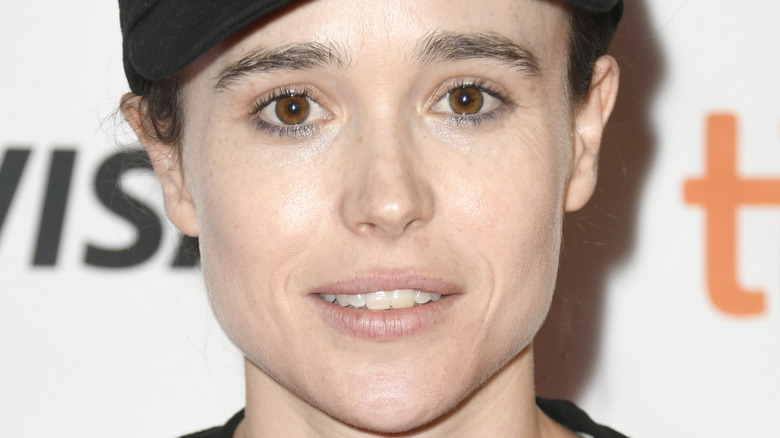 Frazer Harrison/Getty Images
Elliot Page's acting career started when he landed a role in the Canadian television movie and subsequent series "Pit Pony" at the age of 10. Dozens of projects followed, and the actor received significant accolades. While Page is proud of many of his past projects, he has some regrets as well. In fact, there's one movie role in particular he wishes he had not accepted.
As Page's IMDb page detailed, the actor worked fairly steadily after "Pit Pony." In 2006, "X-Men: The Last Stand" was released with Page playing Kitty Pryde, and then "Juno" came in 2007. "Juno" elevated Page's profile significantly. That continuous stream of projects came with issues though.
In a November 2017 Facebook post, Page revealed issues faced behind-the-cameras. For example, director Brett Ratner allegedly degraded Page and others on the set of "X-Men: The Last Stand," even outing the actor long before he was ready to come out on his own terms. "We are all entitled to come into an awareness of our sexual orientation privately and on our own terms," Page wrote. "This public, aggressive outing left me with long standing feelings of shame, one of the most destructive results of homophobia. Making someone feel ashamed of who they are is a cruel manipulation, designed to oppress and repress."
Page detailed further issues with Ratner, along with a different incident with a director when the actor was 16. Despite those many difficulties, it was a different project that Page referred to as his biggest regret.
Elliot Page acknowledged 'an awful mistake'
As Elliot Page's Facebook post continued, he mentioned high-profile "predatory" men such as Bill Cosby, Harvey Weinstein, and Roman Polanski. After that came Page's admission about the project he wished he hadn't done. "I did a Woody Allen movie and it is the biggest regret of my career. I am ashamed I did this," Page wrote.
Allen's 2012 film "To Rome with Love" included other notable actors such as Penelope Cruz, Judy Davis, and Alec Baldwin, along with Greta Gerwig, Jesse Eisenberg, Alison Pill, and many others. "I had yet to find my voice and was not who I am now and felt pressured, because 'of course you have to say yes to this Woody Allen film,'" Page explained.
Allen's adopted daughter Dylan Farrow alleged her father sexually abused her in 1992. Allen has denied the allegations, and plenty of Hollywood stars have stood behind him over the years. Others, however, have followed Page's path and declared they regretted doing an Allen film and wouldn't do others. Gerwig stated that, for example, as did Kate Winslet.
"Ultimately, however, it is my choice what films I decide to do and I made the wrong choice. I made an awful mistake," Page acknowledged in his Facebook post. The actor added he wanted to see those responsible face what they'd done and lose their power. Most of all, however, he wanted "healing for the victims." He noted that a "long awaited reckoning" started to develop, and even years past Page's initial post, it would appear that's still a work in progress.
If you or someone you know has been the victim of sexual assault, you can call the National Sexual Assault Hotline at 1-800-656-HOPE (4673) or visit RAINN.org for additional resources.