10 Things I Hate About You Director Reveals These Cast Members Supposedly Dated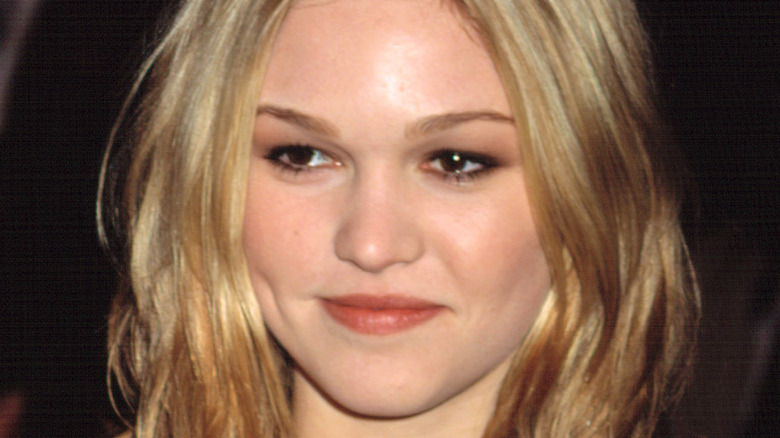 Shutterstock
Julia Stiles' star began to skyrocket when Shakespearean plays and classic novels reimagined as teen movies were all the rage. The 1999 romantic comedy "10 Things I Hate About You" was a modern-day take on "The Taming of the Shrew," but it was Stiles' character, Kat Stratford, who ultimately "tamed" Heath Ledger's quintessential bad boy, Patrick Verona. The actors' on-screen sparks were just too good to be true, and their chemistry helped turn the teen movie into an enduring classic.
Now, fans have a bittersweet experience when they revisit the film, thanks to Ledger's tragic death in 2008. Those who continued to follow the lives of the movie's main cast saw Stiles wed camera assistant Preston J. Cook in 2017, the same year that the couple welcomed their first child, a son named Strummer Newcomb Cook. Larisa Oleynik, who played Kat's sister Bianca, is now married to actor Olli Haaskivi (via E! News). As for "500 Days of Summer" star Joseph Gordon-Levitt, he and his wife, Tasha McCauley, welcomed their second child in 2017.
While no "10 Things I Hate About You" castmates enjoyed a long-term romance, the film's director, Gil Junger, revealed that two of them fell in love.
The off-screen pairing isn't who you think
In the DVD commentary for "10 Things I Hate About You," some of Heather Ledger and Julia Stiles' co-stars said that the on-screen couple also dated off-screen (via E! News). However, Gil Junger claimed that it was Joseph Gordon-Levitt who captured Stiles' heart.
During an interview with Mirá a Quién Encontré, Junger shared some swoon-worthy details about their fling, including how they seemed "very, very attracted to each other" (via BuzzFeed). And if those tears seemed real when Stiles was reading a heartbroken Kat's hate-filled poem about Patrick, it's because they were. However, Junger said that Stiles was not thinking of Ledger. "She told me, 'I was just thinking about' that person's name that she was deeply in love with at the time," he recalled.
Junger painted a picture of a woman who was extremely smitten. "She's professing her love to Heath and she's in love with a guy waiting in his trailer to shoot the next scene," he said. However, while their supposed spark burned bright, it seemed to fizzle fast, with Junger saying that Stiles and Gordon-Levitt only dated "for a minute or 10."
Stiles and Gordon-Levitt actually ended up attending college together at Columbia University. They were still in school in 2001 when Stiles told Rolling Stone that they were on good terms. "We're friends. We say hello to each other," she stated. We'll take this to mean that there's a chance they'll reunite on-screen someday.