What We Know About Doug Emhoff's Children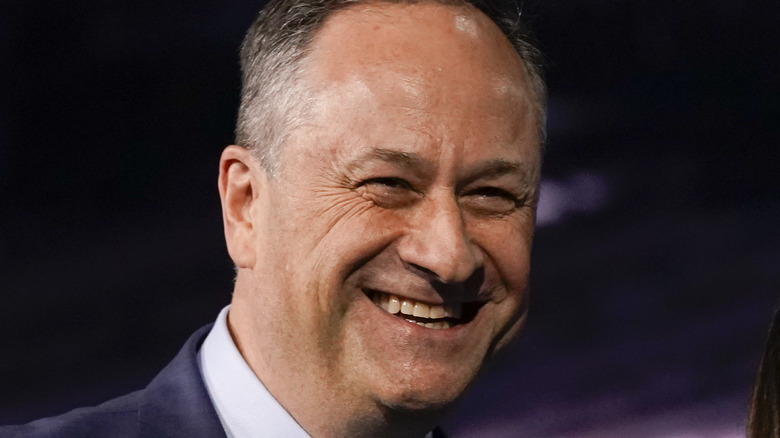 Bloomberg/Getty Images
Vice President Kamala Harris is known as "momala" to her husband Doug Emhoff's two children, Ella and Cole. They attended the 2021 presidential inauguration and left the world anxious to know about them.
As Harris noted in Elle, her stepson, Cole, was named after jazz saxophonist John Coltrane. Stepdaughter Ella was named after jazz singer Ella Fitzgerald. Their mom is Kerstin Emhoff, who was married to Doug from 1992 to 2008 (per Marie Claire). Cole was born in September 1994 and Ella joined the family in May 1999, detailed Hollywood Life.
Harris was connected to Doug in 2013 via her friend Chrisette Hudlin, and less than a year after initially connecting he proposed. The couple was slow to introduce Harris to the kids, not wanting to rush things. Once they met, Cole and Ella "could not have been more welcoming," Harris detailed. Doug and Harris got married in August 2014, and it was decided that Cole and Ella would refer to their new family member as "Momala" rather than stepmom.
Cole and Ella have both pursued creative career opportunities
Kamala Harris quickly grew close to Doug Emhoff's kids, Cole and Ella, according to Elle. She noted they were "brilliant, talented, funny kids who have grown to be remarkable adults." Harris admitted that as "hooked on Doug" as she was, "it was Cole and Ella who reeled me in."
Glamour noted that Cole was wrapping up high school while Ella was beginning high school when Doug and Harris connected. Both Cole and Ella grew up in Los Angeles and attended Wildwood High School (per The New York Post).
According to Cole's LinkedIn, he attended Colorado College and received a psychology degree in 2017. He worked for William Morris Endeavor as an assistant for nearly two years before joining Plan B Entertainment as an executive assistant in November 2019. Cole also has an IMDb page that lists an acting credit for "Dance Lady Dance" along with a producer credit for "Peacocking."
Ella studied fine and studio arts at New York City's The New School's Parsons School of Design in pursuit of a bachelor's degree, noted Insider. She's also generated significant buzz for her custom-designed knitwear. In fact, she collaborated with designer Batsheva Hay to create several pieces offered via Hay's website. After the inauguration, Ella landed the spring 2021 cover of Dust magazine, walked the New York Fashion Week runway for Proenza Schouler, and signed with IMG Models, detailed USA Today.