How Jeopardy Fans Really Felt About Bill Whitaker's Debut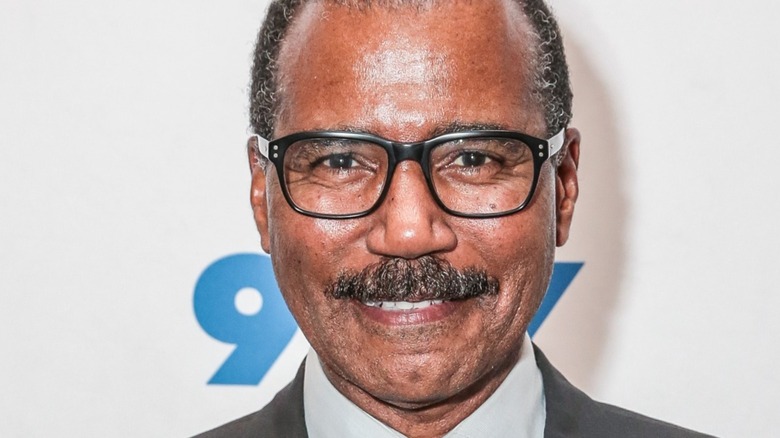 Cj Rivera/Getty Images
"60 Minutes" correspondent Bill Whitaker began his guest host duties on "Jeopardy!" on May 3. As with the many other "Jeopardy!" guest hosts, fans of the game show had many feelings about Whitaker's performance and took to Twitter to express their reaction to his hosting debut.
Whitaker is one of many high-profile guest hosts filling in for the late Alex Trebek. According to USA Today, "Jeopardy!" executive producer Mike Richards chose "people who love this game, and their respect for Alex is off the charts," to guest host. Other famous "Jeopardy!" guest hosts have included Anderson Cooper, Aaron Rodgers, Katie Couric, Mayim Bialik, Savannah Guthrie, Levar Burton, and Dr. Mehmet Oz.
In an interview about his "Jeopardy!" guest host experience, Whitaker revealed he has "always loved" the quiz show. "I just wanted to make sure that I didn't walk away from here looking like an idiot," the journalist shared
Whitaker's career spans over 40 years and he joined CBS News in the '80s (via Featured Biography). He is used to being in the national spotlight, but the attention from "Jeopardy!" has been over-the-top. "I have been really blown away by the coverage this all gets," he told The Washington Post. "But these hosts: They're gossiped about, they're tweeted about ... I'm going, 'Oh my God, I had no idea that this was going to be this wild and crazy.'"
So how did he do? Keep reading to find out how "Jeopardy!" fans felt about Whitaker.
Jeopardy fans received Bill Whitaker warmly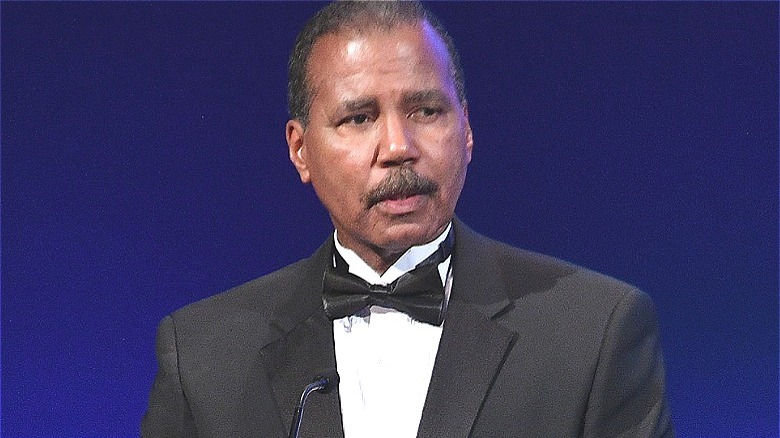 Dia Dipasupil/Getty Images
After the tragic death of host Alex Trebek, "Jeopardy!" has featured many guest hosts while searching for a permanent host. "60 Minutes" correspondent Bill Whitaker is a fan of the quiz show, but he also has a great deal of respect for Trebek. The journalist's calm demeanor is similar to Trebek's, but it won't be easy to replace the show's iconic host. That said, fan reaction to Whitaker is largely positive.
Mark Morton tweeted, "Bill Whitaker is absolutely the best new Jeopardy host. Give him the gig." Another "Jeopardy!" fan tweeted, "I'm a fan of Bill Whitaker from 60 Minutes. Enjoying his calm demeanor hosting @Jeopardy tonight. It's going to be a great two weeks!"
Still, there were some negative reactions to Whitaker. One unhappy fan of the quiz show tweeted, "Current Jeopardy! guest host Bill Whitaker seems like a pleasant enough fellow. He also has the stage presence of a coat rack." Ouch!
But the positive reaction of fans who like Whitaker as host of "Jeopardy!" seemed to far outweigh the negative. One fan tweeted, "Bill Whitaker has such a soothing voice and is a really good host. He will make a perfect replacement for Alex Trebek." Another "Jeopardy!" fan tweeted, "I could listen to Bill Whitaker read the phone book." Finally, one fan of the quiz show gave Whitaker the ultimate compliment when she tweeted, "Bill Whitaker is giving me major Alex Trebek vibes on @Jeopardy." From the sound of it, maybe we could see Whitaker hosting for more than two weeks.