Here's How Much Ben Affleck Spent On Jennifer Lopez's Engagement Ring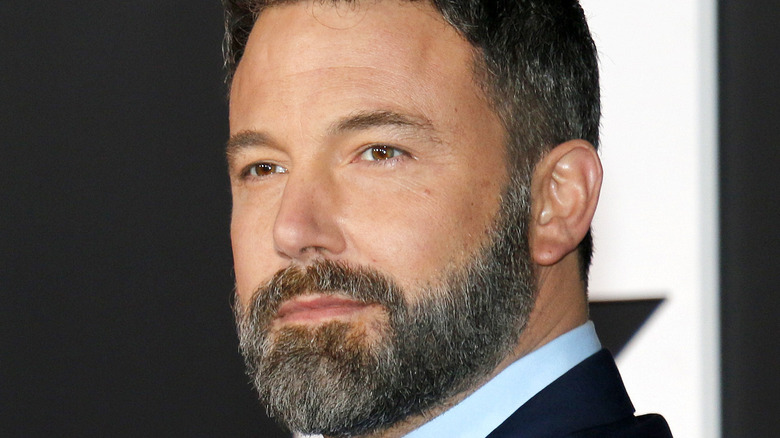 Shutterstock
While many people wait, in the immortal words of Beyoncé, for their partners to "put a ring on it," Jennifer Lopez is no stranger to engagements rings or marriage. And breakups and divorces. The Bronx-born performer was first married to Ojani Noa in 1997, divorcing less than a year later, per Us Weekly. After that, she was married to backup dancer Chris Judd, divorcing him in 2002. After that, she had her infamous relationship with Ben Affleck, then married Marc Anthony in 2004 until 2014, when they split up after having twins together. Most recently, she was engaged to Alex Rodriguez, who put a massive "classic emerald-cut diamond" on her hand in 2019, reportedly worth $1.8 million. They split in 2021 and the "Selena" star could possibly lose up to $1 million if she were to sell it, per Hello. 
That sounds like a lot of dough, but it was actually her "Gigli" co-star who gave J.Lo the most expensive engagement ring out of all of her partners. And now that Affleck and Lopez are seemingly back on, fans are dying to know: How many millions J.Lo was rocking on her left hand all those years?
Ben Affleck went all out on J.Lo's engagement ring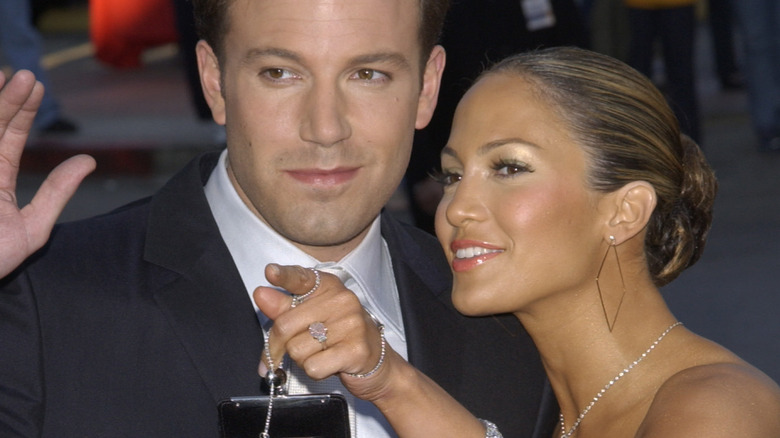 Shutterstock
Bennifer, as they were called by the tabloids back in the day, started dating in 2002. Ben Affleck and Jennifer Lopez got engaged but then called off their 2003 wedding before remaining together, only to split for good in 2004. At the time, her engagement ring was widely discussed and for good reason: it was massive and cost a ton of money. Per The Blast, Affleck bought the 6.1 carat pink diamond ring from Harry Winston for $2.5 million. Lopez reportedly returned the ring after they broke up for the final time. 
The ring caught everyone's attention — even from other celebs. Per Billboard, Lopez said in 2019, "I met [Barbra Streisand] at an Oscar party, years ago, and I was at the time engaged to Ben Affleck, and she's really into diamonds, which I didn't know. He had given me a pink diamond, which got a lot of press and was whatever. I loved getting it, don't get me wrong. So, she came up to me, and like, she's heard of it. I'm like, 'Oh My God.' And she's like, 'Can I see your ring?' And she asked me about the ring, but then she asked me — and I thought it was so strange — about being famous, and how I handle it."
It is definitely a ring and an engagement to remember. But if we'll be seeing Bennifer ring remains to be seen...