How Terry Crews' Marriage Almost Ended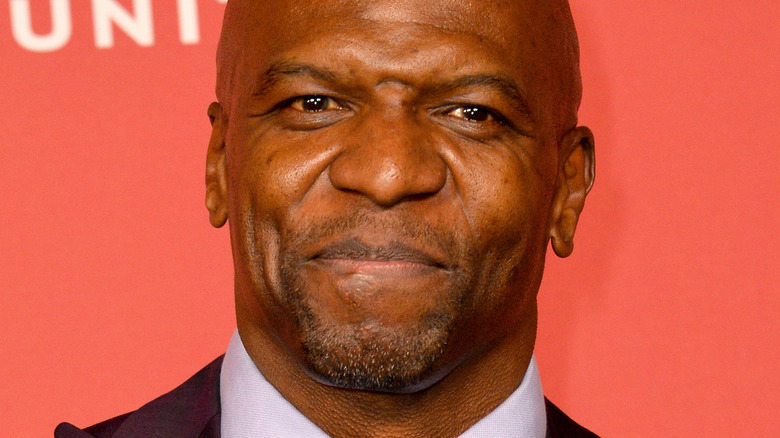 Shutterstock
The following article references sexual assault.
Terry Crews has had plenty to celebrate thanks to his varied (and surprising) career, which has taken him from playing with the NFL to working on Ice Cube's security team and, eventually, launching a successful acting career that started with his big break in 2005's "Everybody Hates Chris." But for all of the highlights, Crews has also faced his share of challenges and controversies. 
In 2017, the "Brooklyn Nine-Nine" star revealed that he was sexually assaulted by a Hollywood executive and went on to recount the trauma in an effort to inspire others who may have faced similar adversity. However, he was dealt a devastating blow when his criminal complaint against William Morris Endeavor agent Adam Venit was rejected by both the Los Angeles City Attorney and the Los Angeles County District Attorney. Crews continued to receive support from fans and peers, but some of those supporters turned on him in June 2020 when he sparked outrage with a headline-making tweet in which he proclaimed that "defeating White supremacy without White people creates Black supremacy." He later argued the tweet came from "a spirit of love and reconciliation, for the Black community first, then the world as a whole."
Now, Terry Crews is once again in the spotlight and, once again, the reason is a challenging one. The actor is speaking out about a personal struggle that almost led to the dissolution of his marriage — keep on reading for all the details.
Terry Crews' secret addiction almost cost him his marriage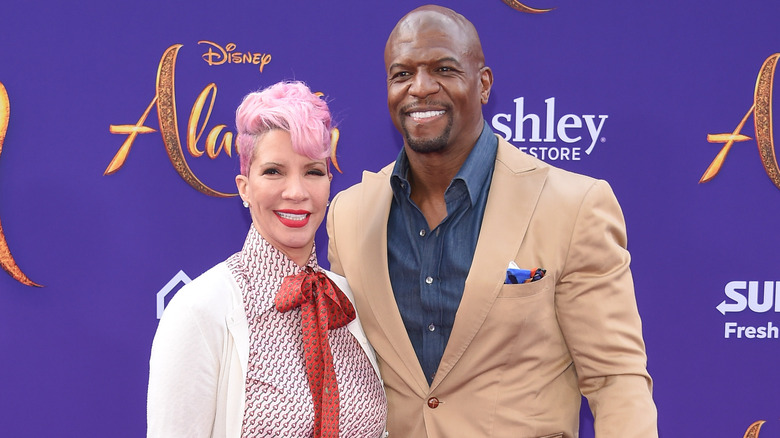 Shutterstock
As Terry and Rebecca King-Crews reveal in their new Audible audiobook, "Stronger Together," the actor's secret addiction nearly ruined their marriage. Opening up about his years-long struggle with pornography, the "America's Got Talent" host told People that the problem was exacerbated by his budding career. "Success is the warmest place to hide," he said, admitting, "Fame made it worse! Hollywood didn't care. It still doesn't care if you lose your family. It happens every day." 
Explaining why they chose to go public with this very personal struggle, Rebecca shared it's all about inspiring others. "We discovered there was a whole industry around this problem because porn has become the new drug," she told the mag. "It's become the new addiction."
It was 2016 when Crews first admitted to having been addicted to porn. As he shared on Facebook, via People, "It was my secret, nobody knew, and that allowed it to grow, and it got bad." He revealed how serious it got, saying, "If day turns into night and you are still watching, you probably got a problem, and that was me." After realizing that "this thing is a major, major problem," he went to rehab and therapy and turned the corner. "I did not get help so I could get my wife back, I got help because I needed it," Crews said to People in 2016. "She did decide to stay with me because she knew I was repentant."
Trouble in paradise began a decade ago for Terry and Rebecca King-Crews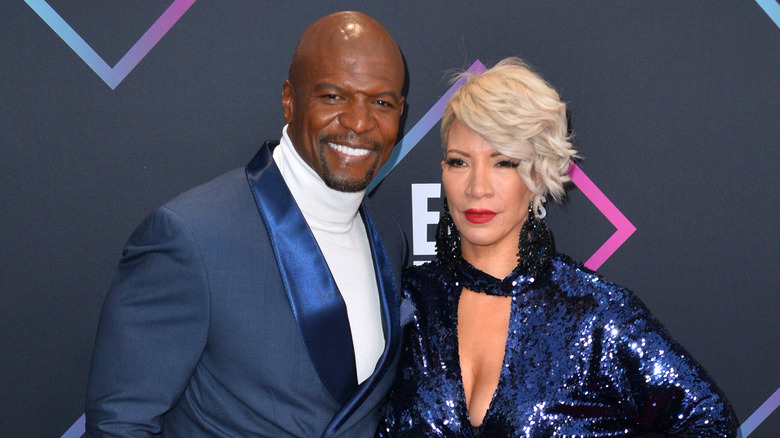 Shutterstock
Terry and Rebecca King-Crews tied the knot back in 1990, and over the past three decades, they've been an inspirational power couple. But their union hasn't been without drama. In their audiobook, "Stronger Together," Terry and Rebecca open up about the struggles that nearly drove them to divorce, starting with Crews' 2010 admission of infidelity, as well as his addiction to pornography. 
When the actor came clean about being unfaithful, Rebecca told People that "it was like death," while Terry confessed he "could not stop crying." Rebecca threatened to leave, but the actor vowed to fix things. And, as he told Page Six, ignoring single friends who encouraged to leave Rebecca also helped. "There are certain people in my life who are always jealous of our relationship," he said, recounting, "They would say, 'Oh now you're free, you can roll out,' and I'm like, 'Wait a minute — but you ain't got nobody.'" 
Meanwhile, Rebecca told Page Six that one of her most valuable "a-ha" moments came at a car dealership. Admitting she was "ready to start over," the mom of five went to buy a new car, and it was the salesman's personal confession that changed everything. "[He] told me all about how he ended his first marriage of 20 years; how he regretted it; how it affected his children," she recalled. She took it as a sign to give Crews another chance, and their marriage is now stronger than ever.