Prince Harry Explains Why Meghan Encouraged Him To Go To Therapy
Shutterstock
2021 was the year that Prince Harry opened up about his mental health journey, and he's helping others combat similar issues. His docu-series, "The Me You Can't See" is being co-produced by Oprah Winfrey, and is out on May 21 on Apple TV+ (Apple describes it as an effort to "destigmatize" mental health conversations). On Dax Shepard's "Armchair Expert" podcast, Harry did not hold back details either. "In today's world it's quite a sensitive subject, not just for people who are sharing, but ultimately the subject matter itself, it has to be handled with care," Harry explained on the show.
The Duke of Sussex also discussed with Shepard, during the 90-minute long conversation, how much royal pressure he's experienced, or someone marrying-in might experience. "I think when you marry into it, especially when it's one of Princess Diana's sons, there is a certain amount of 'OK, what am I actually getting myself in for?'" he said. "But very few people actually know, apart from the Brits, how toxic that element of the U.K. press is."
With wife Meghan Markle disclosing to Oprah in March her own strain to cope mentally with being a British royal — to the point of contemplating suicide, Harry shared that it was Meghan who opened his eyes to the benefits of therapy. Read on for why she finally nudged Harry to seek professional help. 
Meghan told Harry to create the life he wanted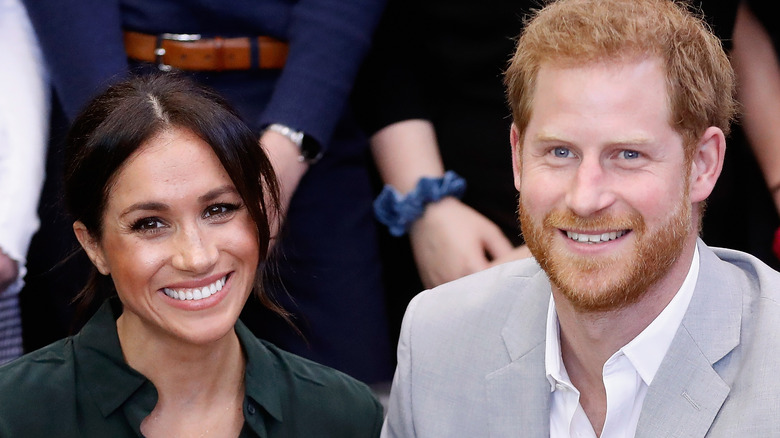 Chris Jackson/Getty Images
On May 13's episode of the "Armchair Expert" with Dax Shepard and Monica Padman, Prince Harry shared that after meeting future-wife Meghan Markle, she saw that he was "angry about the incessant and invasive media intrusion into his life," recommending therapy as a pathway. Meghan helped Harry have the epiphany that his life isn't a Disney movie. She told him, "'You don't need to be a princess. You can create the life that will be better than any princess.' ... It was like the bubble was burst... I was like, 'stop complaining... How are you going to do these things differently... and use this platform to really affect change,' Harry reflected on the podcast.
Calling his life before resigning from the British royals "a mix between The Truman Show and living in a zoo," Harry also revealed on the podcast he contemplated leaving royal duties earlier. "I was in my early twenties and I was thinking... 'Look what it did to my mum, how am I ever going to settle down...when I know it's going to happen again,'" Harry recalled on the late Princess Diana.
With his 2021 Apple TV+ show exploring mental health, Harry has already taken a huge step toward impacting change. As for his own state of mind, he told Shepard and Padman that he feels "free" in his new California life. "Now I can actually lift my head."
If you or someone you know is struggling with mental health, please contact the Crisis Text Line by texting HOME to 741741, or call the National Alliance on Mental Illness Helpline at 1-800-950-NAMI (6264).