Who Is Jeopardy Guest Host, Buzzy Cohen?
Amanda Edwards/Getty Images
"Jeopardy!" is shaking things up again with a familiar guest host. The game show has had a slew of rotating guest hosts, including Aaron Rodgers, Katie Couric, Anderson Cooper, and more since host Alex Trebek's death from pancreatic cancer in November 2020. Per USA Today, some of the guest hosts will be considered for the permanent gig, but an answer won't come from the producers until "Jeopardy!" begins its 38th season in September 2021. Fan reaction to the guest hosts have ranged from positive to the not-so-positive on social media, which is why the producers are inviting a familiar face back to "Jeopardy!"
According to People, former contestant Buzzy Cohen will guest host the Tournament of Champions for "Jeopardy!" from May 17-28. The role will not only require him to quiz contestants, but also work closely with the writers and producers of "Jeopardy!" So, who is Cohen? Find out more about him below.
Buzzy Cohen is a 'Jeopardy!' veteran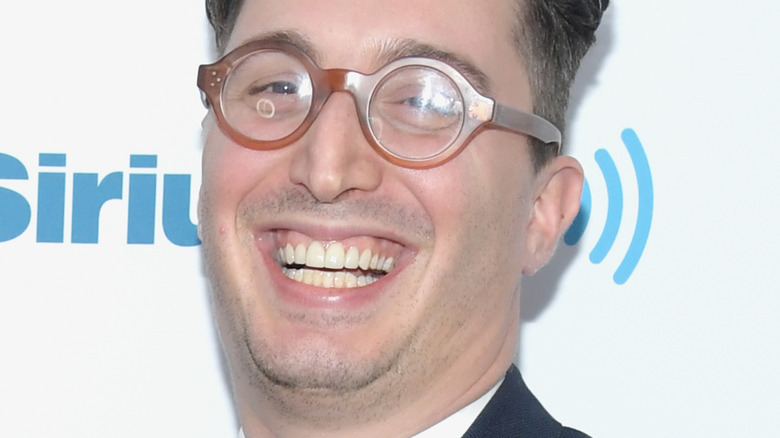 Ben Gabbe/Getty Images
Per TV Line, Buzzy Cohen first appeared on "Jeopardy!" in 2016, when he won $164,603 over nine games. He returned to the show a year later and won the Tournament of Champions, and he also served as a team captain for the All-Star Games in 2019. Cohen's gamesmanship and personality impressed Alex Trebek so much that he nicknamed him "Mr. Personality," according to The Sun.
Cohen became a fan favorite on the show in 2016 because he dared to make fun of Trebek. It makes sense that Cohen knows how to socialize because of his former job as a music record executive, The Sun noted. He later clarified to Vanity Fair that his goofy personality showed that he doesn't take things too seriously, even though some viewers found him to be obnoxious.
"If I was playing awfully and then decided to make jokes, or do the thing with brushing the dirt off my shoulder, I could understand people being like, 'This dude's making a mockery of Jeopardy,'" Cohen explained to the outlet. "But I take it really seriously. So when I have opportunities to inject a little bit of personality, I don't see the harm."
Cohen's experience on the show is what made him appealing to the producers, who said in a statement on the "Jeopardy!" website that they "look forward to seeing how he uses his quick wit and personality as guest host."