The Real Reason Anuel AA And Karol G Broke Up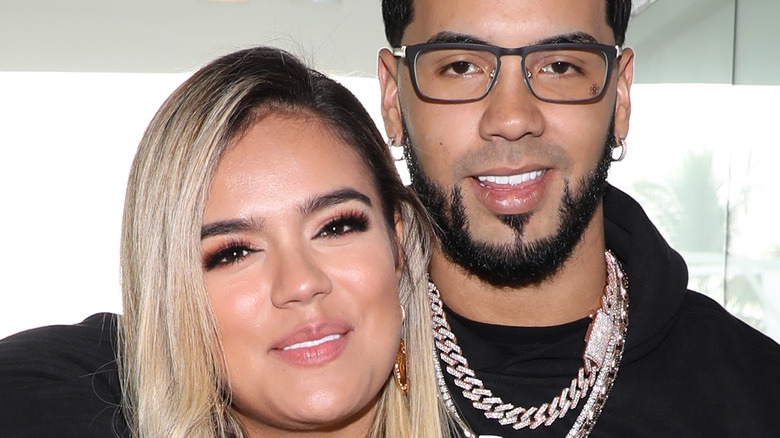 Alexander Tamargo/Getty Images
Anuel AA and Karol G are two of Latin music's biggest stars of today. Therefore, it comes as no surprise that their relationship became a hot topic. According to Billboard, the duo first met on the set of their music video for "Culpables" in 2018. Months later, they made their romance official and informed fans they were an item on Anuel's 26th birthday that same year.
Less than 12 months later, Karol took to Instagram to announce to her millions of followers that she and Anuel had gotten engaged in July 2019. However, they never ended up walking down the aisle together. As previously reported by Billboard, they both used social media to reveal the news of them splitting up in 2021 after there was speculation of them no longer being an item.
"The truth is that we're not together," Anuel said during an Instagram Live."The times that people have seen us together is because we still love each other. We tried to recover what was lost but we took our different paths. May God bless her and that she continues to achieve her dreams and goals."
As for Karol, she also had nothing but kind words to say about the "Me Gusta" hitmaker. "I love you, Emmanuel, my gratitude towards you, your family, and everything we lived, grew, and learned together is infinite," she wrote on her Instagram Story. With that being said, it seemed money was one of the reasons for their breakup. Keep reading to find out more.
Karol G apparently wasn't happy about being paid less than Anuel AA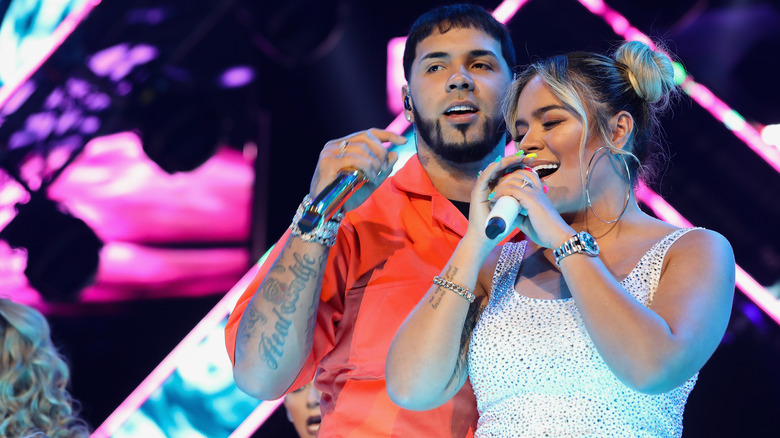 Victor Chavez/Getty Images
Despite being just as successful as Anuel AA, Karol G was reportedly not pleased with the fact that her fiancé was getting paid more for his performances. As previously noted by People en Español, Tanya Charry, a reporter for the TV show "El Gordo y La Flaca," was told by inside sources about their breakup. "A lot of things are being said. We talked on the show about infidelities, but jealousy of professional success was a great influence on the couple's breakup, and the one who made the decision to end it was Karol G," Charry revealed on the show.
According to Charry, Anuel shared some of his profits with Karol, but that didn't seem to be the only drama surrounding their split. The duo found themselves in more conflict after Anuel lent his private jet to Karol. While there doesn't seem to be anything wrong with this, his management was against the idea due to the expenses involved.
"Anuel is the one now insisting for Karol G to come back. She, apparently, according to my army of informants, is not willing to return to this relationship," Charry explained. "It seems that the fact that they were working together, doing so many things together, was not favorable for the relationship."