Why Joe Biden's Joke To A Reporter Is Turning Heads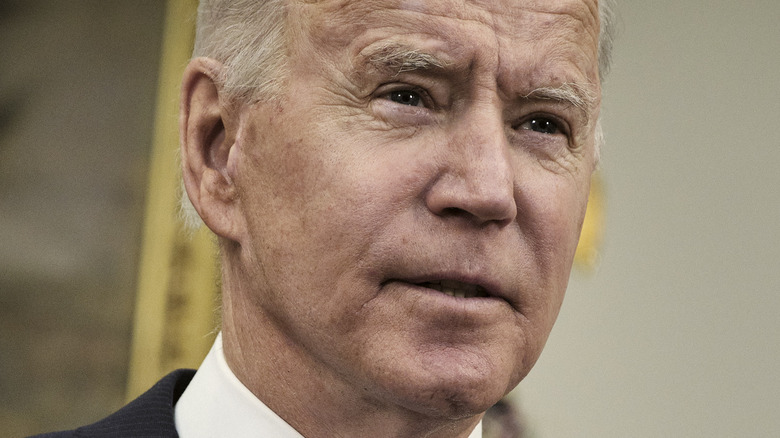 Bloomberg/Getty Images
President Joe Biden is in hot water following a joke that many found was in poor taste. The moment went down when Biden was checking out the new F-150 Lightning electric pickup truck on May 18 in Michigan. While testing the vehicle in front of bystanders and reporters, one journalist asked Biden through his driver seat window whether she could ask "a quick question on Israel ... since it's so important?" according to Business Insider.
However, Biden didn't seem to think it was the right time and place to address the ongoing conflict in Gaza, quipping, "No, you can't. Not unless you get in front of the car as I step on it." Reporters in the clip, per CSPAN, could be heard laughing at his remark, and he assured cameras he was "only teasing" before he geared up to step on the gas and sped away. Despite remaining tight-lipped on the conflict, the president has been under pressure to push Israel to cease airstrikes against Hamas and Palestinian Islamic Jihad in the Gaza Strip, per The Jerusalem Post. In fact, Biden has been in talks with Prime Minister Benjamin Netanyahu, and according to the Associated Press, he said during a May 19 phone call that he expects to see a "significant de-escalation" in Gaza by the end of the day.
Biden may be intervening in the issue behind the scenes, but people weren't happy with his seemingly casual attitude when asked to address the conflict. Keep scrolling to see what people are saying about his controversial remark.
Joe Biden's joke has people split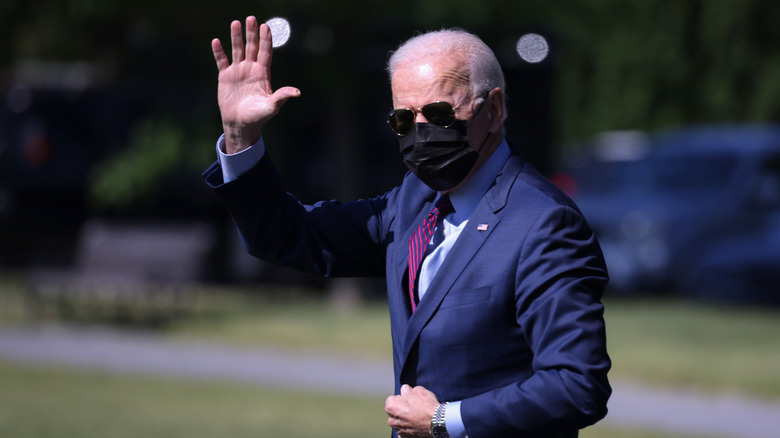 Anna Moneymaker/Getty Images
Some found Joe Biden's day at the track and his words merely lighthearted, with one person tweeting, "This President drives trucks on a test track. The former guy drove french fries into ketchup!! Go Joe!!" However, he was also met with criticism from Republicans who slammed him for being less vocal than his predecessor Donald Trump.
"Joe Biden just threatened to run a reporter over with a car for wanting to ask a question about Israel. If President Trump had done this, he would have been impeached," former Nevada GOP Chairwoman Amy Tarkanian tweeted. "Jokingly or not, this rhetoric is completely unbecoming of the President."
Others highlighted the media's tone towards the situation compared to their coverage of the former president. "While America's most important Middle East ally is under attack, Joe Biden threatened to run over a reporter for asking a question about it. And this is the takeaway from the totally unbiased media. What a joke," National Republican Senatorial Committee campaign worker Jonathan Turcotte tweeted with a screenshot of a headline reading, "'This Sucker's Quick:' Biden Takes Spin in Ford's Electric F-150.'" Although people may be divided over Biden's response to the query, it's clear he has a need for speed.