RHOP: The Tragic Death Of Monique Samuels' Cousin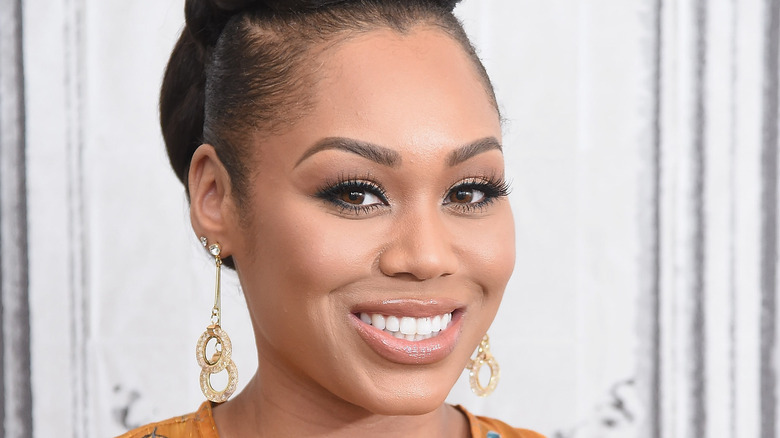 Gary Gershoff/Getty Images
After announcing her departure from Bravo's "The Real Housewives of Potomac," Monique Samuels has found herself in a place of positivity and success. Her mommy blog and podcast, "Not For Lazy Moms," is going strong while her "Tea With Monique" and "Bindertime Stories" brands are equally as successful. To add to her accomplishments, she does it all while maintaining her supermom status as a mom of three and wife to former NFL player, Chris Samuels.
Monique is not looking back at her exit from "RHOP." She revealed in January that she had no intentions of joining the cast for another season. "I'm a woman of my word. I've always said that if the show ever interfered with my family or my marriage that I would definitely get to packing," Monique explained, per Insider. "It feels good to be able to speak out loud what your intentions are and then follow those intentions with actions and not have to be dependent upon fame."
Things are on the up and up for Monique, but she has faced adversity along the way. In May 2021, the ex-"RHOP" star revealed her cousin was killed in a shooting. Here's everything we know about her cousin's tragic death, as well as a look into her touching tribute to him.
Inside Monique Samuels' heartbreaking tribute to her cousin
There is no pain like losing a member of your family. Unfortunately, Monique Samuels has to face the harsh reality after the tragic death of her cousin. Per Page Six, Jacque Sheppard Jr. died on May 14 after "suffering from multiple gunshot wounds," according to the Office of the Atlantic County Prosecutor in Atlantic City, NJ. He was 34 years old. As of this writing, there is an active investigation into the incident.
Monique penned an emotional tribute to Sheppard a day after his death. Sharing a throwback selfie with her cousin on Instagram, she wrote, "My cousin was killed last night. One of the nicest people you'll ever meet. He's always smiling and takes care of everyone." She added a specific message to the perpetrator at large: "Whoever did this- I hope you rot in the deepest, darkest pit in hell."
In a separate post on May 17, she shared more words about Sheppard. "Still trying to comprehend what has happened but one thing about my family is when we come together the healing begins. We went to the place where my cousin Tuff (Jacque) took his last breath," she wrote. "We prayed, we embraced, lit candles and we let balloons drift in his memory." The family organized a GoFundMe to raise funds for Sheppard's 13-year-old son as well as for funeral and memorial costs. It had raised $5,835 of the $15,000 goal as of this writing. We send our condolences to Monique's family at this time.