What Does 'Juice' By Lizzo Really Mean?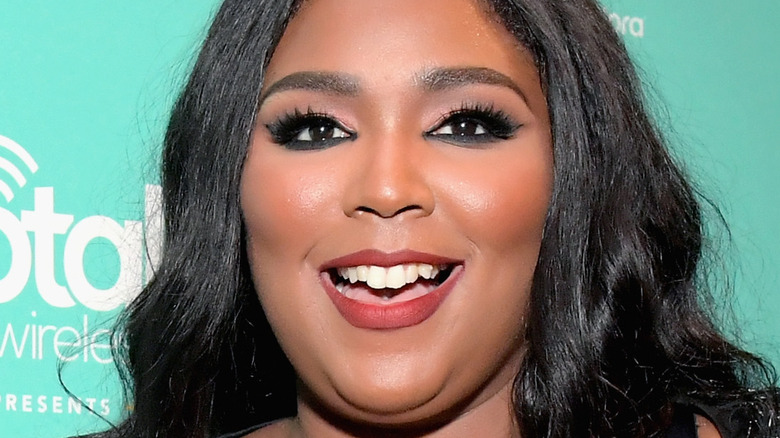 Charley Gallay/Getty Images
There are plenty of things to love about Lizzo. You might totally be into the fact that she plays the flute, or you might adore the emotional way that she sometimes cries before her shows. You may also want to emulate her fabulous fashion, or simply admire the fact that she slipped into Chris Evans' DMs. Granted, there's also a chance that you're a fan of the singer because of the meaning behind her songs. Just take a look (or rather, a listen) to "Juice." The tune may not have charted as well as the No. 1, "Truth Hurts," from her cornerstone debut 2019 album "Cuz I Love U," but for many, it was the moment we fell in love with the singer. 
"Mirror, mirror on the wall / Don't say it 'cause I know I'm cute" Lizzo sings, per Genius. She later adds, "Louis down to my drawers / LV all on my shoes / I be drippin' so much sauce / Got a bih' lookin' like Ragù / Lit up like a crystal ball / That's cool, baby, so is you / That's how I roll." You (probably) know how it goes! 
While there's a very good chance that you've found yourself singing those lyrics more than once, what does the song actually mean? Keep reading to find out!
Lizzo says that 'Juice' is both 'spiritual' and 'freaky'
"Juice" launched Lizzo to the level of stardom that she surely deserves. In the song, written by Lizzo and Ricky Reed along with Sam Sumser, Sean Small, and Theron Thomas, according to Genius, the star tells her listeners, "If I'm shinin', everybody gonna shine (Yeah, I'm goals) / I was born like this, don't even gotta try (Now you know)." She then continues by singing, "I'm like chardonnay, get better over time (So you know) / Heard you say I'm not the baddest, b****, you lie."
While the confident vibe and self-loving message behind the lyrics are pretty clear, Lizzo broke down what the words and tune mean to her, telling The New York Times, "I think 'Juice' is kinda freaky, I think 'Juice' is kind of spiritual and special. I think it's black p****." She followed up the last part with an enthusiastic laugh that seemed to punctuate her point. It's about exuding that confidence! 
Lizzo also opened up about the song for Apple Music, calling it both "a banger" as well as "a state of mind." She explained that it's "about looking in the mirror, loving what you see, and letting everyone know." She added, "At the end of the day, I want my music to make people feel good, I want it to help people love themselves." Its '80s-themed music video, which emulates the self-love ethos of workout gurus like Richard Simmons, brings it all home.