Here's What Chris Brown's 'Heat' Featuring Gunna Really Means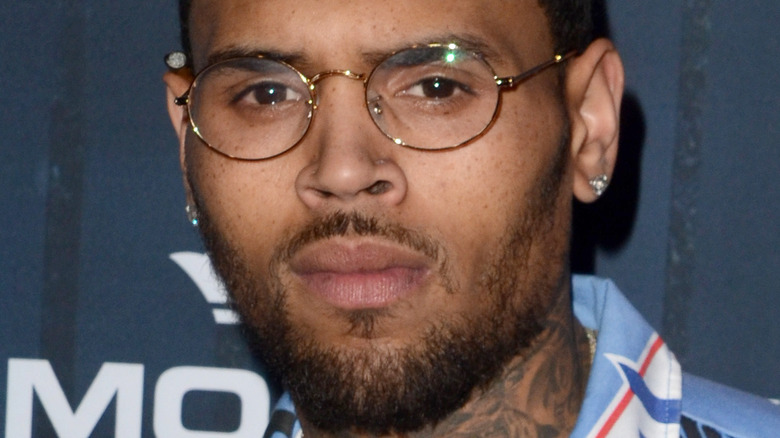 Shutterstock
Chris Brown released his ninth studio album, "Indigo," in 2019 to disappointing reviews. In fact, much of Brown's career has faced scrutiny since his public, abusive relationship with Rihanna. While Brown continues to be a notable face in R&B, his career has faced something of a downward trajectory. Even his personal life continues to create headlines — in fact, Brown's housekeeper sued him because his dog viciously attacked her sister. So, you could say that things haven't been great for the singer.
Nevertheless, Brown continues to make music and has, in fact, amassed a considerable net worth. And while Brown continues to rake in the cash, his albums haven't met with critical approval. Pitchfork called his quarantine project "Slime&B" a "mixtape with no discernible upside," while Slant Magazine derided "Indigo," his 2019 effort, "a bloated, incoherent personal statement." Ouch!
"Indigo" boasts Brown's song, "Heat," featuring Gunna. While the album didn't score big, "Heat" has ended up being a major hit among fans. Here's what it means.
Chris Brown combines fashion and sex in 'Heat'
Chris Brown's "Heat," featuring Gunna brings together a combination of couture and sex appeal. Brown makes use of the lingo "drip" which, as Urban Dictionary notes, is a term to describe incredible outfits. The term is synonymous with "wet," and Brown uses liquid-related terms throughout the songs.
Check out these lyrics: "You likin' what you see/ Everythin' designer, that's on me/ That's water when I walk," according to Genius. Brown's message in the song is that his style gets the ladies frisky, which he expresses again with the lyrics: "This drip got you in heat/ Just jump in, baby girl, jump on this d**k/ You know that I'm on beat/ All this drip got your a** in heat."
The heavy sexual theme was one of the reasons that critics panned the album as a whole. As Soul in Stereo said that the tracks featured "oversexed lyrics drenched in autotune."
Despite this criticism, fans loved the song. A fan wrote on Twitter: "'Heat' by Chris Brown will always be a hit." People also loved the music video, especially the choreography, so another fan asked: "Why was Chris Brown so smooth in the Heat video though?!" Clearly, fans have the final say and they say 'yay.'