This Is How Emily Blunt And John Krasinski Met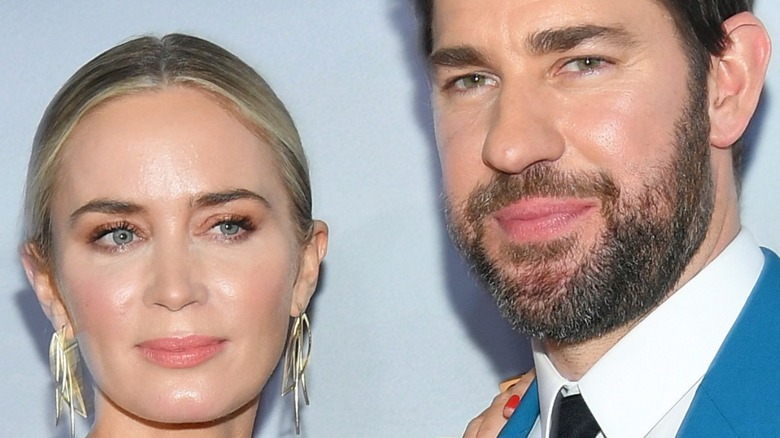 Mike Coppola/Getty Images
Emily Blunt and John Krasinski are relationship goals. The power couple rolls out "A Quiet Place Part II" on May 28, and it's always fun to watch Blunt and Krasinski's promotional interviews because they are so adorable! Krasinski directs and Blunt stars in the sequel to their 2018 hit "A Quiet Place."
The Hollywood Reporter called Blunt and Krasinski the "Hollywood Couple of the Year" in 2018. The actors shared the success of "A Quiet Place" while Blunt starred in Disney's "Mary Poppins Returns" and Krasinski starred in the show "Jack Ryan." In interviews, Krasinski jokes that he "married up" and goes full-on fangirl over his wife. For a 2018 Vanity Fair cover story on Blunt, Krasinski talked about directing his wife in "A Quiet Place."
In the interview, Krasinski gushed to Vanity Fair about watching his wife act in person, saying, "The air changes in the room when she starts doing what she does. It's so honest and so pure and so powerful. It's like a superpower that she can just unlock and do so specifically with not many attempts."
Krasinski continued his praise of Blunt: "For me, I love acting, and I'm so lucky to be doing it. But she's on another plane. This weird intersection happened while filming where I totally forgot I was her husband. I was just watching her performance and was lucky enough to be in the front row."
Buckle in and keep reading to learn how Blunt and Krasinski met and fell in love.
It was love at first sight for Emily Blunt and John Krasinski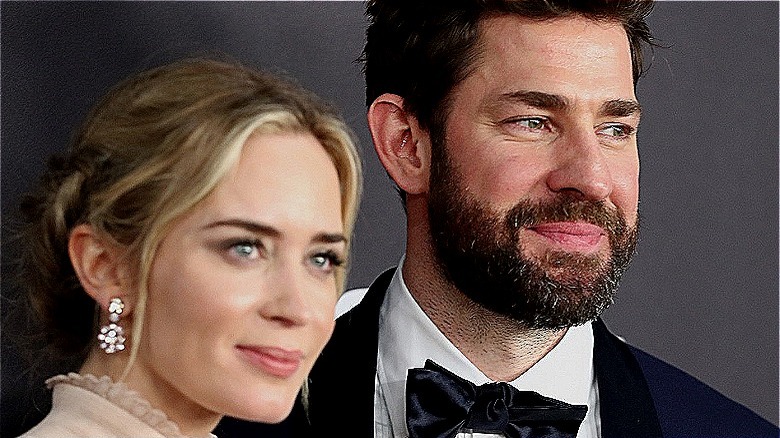 Rich Fury/Getty Images
John Krasinski said it was love at first sight when he met Emily Blunt. "The Office" star revealed how he met his wife in a 2011 interview on "The Ellen Show." Krasinski told Ellen DeGeneres, "It was one of those things where I wasn't really looking for a relationship and I was thinking I'd take my time in LA, and then I met her and I was so nervous. I was like, 'Oh god, I think I'm going to fall in love with her.' And as I shook her hand I went, 'I like you.'"
Blunt fell for Krasinski quickly, too. In a 2018 chat with People magazine's editor-in-chief on "The Jess Cagle Interview," Blunt said she knew "disarmingly soon" that Krasinski was the one for her: "We were discussing how much I was enjoying being single. And then [my friend] goes, 'Oh, my God, there's my friend John.' And that was it."
"The Devil Wears Prada" star revealed more details about Krasinski in a 2018 interview on "Late Night With Seth Meyers." Blunt said the couple met in a restaurant, and a mutual friend introduced them. Blunt told Meyers, "He was actually sitting with our friend Justin Theroux, and then he abandoned Justin and came over to come and talk to us. He just stood there and made me laugh ... I kind of [knew right away]."
On "The Jess Cagle Interview," Blunt added, "We were engaged within 10 months, but I think we probably knew before that."
From a shooting range to George Clooney's lake house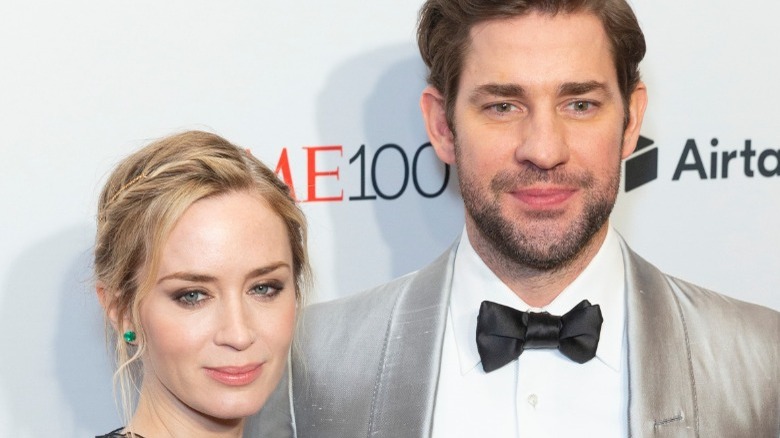 Shutterstock
When Emily Blunt won a 2019 SAG Award in a supporting role for "A Quiet Place," she immediately thanked her husband (and director) John Krasinski. Blunt said, "The entire experience of doing this with you has completely pierced my heart directly. You are a stunning filmmaker. I'm so lucky to be with you and to have done this film with you." 
Apparently Krasinski took Blunt to a shooting range on their first date. Krasinski shared with Conan O'Brien in 2012 that his future wife was "incredibly intimidating," and he was scared to "even go up and say hi to her." Krasinski confessed, "I think that I was so sure that I would never end up with her ... that I was like, 'You know what, I'm gonna blow it right away and then that way you don't feel bad.'" The couple's first date wasn't dreamy, but their wedding made up for it.
In 2010, Krasinski and Blunt married in an outdoor ceremony at George Clooney's estate in Lake Como, Italy. The director of "A Quiet Place Part II" told Elle how Clooney offered his Lake Como pad three times before Krasinski accepted! He didn't think Clooney was serious and told Elle, "But I started to see his feelings get hurt. I actually hurt George Clooney's feelings."
So, there you have it — Krasinski and Blunt continue to be #goals.