Why Lil Nas X Had To Get New SNL Backup Dancers 15 Minutes Before Rehearsals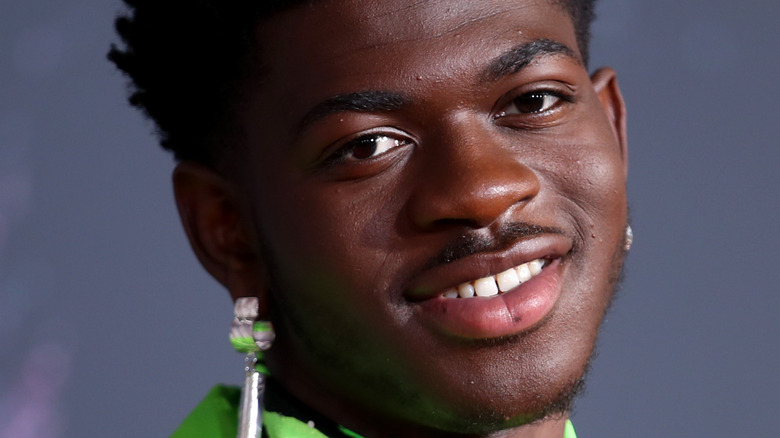 Rich Fury/Getty Images
Lil Nas X made an appearance on NBC's legendary show "Saturday Night Live" on May 22, 2021 and performed his smash hit "MONTERO (Call Me By Your Name)." The song has been a global success, topping the U.S. Hot 100 and the charts in the U.K. for five weeks, therefore, it comes as no surprise that "SNL"'s YouTube upload has already racked up more than 2.4 million views, as of this writing.
Like the song's music video, Lil Nas X provided killer visuals while slaying in a PVC ensemble. The "Old Town Road" hitmaker performed choreography with a number of male dancers and back-up singers. Unsurprisingly, social media reacted passionately to the eye-catching performance.
"CAN WE TALK ABOUT @LilNasX SNL PERFORMANCE," one user tweeted in capital letters, adding numerous flame emoji. "Here's me thinking I couldn't fall more in love with @LilNasX but those SNL performances have me in a nondescript puddle," another person shared. "SNL has me absolutely simping over @LilNasX. That man is FINE fine," remarked a third user.
During the end of his set, Lil Nas X had a wardrobe malfunction that caught the attention of many. However, the star revealed something about his performance that no one knew about until the following day. Keep reading to find out what.
Lil Nas X's coach called him 'the king of the push-through'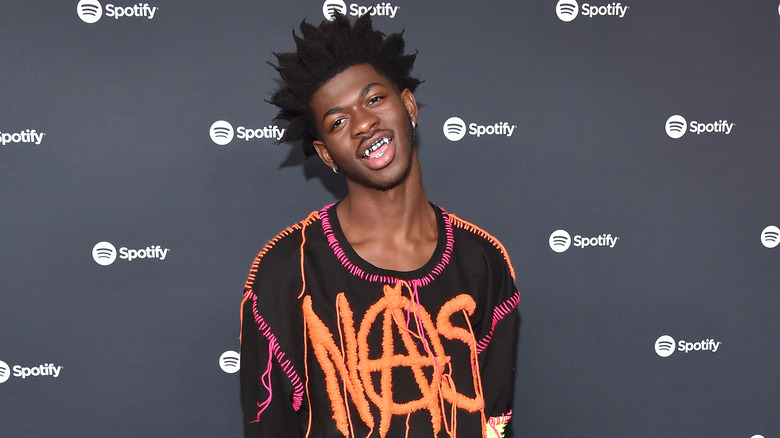 Shutterstock
Even though Lil Nas X's performance on "Saturday Night Live" looked polished, he had to ax his dancers 15 minutes before rehearsals because one of them caught Covid, according to Page Six. "at first i was afraid to even perform. then we rehearsed for 2 weeks, then all of the dancers got removed because one had covid and new ones had to learn the routine in 24 hours," he tweeted, adding, "and then i ended up ripping my pants and couldn't finish. everything happens for a reason tho lol."
"We landed in New York on Wednesday, and Thursday we learned that one of the six dancers tested Positive, but there was only one dancer who was vaccinated! We literally found out 15 minutes before [his first] rehearsal," Lil Nas X's performance coach, KJ Rose, told Page Six, calling him the "the king of the push-through."
"I wanted to make sure he didn't harp on the news, so while we were jogging through the studio – I was hyping him up with affirming and encouraging words," she continued. "We left the news in the dressing room, where he'd heard it and he rehearsed by himself as if he had dancers. He did it all as if they were there."
To solve the problem, Lil Nas X's choreographer, Sean Bankhead, flew in a whole new set of dancers to learn the routine. "They learned the choreography over Zoom Thursday night, flew in Friday, rehearsed and shot the show on Saturday," Rose stated.